Alexandre Lacazette's stunning equaliser ensures spoils are shared between Arsenal and Liverpool
Arsenal 1-1 Liverpool: The Frenchman's superb strike means Arsenal remain undefeated at The Emirates since the opening day of the season
Miguel Delaney
Emirates Stadium
Saturday 03 November 2018 19:54 Comments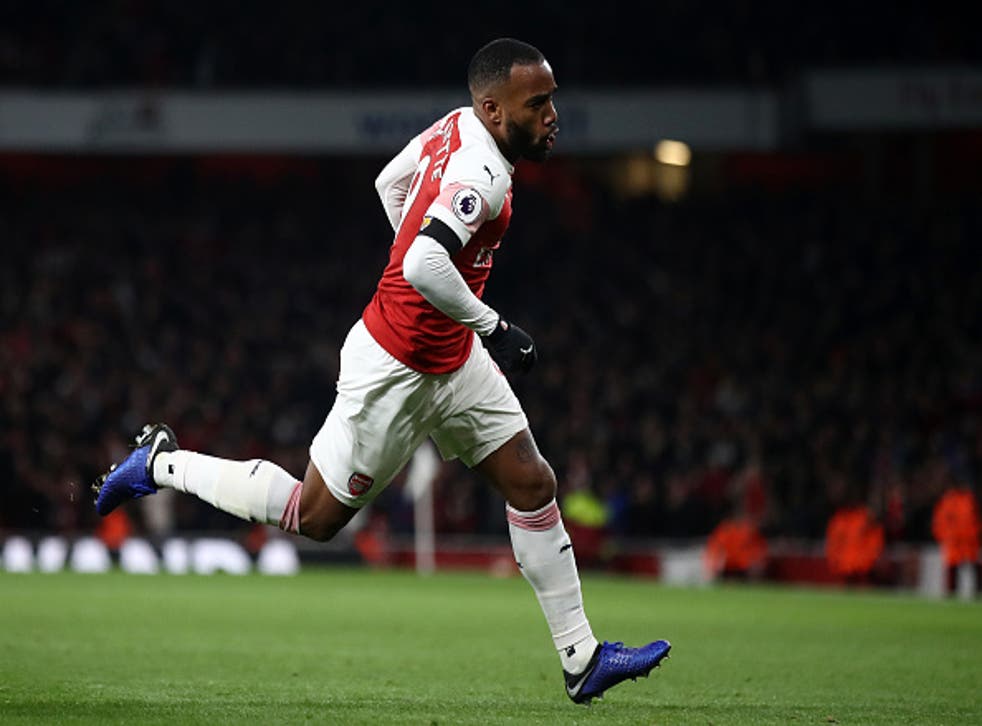 An evening when Liverpool struggled to match the pace of a hugely impressive Arsenal, and ultimately dropped pace in the title race. The latter is really what this 1-1 draw at the Emirates was all about, its primary consequence.
The big, huge, demanding question for Liverpool this season is after all whether they can actually keep pace with a Manchester City side that look set up for another huge points return, and take a title challenge to the distance. To do that, they have do what City do, and start winning big-six away games like this rather than just accept a draw in them.
This, after all, was a game that Pep Guardiola's side already won.
And that is precisely why Liverpool's title credentials must be doubted; why it's difficult not to think the champions will just have too much, earn too many points and end up winning this league rather comfortably.
Arsenal vs Liverpool player ratings

Show all 22
That is what City have made this race. You just can't slip.
Liverpool slipped here, all the more so since they actually went ahead, through James Milner.
But that's the other take-home from this game. Liverpool might complain about a Sadio Mane goal being disallowed, among a few questionable decisions through the game, but they can't really complain about the result on the merit of the performances. They probably didn't fully deserve the point. An impressive Arsenal meanwhile deserved more than the draw that came from Alex Lacazette's fine late equaliser.
What was so remarkable was how they struggled with Arsenal's intensity, and this Liverpool, a side characterised for their intensity. Unai Emery's side were just so much pacier than them, and Liverpool seemed almost leaden in comparison.
Their defenders certainly looked leaden when Pierre-Emerick Aubameyang, Lacazette and Mesut Ozil weaved their way through them with some intricate moves - but imprecise finishes. Lacazette was particularly guilty of the latter, dragging a good chance wide.
This intensity doesn't just apply going forward. One of the most noticeable differences with Emery's Arsenal is that willingness to track back. That sounds such a simplistic thing, but was something that caused so many complications for Arsene Wenger's Arsenal.
Think of the number of clips - especially from their away match against Liverpool last season that showed one of his players just standing there, as an opposition side surged forward to score. They came to sum up the last few years of Wenger, and reflected the lack of defensive structure, and general instruction.
One of the stand-out clips from this game was Emery punching the air in celebration after a perfectly-timed challenge from Granit Xhaka on Mohamed Salah, after the midfielder had hared back to catch him.
That Xhaka was required to do that at the same time illustrates one of the remaining flaws in this Arsenal, even if it is not of Emery's making. They still aren't totally cohesive in defence, and there are questions about the quality of some of the players there. That created holes, that Liverpool did occasionally work through
Klopp's team were nowhere near their best, but did have some good chances, not least the Sadio Mane effort that probably should have been allowed. It was telling, however, that most of the damage they did came from set-pieces - Arsenal were fortunate when a Van Dijk header bounced back off the post.
Liverpool just couldn't quite get going, with their midfield struggling to apply any kind of control on the game. Fabinho looked particularly overwhelmed, especially against Lucas Torreiro, as Liverpool were just about holding their ground.
They then got a very generous bounce of the ball off that ground, with the fact their goal came from that summing up some of their toothlessness.
Bernd Leno attempted to catch a cross but only got caught out, as he fumbled the ball towards the edge of the box. There was Milner, waiting. The response was emphatic.
Had Liverpool won this match, it might have been said that this was a classically calculated away performance, as they stood their ground against a frenetic side and just waited for the prime opportunity to attack.
It might even have led to promising discussion about Klopp finding a new way of winning, a departure from their own usually frenetic style that carries the inherent danger of burning them out.
But it just never felt like that. Liverpool always looked stretched, as if they were just about holding it together, rather than holding their ground.
The equaliser, in that sense, felt inevitable. It was also deserved, as Lacazette showed creditable persistence to make up for his earlier misses with a composed finish.
And it may just mean this is a bigger missed opportunity for Liverpool in the title race.
Register for free to continue reading
Registration is a free and easy way to support our truly independent journalism
By registering, you will also enjoy limited access to Premium articles, exclusive newsletters, commenting, and virtual events with our leading journalists
Already have an account? sign in
Join our new commenting forum
Join thought-provoking conversations, follow other Independent readers and see their replies