Arsenal beat Manchester City as Alexis Sanchez fires Gunners through to FA Cup final showdown with Chelsea
Arsenal 2 Manchester City 1: Nacho Monreal cancelled out Sergio Aguero's opener before Sanchez struck in extra-time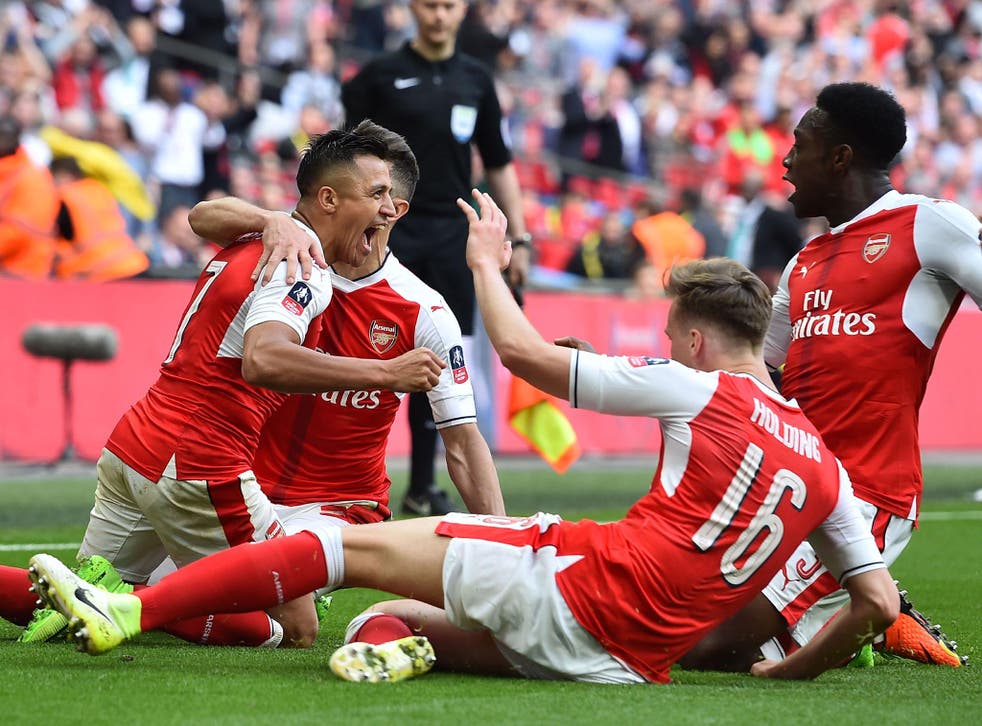 Still not out, and instead back in the FA Cup final. Arsenal provided the best possible response to the trauma and troubles of the last few months by reaching English football's showpiece for the third time in four seasons, while Arsene Wenger provided the best possible response to all of the debate from that with a truly significant win. It is not just that he could again win a competition that was supposed to have now felt passé for the club, but as much that he claimed such a victory about one of modern managers that was supposed to have rendered him history.
Wenger's side instead impressively beat Manchester City 2-1 after extra-time with all the qualities you would normally identify with a Pep Guardiola team: tactical insight with a switch to wing-backs, greater intensity… and no little luck.
The Catalan can point to the refereeing decisions and improbable missed chances as the story of their season, but the story of this game was still that they didn't really deserve it. That Alexis Sanchez got the winning goal against the side that was supposed to offer him a better future only adds another angle to a season that has been a sharp lesson for Guardiola.
An underwhelming City will now end the season without a trophy but now with real pressure on them to finish in the top four, while Wenger has finally and rather forcefully alleviated the tension around this season. There is another stat that sums up the stature of this match, and what it could yet mean for the future. It could be a huge turning point, because there was a huge turning point in the game: it was the first time that Arsenal had come from behind to win against one of the Premier League's current top six since November 2012.
One of the big debates at Arsenal right now beyond the manager's future is of course about his ability to actually "change", and this game did offer suggestions in that regard right from the start. Wenger again played three at the back for just the second time in 20 years at the club - the first being Monday night against Middlesbrough - and had the side sit much deeper than they did in their last game against City.
Arsenal vs Manchester City player ratings

Show all 22
Arsenal were also more than willing to go into challenges aggressively, something that irritated Guardiola more and more as the game went on. It made for a conspicuously scrappy match, especially when a relatively innocuous Gabriel foul on David Silva forced the playmaker off with injury for Raheem Sterling after just 23 minutes.
He had predictably been at the centre of City's best moves up to then, once with a through ball for an Aguero shot and then when attempting a rare header, but Arsenal were still doing a thorough job of containing Guardiola's attack. They did possibly get fortunate when an Aguero strike was ruled out because Leroy Sane's cross was adjudged to have just gone out of play, but were then maybe unfortunate when Jesus Navas appeared to push Sanchez in the box only for referee Craig Pawson to wave away complaints.
It was not the only time he had to do that, in what was a very stop-start game.
In rather typical Arsenal fashion, though, they stopped doing what was working… and got caught. Wenger's side suddenly stepped up much more in the second half and, despite some promising play, were caught out pretty much the first time City had a counter. Aaron Ramsey had the ball on the right on 61 minutes but, just when everyone in a crowded box was expecting a cross, he took more out of the ball only to have it taken off him.
City ran straight through the empty middle of the pitch for Aguero to run straight through on goal. The Argentine did initially look to take a clumsy first touch that appeared to kill the chance, except he merely displayed his killer instinct by taking advantage of Petr Cech's bizarre hesitation to lift it over him.
In rather typical City fashion, though, that was not the end of it. They had barely any control of the middle of the pitch without Silva and Arsenal eventually made that space count - albeit only when someone applied a bit of order to the chaos. Alex Oxlade-Chamberlain whipped in a supremely precise cross that was the equal of Christain Eriksen's on Saturday, and the incoming Nacho Monreal put it through Bravo.
Wenger could justifiably claim that his wing-back system was working.
That goal merely marked the final transformation of this semi-final from a match without flow to the match without midfields. There was suddenly too much flow, as the game basically evolved - or devolved - into endless exchanges of surging runs right through the pitch. For Arsenal, they brought one brilliant shot from Danny Welbeck that went narrowly wide and a lot of nervous moments for Claudio Bravo that Nicolas Otamendi had to be particularly alert to cut out. For City, they brought two strikes off the frame of the goal, one a Yaya Toure shot off the post the other a Vincent Kompany header off the crossbar.
As the game went into extra-time, though, it was Arsenal that seemed to have the extra level. While City deteriorated into worse shapelessness, and Guardiola made some strange personnel decisions like taking off Aguero, Wenger forced more purpose into his side. It was no surprise when Sanchez eventually forced in the goal to make it 2-1, and less of a surprise that it came from a predictable laxness in the City defence.
The reality is still this result - or at least the pattern of the game - was relatively unpredictable given everything that has happened.
City and Guardiola continue to underwhelm, however, while Wenger has overcome.
Join our new commenting forum
Join thought-provoking conversations, follow other Independent readers and see their replies