Arsenal vs Manchester United report: Wayne Rooney and a Kieran Gibbs own goal make Gunners rue missed chances
Arsenal 1 Manchester United 2
Ian Herbert
Saturday 22 November 2014 20:31 Comments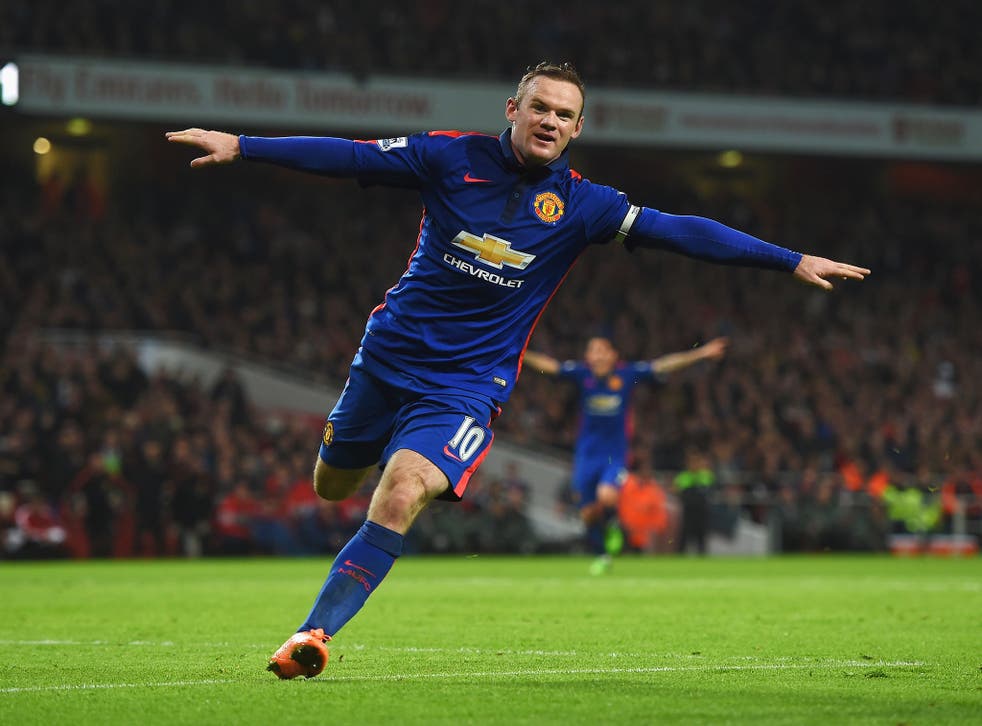 The match programme carried images which depicted what immense significance this fixture has always carried. Thierry Henry, David Seaman, Sylvain Wiltord, the league title being won by Arsenal at Old Trafford and Duncan Edwards signing an autograph at the old Highbury Clock End, the week before the Munich Disaster.
How far from that place both now sit. The losing side were energetic and enterprising for a time and the winning side showed the ability to grind out victory which Louis van Gaal seems to have instilled in them, to reach the top four tonight. But both look a distance from matching the best in Europe, or even the best in England. Arsenal's defensive vulnerability revealed itself again when a comedy of errors from Kieran Gibbs allowed Antonio Valencia's drive across the box to deliver United a goal against the odds. And for all the pressure Arsene Wenger's side had put on a United defence which grew stronger as the game wore on, his side could not get through and were punished on the counter-attack once again.
Arsenal 1 Manchester United 2 - player ratings

Show all 24
Injuries that both sides could sorely do without – to Arsenal's Jack Wilshere and Manchester United's Luke Shaw – were the concerns that Wenger and Louis van Gaal carry forward. But the Dutchman's biggest anxiety will be any suggestion that David de Gea might want to leave Old Trafford. He saved United's skin again tonight.
These matches are not what they used to be. Juan Mata and Ander Herrera wiled away five minutes in pleasant conversation on the pitch with Santi Cazorla before the game. If they didn't have care in the world then they should have done. We are almost into December, Louis van Gaal is still changing systems – back, here, to the three-man defence which he began the season – and for the first half hour his back line looked little less than traumatised by the prospect at being asked to play in yet another formation.
A three-man back line needs a leader and full backs with positional sense to make it back and support. But it was a catastrophic unit for 20 minutes. United's struggle to get any organisation into their defensive game was compounded by Arsenal enjoying one of their best 45-minute spells of the season. They terrorised down the right side of the United box, with Alex Oxlade-Chamberlain starting the game like a train and Calum Chambers overlapping, leaving Luke Shaw – morphing from full-back to win-back – utterly at sea. Young Tyler Blackett fought his own battle to get organised and Arsenal looked odds on to take an early lead.
They had Danny Welbeck's to thank for the failure to break the deadlock. The game was only four minutes old when a Chambers/Oxlade-Chamberlain exchange saw the winger put Welbeck through into the six-yard box but Paddy McNair made a block. The truly gilt-edged chance arrived five minutes later. Oxlade-Chamberlain beat Rooney in an aerial challenge near the right touchline, emerged with the ball and delivered a cross from the byline which allowed Welbeck a clear header. He got under the ball and sent it over the bar.
Welbeck is finding faith in his work here that he did not know at Old Trafford. There was even a cardboard cut-out figure of him in the match programme. But the old question mark about him – the number of opportunities he needs to put a goal away – was revealing itself again.
It was not only the United defence which struggled. Michael Carrick also failed to get hold of the area in front of them and the central ball behind the defence worked several times more. Smalling was too busy worrying about Welbeck to prevent Wilshere running hard and unchecked to get two clear shots in on goal. De Gea saved both, with a third stop in that spell keeping his side in the game.
It was easy street for Arsenal, which made Wilshere's bad-tempered retaliation at Fellaini just before the half hour mark even more indisciplined. A tussle between the two of them left Fellaini standing over the Englishman, whose responded by directing his head at the 6ft 4in Belgian. If Fellaini ahd been a few inches shorter Wilshere would have connected and would have been dismissed. He was lucky not to have been given his orders, in any case.
Arsenal's vulnerability to the counter attack was always likely to give United their opportunities and they did begin to threaten towards the end do the half, with Angel di Maria the fulcrum on the right. Rooney took a touch rather than strike his cross first time, giving Chambers the chance to make a covering challenge.
Arsenal began the second half as they had finished the first, with Welbeck threatening. He raced into the box from the left side byline and shot at De Gea, when there were options in the six-yard box.
But then United demonstrated that it does not take much to penetrate that Arsenal defence. It was a wretched opening goal in every possible sense from a north London perspective. Kieron Gibbs went up for a cross which took out his goalkeeper Wojciech Szczezny – who subsequently left the field – and then stuck out the leg that defected in Valencia's speculative shot. From then, United's defence looked strong and Arsenal's vulnerability to the counter attack was the finish of them.
They poured forward, Di Maria race out and clipped the ball to Rooney who clipped the ball home to make United the winners. Olivier Giroud's half-volleyed finish – after di Maria unfathomably failed to finish another counter attack – created some late tension but United were home: the better of two less than glorious sides.
Register for free to continue reading
Registration is a free and easy way to support our truly independent journalism
By registering, you will also enjoy limited access to Premium articles, exclusive newsletters, commenting, and virtual events with our leading journalists
Already have an account? sign in
Register for free to continue reading
Registration is a free and easy way to support our truly independent journalism
By registering, you will also enjoy limited access to Premium articles, exclusive newsletters, commenting, and virtual events with our leading journalists
Already have an account? sign in
Join our new commenting forum
Join thought-provoking conversations, follow other Independent readers and see their replies