Arsenal fight through fatigue to show their class when it matters as clouds begin to merge for Sheffield United
Arsenal 2-1 Sheffield United: Three games in six days took it's toll on the hosts but Bukayo Saka and Nicolas Pepe provided two moments of magic to consign the Blades to a worrying fourth defeat of the season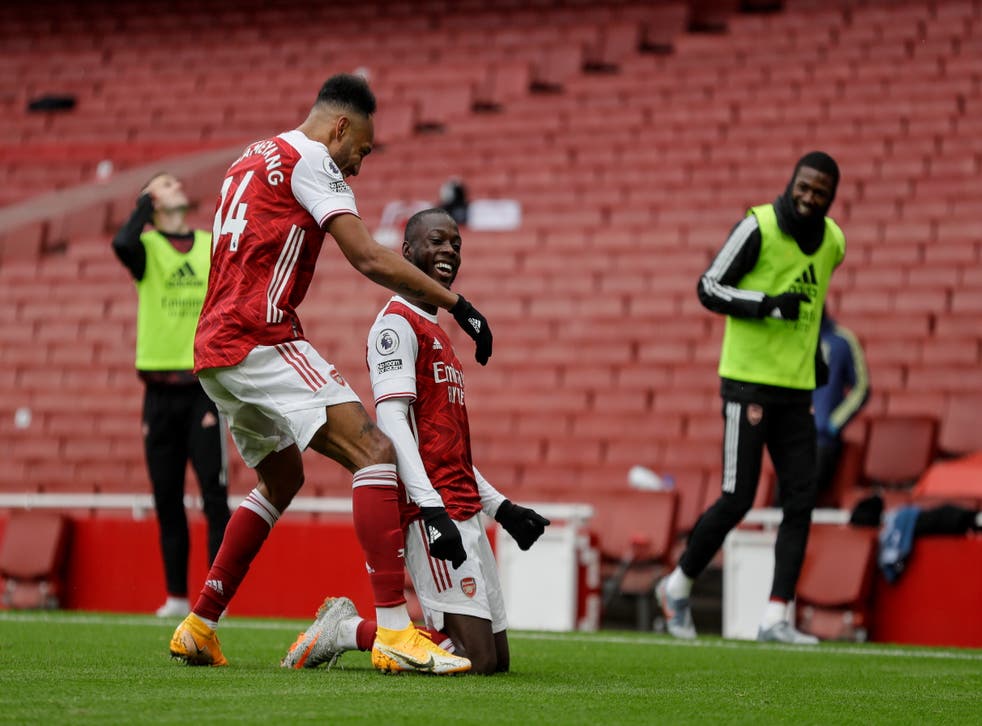 On a day where the rain threatened to douse even the slightest sparks of creativity, a visibly tired Arsenal side summoned their last saps of energy, produced two moments of sheer quality, and held on by tooth and nail to defeat Sheffield United and the downpour at the Emirates.
After two gruelling matches against Liverpool already this week, this always threatened to be something of a flat performance from Mikel Arteta's side, who moved in wet creaks and heavy groans throughout a miserable first half. In the end, though, their class and mettle shone through, with Bukayo Saka celebrating his England call-up with a neat header before Nicolas Pepe ran through on goal, a blur of trickery and feints, and curled a shot into the far corner just 90 seconds later.
Sixty-nine days separated Sheffield United from their last Premier League goal ahead of kick-off, and David McGoldrick did at least finally bring some mercy to that record with a terrific late goal. Yet, for now, the Blades' arresting slump continues unabated, desperately short of imagination in attack and uncharacteristically brittle in defence. The bells of hell have not quite yet started to ring, but this was still a seventh straight top-flight defeat, equalling a 45-year-old club record.
On a slick, greasy pitch, the match began in a drip-feed of slips and slide tackles, with David Luiz's maddening caprices making an immediate - and reliably lawless - introduction. First, almost directly from the kick-off, his precise through ball set Eddie Nketiah free, only for the striker to skid and lose his footing.
Just mere seconds later, though, Luiz's alter-ego emerged. It was one of his typically slapstick aberrations, caused by an unmitigated vacuum of concentration, as he allowed Gabriel's pass to run across his body and directly into the path of Oliver Burke. In his desperation to recover, the Brazilian indiscreetly yanked at Burke's shirt, allowing Bernd Leno to hurtle out and clear the loose ball. It appeared a foul, with Chris Wilder apoplectic on the touchline, but the referee shook his head solemnly under the duress of the manager's insults.
It was a forebear of the sloppiness to come, neither side able to string together their patterns of play, the rainfall stunting them in relentless daggers. United struggled to provide any incisive attacking threat, with their new £23.5m signing, Rhian Brewster, not registered in time to feature.
But more concerning for Arsenal was the plight of Pierre-Emerick Aubameyang, stranded on the left-wing, doggedly attempting to influence the game, but rarely able to broach a dangerous area. The minutes rolled by, the rain continued to fall, Wilder coiled in permanent disgust, and still neither side had taken a shot. Nketiah's meek header after 28 minutes brought a pitying end to the wait, but it always felt like an oddity, an uncomfortable streak of excitement in a match wallowing in its own sorrows.
Even with Arsenal's new sense of balance under Arteta, the weight on Aubameyang to conjure something from the damp nothing was always evident. Approaching half time, frustrated and isolated, he cut inside, collected the loose ball and whipped a brilliant shot towards the top corner, with Ramsdale diving brilliantly to tip the ball over the bar.
Even in this hollow arena, amid an equally lifeless game, the concern when Aubameyang screamed in anguish seconds later was palpable. Sander Berge's lunging tackle stabbed Arsenal's captain in the right ankle at full force, and he rolled around in pain, requiring lengthy treatment, before eventually hobbling on.
Arsenal were re-energised in the second half, though, and Arteta's decision to replace Nketiah with Nicolas Pepe, allowing Aubameyang to play centrally, immediately paid dividends. Dani Ceballos, whose late winner secured victory when these two sides last met in the FA Cup quarter-finals, spliced open the defence with a neat pass but, again, with the goal gaping, Aubameyang was betrayed by the ground beneath him, slipping at the vital moment.
Their passing far sharper, their runs far more aggressive, the breakthrough finally came on the hour mark. A crisp series of one-twos pulled at the seams of United's defence, and Saka lingered in space at the back post, where he was able to nod home Hector Bellerin's floated cross without challenge.
The second came barely two minutes later. This time, the singular invention of substitute Pepe, who ran at United's defence, opened up his body and curled a low shot into the far corner.
The cushion, though, proved something of a false comfort for Arsenal. They dropped deeper, became ever so slightly more nonchalant, and with six minutes remaining, United's drought was finally ended. McGoldrick was afforded a carless amount of space on the edge of the box, from where he whipped a pinpoint shot into the far corner; only his third goal in 32 Premier League games.
A frantic final few minutes followed as Arsenal desperately clung onto the three points. McGoldrick blazed a half-volley just wide, while Ramsdale became a permanent fixture in Arsenal's box as late crosses and corners were flung in blindly.
It may not have been entirely convincing, but Arsenal held on. Three victories in four league games for Arteta's side, and a lasting sense of resilience that used to be unrecognisable. For Sheffield United, the light felt a little closer, but nonetheless, they leave under the same cloud of gloom to which they arrived.
Register for free to continue reading
Registration is a free and easy way to support our truly independent journalism
By registering, you will also enjoy limited access to Premium articles, exclusive newsletters, commenting, and virtual events with our leading journalists
Already have an account? sign in
Register for free to continue reading
Registration is a free and easy way to support our truly independent journalism
By registering, you will also enjoy limited access to Premium articles, exclusive newsletters, commenting, and virtual events with our leading journalists
Already have an account? sign in
Join our new commenting forum
Join thought-provoking conversations, follow other Independent readers and see their replies