Arsenal vs Southampton: Why Theo Walcott and Alex Oxlade-Chamberlain have failed to fulfil their potential
Walcott and Oxlade-Chamberlain face their former club on Saturday, neither having progressed as much as hoped, raising questions about Arsenal's ability to improve players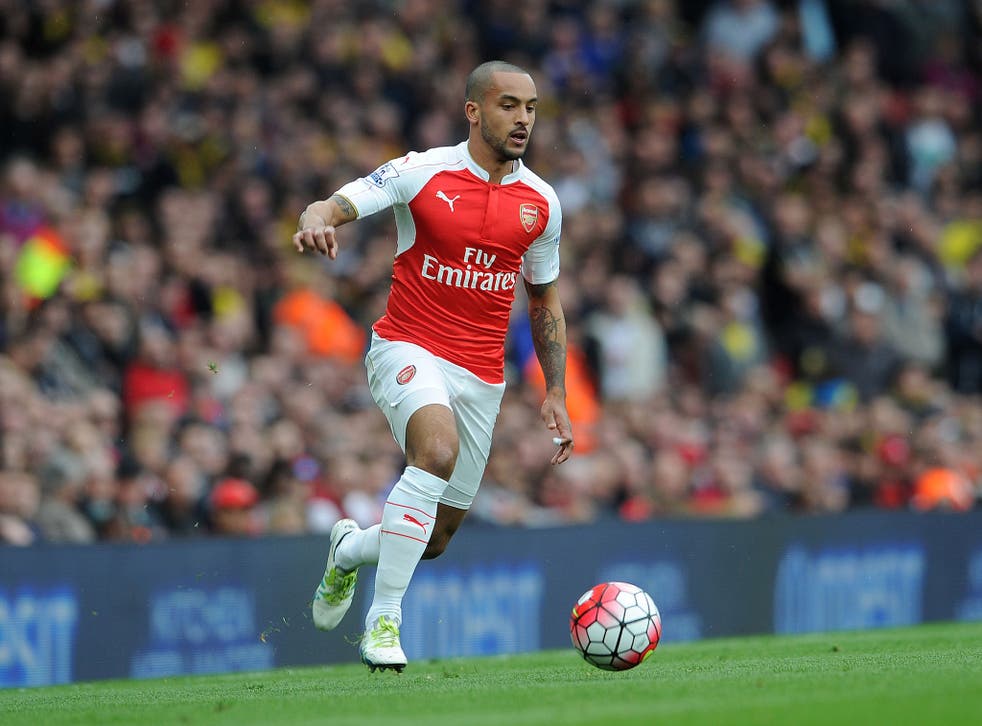 More than 10 years on from his Arsenal debut, Theo Walcott is now due a testimonial, although at just 27 years old he is unlikely to want one. It has always felt with Walcott that his best is just around the corner, but this season he looks more determined than ever to get there.
Arsenal play Southampton on Saturday, the seventh time that he has faced them as an Arsenal player. Southampton have certainly changed in the decade since Walcott left, becoming regular Premier League overachievers and clever recruiters of players and coaches. Walcott will face a version of the same question: how much has he developed and improved since leaving for Arsenal at 17?
Clearly Walcott has done well at Arsenal, racking up 347 appearances, scoring 86 goals and winning the 2015 FA Cup. Given how many talented teenagers fall away, his 10 years at a top club is testament to his professionalism and focus. And yet there is still a sense of something so far unfulfilled with Walcott. Injuries have held him back when he was close to his best form and he has struggled to turn himself into the most important, consistent player at the club.
Alex Oxlade-Chamberlain is still just 23 years old and has been at Arsenal for half as long as Walcott. Like Walcott, he moved from St Mary's to the Emirates at 17. He was a talented all-round sportsman whose physical development came later than most. But soon enough he was playing Southampton, then Arsenal, then England, before his football understanding had time to catch up.
Like Walcott, then, Oxlade-Chamberlain's talent was more obvious than his best role in a team. Like Walcott, he has been unfortunate with injuries holding him back just as he found rhythm and form. But he has not produced as much as was hoped. Earlier this year Arsenal were open to offers for him.
Arsenal - transfer ins and outs

Show all 9
There are parallels between Walcott and Oxlade-Chamberlain, and also with Calum Chambers. He will not be facing his old club on Saturday as he is now out on loan at Middlesbrough. He, too, made his England debut as a teenager, before finding life at Arsenal harder than expected. Wenger started Chambers in 17 league games in his first season, but just two last year.
When Walcott, Oxlade-Chamberlain and Chambers have all found it difficult to reach their potential at Arsenal, to say nothing of Kieran Gibbs or Jack Wilshere, it raises questions about the common factor between them.
There is a widely-held theory in the game that Arsene Wenger is a coach more focused on cultural development than individual development. He works to create an open positive empowering environment, where players are free to express themselves, and trusted to learn from their mistakes. It is not an environment dominated by vocal senior players. It is not an environment driven by intense individualised prescriptive coaching.
This means that it is a very enjoyable environment for established players to flourish in, as Santi Cazorla, Mesut Ozil and plenty of others have shown. Many players who leave Arsenal want to come back and train there. But it is not necessarily the best way to help players make the most important step in modern football, not between the ages of 18 and 21, but between 21 and 25.
Some young players, such as Aaron Ramsey and Hector Bellerin, have the instinctive intelligence to quickly pick up what they are expected to do. But many need an individualised programme to help them become the best they can be. Of course player's workloads are tailored for them at Arsenal, but many youngsters are left wanting more detailed instruction about what they should on the pitch. Wenger, who takes training himself, does not often provide it.
Keeper scores spectacular 80-yard goal
This explains a big part of why this generation of Arsenal players, the 'British core' that Wenger planned to build around, are not the players in their mid-20s that they hoped to be. Arsenal's most reliable performers, still, are established players brought from abroad who already know what to do: Cazorla, Ozil, Nacho Monreal, Laurent Koscielny, Olivier Giroud.
Wilshere and Chambers have gone out on loan, and Kieran Gibbs is stuck on the fringes. Walcott and Oxlade-Chamberlain are still part of the first team, and this year is crucial for both of them. "It is an important season for Theo," Wenger said before opening weekend, "because last year he had a difficult period."
Walcott's struggles last season saw him miss out on Roy Hodgson's Euro 2016 squad, with Raheem Sterling making it instead, and Andros Townsend chosen ahead of him as back-up. But he has worked hard in the last six months on his fitness, as he tries to make the right-wing position his own for Arsenal. Walcott has played 90 minutes in all three of Arsenal's Premier League games so far. He scored against Liverpool and got an assist against Watford. He was in Sam Allardyce's England squad and came off the bench in Slovakia last Sunday.
This season is only three games in but Walcott looks hungrier and sharper than he has done before. The challenge now is to keep it up over the rest of a long season.
But Walcott now stands a better chance of serious improvement in his game than at any point since he joined Arsenal. He has sometimes suffered for being too promising too early, and missing out on building blocks of development. He came late to football, and had only been played one full season, for Newbury Schools under-10s, before joining Southampton. He did just one week of his under-17 scholarship at Southampton before being whisked off into Harry Redknapp's first team squad. He was taken to a World Cup that did him more harm than good. And then he was put into a very adult environment at Arsenal, as he tried to learn the senior game.
One coach who worked with a young Walcott at Southampton still speaks warmly of the "purity of his play", how Walcott was more direct, and less manufactured than many boys they see. Walcott was still close to the Southampton coaching staff after joining Arsenal, still keen on their input. But for another old coach of Walcott's, the move to Arsenal has not turned out as he hoped.
"From what Wenger had done with Thierry Henry, I thought Arsenal was the ideal move," said Simon Clifford. "But as I've looked over the years, I'm not convinced that it was. If Theo had had the support to become the best player in the world, I think he could have done."
Register for free to continue reading
Registration is a free and easy way to support our truly independent journalism
By registering, you will also enjoy limited access to Premium articles, exclusive newsletters, commenting, and virtual events with our leading journalists
Already have an account? sign in
Register for free to continue reading
Registration is a free and easy way to support our truly independent journalism
By registering, you will also enjoy limited access to Premium articles, exclusive newsletters, commenting, and virtual events with our leading journalists
Already have an account? sign in
Join our new commenting forum
Join thought-provoking conversations, follow other Independent readers and see their replies