Arsenal vs Stoke: Arsene Wenger confirms Shkodran Mustafi out for rest of year with hamstring strain
Germany international will be out until into January with a hamstring strain that forced him off against Stoke City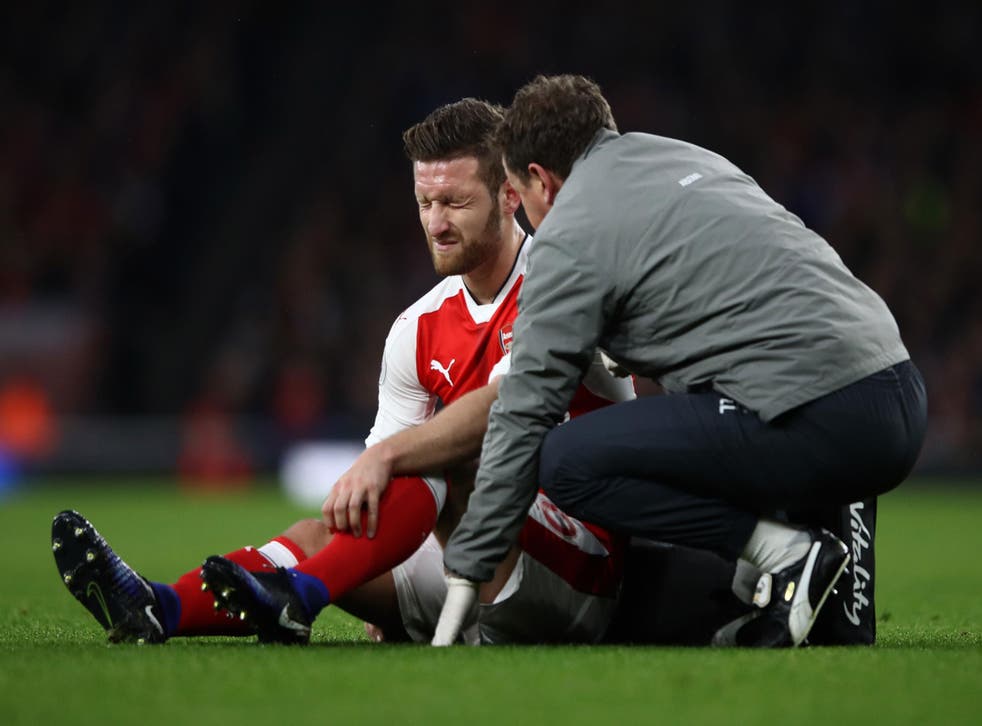 Shkodran Mustafi will miss the Christmas fixtures after going off with a hamstring injury during Arsenal's 3-1 win over Stoke City this afternoon.
The German international centre-back limped off in the first half and Wenger confirmed that it was a serious strain, one that would rule him out for an absolute minimum of three weeks, but likelier to keep him out into the first few weeks of January.
Mustafi has formed a strong partnership at centre-back with Laurent Koscielny since arriving in the summer from Valencia for £25million. Now that he is injured Wenger will have to play Gabriel alongside Koscielny for the next few weeks. Mustafi will be missing for Premier League clashes with Everton, Manchester City, West Bromwich Albio and probably Crystal Palace and Bournemouth in the new year.
"It looks like a good hamstring strain, good in the bad sense," Wenger said after the game. "The minimum is 21 days. That means he will have a nice Christmas."
Wenger was delighted with Arsenal's performance in beating a solid Stoke team, moving them to the top of the Premier League. Wenger hoped that their new-found resilience will keep them in the title chase.
"We have given a lot in the last few days, at West Ham and at Basel," Wenger said. "We had a hestitant start, but again we found the resources to win today. The key was not to get my frustration into the game and to keep our nerves and composure. That's what we did. We kept passing the ball and didn't panic."
Wenger said that he hoped Arsenal could improve on their second-place finish last year by continuing to record better results in games like this one, at home against mid-table opposition. "We were not too bad last year," Wenger said. "We finished second in the league. I believe we have improved. We have to show that on a longer term. I believe we have created confidence. We are ambitious."
"When you analyze last year's season, at home, we did very well against the top five and we dropped points between five and 12 at home, teams in midtable. That's our challenge this year, to continue to do well against the big teams" but also games like today."
Register for free to continue reading
Registration is a free and easy way to support our truly independent journalism
By registering, you will also enjoy limited access to Premium articles, exclusive newsletters, commenting, and virtual events with our leading journalists
Already have an account? sign in
Register for free to continue reading
Registration is a free and easy way to support our truly independent journalism
By registering, you will also enjoy limited access to Premium articles, exclusive newsletters, commenting, and virtual events with our leading journalists
Already have an account? sign in
Join our new commenting forum
Join thought-provoking conversations, follow other Independent readers and see their replies