Arsenal vs Stoke match report: Gunners go top after spirited second half display against Potters
Arsenal 3 Stoke City 1: The Gunners came from a goal down to claim all three points at the Emirates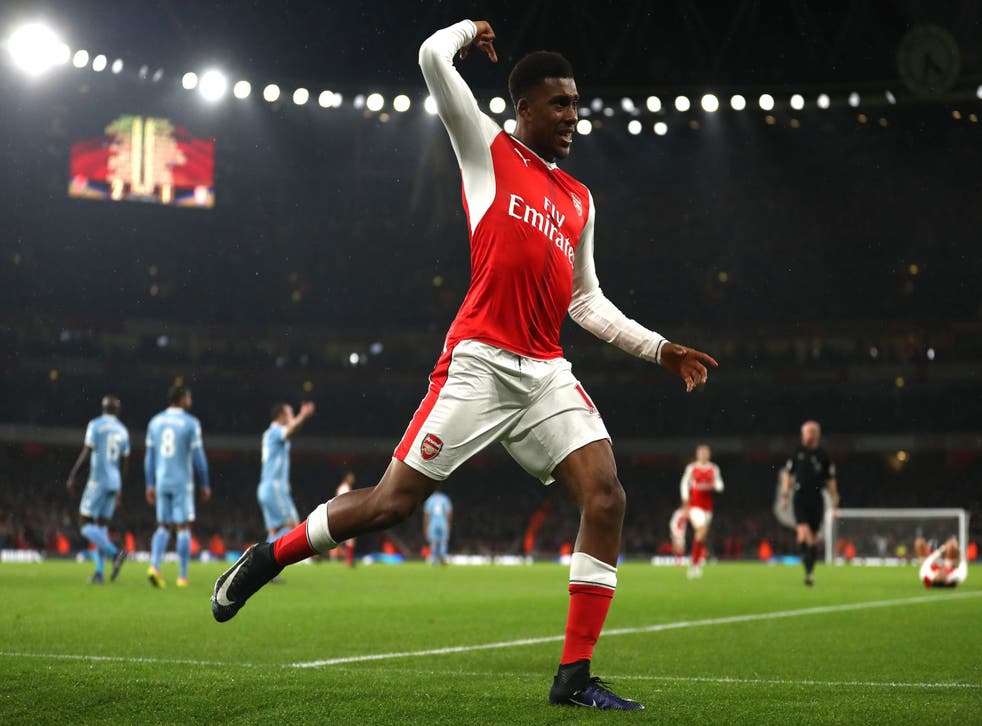 This is the time of year when title credentials are tested, and this afternoon Arsenal did something even more important than climbing to the top of the Premier League. They looked like a team who could win it.
This was a difficult match against a clever, dangerous Stoke City side, and when Arsenal went 1-0 down in the first half it felt like a day that could get away from them. This is not a team famed for its resilience or its ability to get back up off the canvas.
But Arsenal responded in the best possible way, fighting back and playing Stoke City off the pitch with some brilliant, expansive creative football. They won 3-1, with three excellent goals from Theo Walcott, Mesut Ozil and Alex Iwobi. They could have scored more and they certainly looked like a team who could reasonably claim to be the best in the country.
Last Saturday Arsenal went to West Ham United and won 5-1, but this was a more impressive performance. They faced a far stronger Stoke side, far harder to play against, and could not rely on a brilliant Alexis Sanchez hat-trick either. What this was a genuine team performance, a display of high-end attacking football, one in which Arsenal dealt perfectly with the twin pressures of being expected to win and their own early setback.
Arsenal have struggled recently to establish their rhythm in games without Santi Cazorla, their midfield conductor who underwent ankle surgery this week and is unlikely to return before February. Wenger said that his team needs to rediscover their balance and here, in the first 20 minutes, that is how it looked.
It was Stoke who took the lead when Charlie Adam converted from the spot, after Granit Xhaka had collided with Joe Allen in the box. It was not an obvious foul, but it was a moment of clumsiness from Xhaka whose discipline is still the major drawback in his game.
The turning point for Arsenal was when Shkodran Mustafi pulled up with a hamstring strain that will likely keep him out for at least one month. That is obviously bad news, but it did allow Wenger to bring on Hector Bellerin, who has been out for five weeks with an injury of his own. Back on the pitch, Bellerin gave Arsenal pace and width, which they desperately needed.
If Arsenal had gone in to half time 1-0 down it might have been a different game, but they scored a crucial equaliser just before the break. Sanchez played the ball out to Bellerin, making the incisive run that a makeshift right-back would not make. He drove in a first-time cross and Walcott got in at the near post to score.
That goal freed Arsenal up mentally and when they came out for the second half they tore into Stoke. The second goal, four minutes after the re-start, was a delight. Alex Oxlade-Chamberlain, in the best Arsenal form he has been in for years, clipped a pass over the top of the Stoke defence. Ozil ran onto it and lifted a header over Lee Grant and into the net.
There was a brief spell of pressure, as Stoke profited from their decision to move Mame Biram Diouf up front, changing from a 3-4-3 to a 4-4-2 system. Then when Peter Crouch came on he nearly made 2-2 with his first touch, a header from a corner which Petr Cech had to get down to save.
But it was another substitute, Iwobi, who ended the game, scoring soon after his introduction. Sanchez was tripped on the edge of the box and Iwobi reacted fastest, picking up the loose ball and bursting away from Charlie Adam. Before Grant had time to set himself, Iwobi had put the ball into the bottom corner of the net.
The ended Stoke's resistance and Arsenal were free to play their expansive football in the final minutes. Olivier Giroud came on and could have made it 4-1 with the last action of the match, putting a header wide from close range. It did not matter too much, Arsenal had already made their statement.
Register for free to continue reading
Registration is a free and easy way to support our truly independent journalism
By registering, you will also enjoy limited access to Premium articles, exclusive newsletters, commenting, and virtual events with our leading journalists
Already have an account? sign in
Register for free to continue reading
Registration is a free and easy way to support our truly independent journalism
By registering, you will also enjoy limited access to Premium articles, exclusive newsletters, commenting, and virtual events with our leading journalists
Already have an account? sign in
Join our new commenting forum
Join thought-provoking conversations, follow other Independent readers and see their replies