Alternate reality: What if Arsenal had replaced Arsene Wenger with Mauricio Pochettino in 2014?
Imagine a world in which Wenger retired after the 2014 FA Cup final and Arsenal turned to up-and-coming Southampton manager Pochettino to replace him...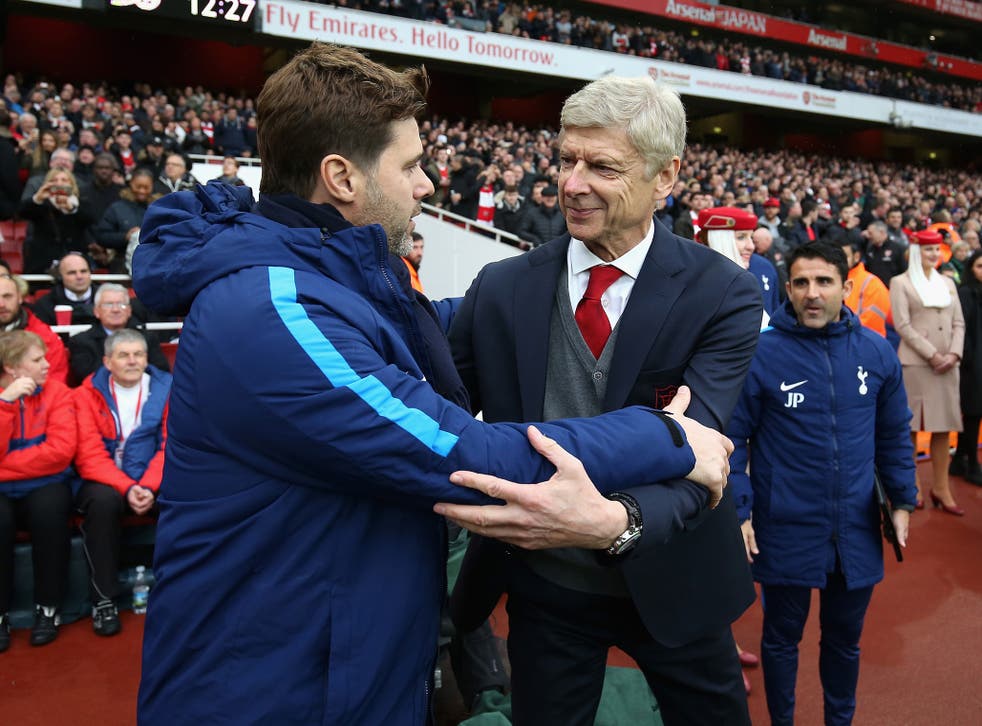 Imagine a world in which Arsene Wenger retired after the 2014 FA Cup final, and in which Arsenal failed to land any of their top targets to replace him. Imagine that they were left with taking a punt on a 42-year-old Mauricio Pochettino from Southampton, thinking that what the club needed to rebuild after Wenger was some youthful energy, not another safe pair of hands. Imagine then that Tottenham Hotspur, having got rid of Tim Sherwood but missing out on Pochettino and Louis van Gaal, then had to choose between Ronald Koeman and Frank De Boer for the last three seasons at White Hart Lane.
Think now, almost four years on, where these two clubs would be. If Pochettino had introduced his energetic high pressing style at the Emirates, giving Alexis Sanchez and Mesut Ozil the structure with and without the ball that they never really had at Arsenal. If he had taught Arsenal how to defend aggressively, on the half-way line, at which Laurent Koscielny could be one of the best in Europe, just as Jan Vertonghen and Toby Alderweireld have become.
If Pochettino had given the same specific instruction and guidance that Alex Oxlade-Chamberlain or Calum Chambers lacked at a crucial stage of their career. If he had helped to keep Aaron Ramsey and Danny Welbeck fit and injury free and made the most of their running power off the ball, or got the most out of Jack Wilshere. If he had developed the raw talent of Hector Bellerin as a modern attacking wing-back, just as he did for Danny Rose or Kyle Walker?
In this timeline, where do you think Arsenal would be now? Surely better than sixth in the table, having finished fifth last year, and barely having made an impression in the Premier League or Champions League over the last five seasons. Who knows whether they would have caught Pep Guardiola's Manchester City this year, or Antonio Conte's Chelsea last year, but they would certainly have been moving in the right direction, and not just left where they are at the back of the pack.
And what of Tottenham? Without their best manager in a lifetime, it is almost impossible to conceive of how they could have launched their two serious title challenges, finished 11 points and three places ahead of Arsenal last season or be sat four points ahead of them going into Saturday's derby.
Would Tottenham have become one of the strongest, most energetic teams in the country, capable of stealing the ball back within three seconds of losing it? Would they have made Rose, Walker and Mousa Dembele fitter and more consistent than they ever had been before? Would they have provided the structure for Christian Eriksen to become, David Silva aside, the most consistent creative player in the Premier League?
Would Spurs have turned Eric Dier and Dele Alli but into two of the most intelligent, adaptable English youngsters of their generation, and Harry Kane into the best number nine in the world? And would they have been able to keep these players – Kyle Walker aside – from bigger teams happy to pay them two or three times as much?
Of course we do not know exactly what, say, De Boer would have done at White Hart Lane. He would probably have been better than Tim Sherwood. But we do know that Pochettino is a transformative manager and De Boer is not. And without Pochettino, Tottenham would not have become the team they now are, as the organising force behind it all.
But, as it happens, Pochettino is Tottenham manager and Wenger remains in charge at the Emirates. This will be Pochettino's ninth north London derby, but it will be Wenger's 52nd. And whatever Pochettino goes on to achieve at Tottenham, whether he wins the Premier League or even the Champions League, or not, he will always be a manager of a different generation from Wenger. Without that same longevity or the same power.
Asked at his press conference on Thursday afternoon, Pochettino does not think any manager will wield that same power over a top football club ever again. "It's difficult, not easy," he said. "For different circumstances, it will be tough. I think maybe [with Wenger], we are talking about one of the last managers that can apply this power, in everything, in a football club, a company."
Because football has changed, and the old English culture of managerial power has dissolved, even during Pochettino's brief stay here. "Now, the owners are different," Pochettino said.
Tottenham v Arsenal: The best north London derbies

Show all 11
"England was England. Then the European community started to share more of their culture. The Latin culture is more now in the English football culture. Before, England was a little bit of a paradise of football, a unique place. To respect projects, respect people, respect the manager. When I arrived, five years ago, still. But in the last few years, it's terrible, it's terrible. All that happened, is similar to another European country."
Wenger is only now, after nearly 22 years in English football, having to deal with a hint of that reality at Arsenal. But it will be the framework for the rest of Pochettino's career. He has dragged Tottenham up above Arsenal, and tomorrow would be a very different game without him.
Join our new commenting forum
Join thought-provoking conversations, follow other Independent readers and see their replies