Arsenal supporters from around the world share 'Wenger Out' messages
The signs are everywhere, but are they fact or fake?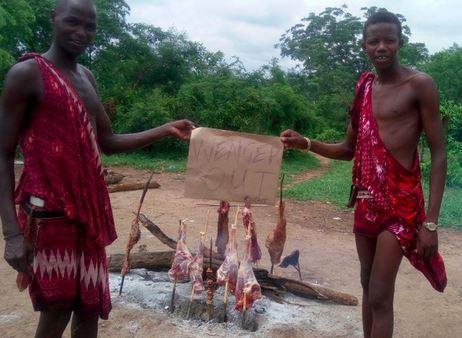 'Wenger Out', like all great movements, has gone international. From Singapore to Saudi Arabia. But the Kalahari desert? No. That one is just too good to be true.
In the age of Photoshop and fake news no one knows what to believe anymore. So we have helpfully subjected each banner to forensic verification tests and ranked them in order from fact to fake:
1. Plane banner over the West Midlands
No doubts over the legitimacy here. An expensively sourced banner flown high above the Hawthorns as Arsenal prepare to take on West Brom. A 'Wenger Out' sign in its natural habitat. Might it be Claude himself in the cockpit?
FACT ranking 10/10
2. New Zealand vs Fiji
2 and 3 are both football matches, so at least they are relevant in that regard. Attendance looks sparse at this New Zealand vs Fiji match, but the noise levels are likely to be on a par with the Emirates.
A litany of camera angles confirms that this is the real deal.
10/10
3. You are a right Turkey, Arsene
Here the 'Wenger Out' crusade has taken its mission to Turkey, seeking to convert the fans of Belediyespor and Basaksehir to their cause.
The artwork looks convincing, scrawled on in sprawling Arsenal red.
9/10
4. Anti-Trump protest
It is in London, so the angry outer would not have had far to travel. When Ivan Gazidis won't listen, the only option left is to take your case to the most powerful man in the world. Unfortunately, an executive order to sack Arsene Wenger is beyond the even the Donald's jurisdiction and would likely be overturned by the Supreme Court. Sad!
Not the first time the Arsenal manager has been mentioned in the same breath as a populist president:
9/10
5. WWE Raw
WWEnger Out.
9/10
6. The Arsenal Ultras
Minimal effort has been put into this sign – at least do it by hand, son – and the bearer looks too contented to be a true Claudite.
Just the sort of social media gimmick a Miami festival-goer would pull.
8/10
7. Coldplay
At least hold it up so Chris Martin can see it!
8/10
8. Arsene's Arab Spring
Political dissent and opposition parties are banned in Saudi Arabia. Is this illegal? It can't be long before 'Wenger Out' run in a by-election.
7/10
9. Beir-out
Wenger has a Master's degree in Economics and owned a small automobile equipment business when he was younger. When he sees that Lebanese engineers have been protesting his stewardship in Beirut, it may just tip him over the edge.
The fold on the top right of the banner makes it look more authentic. Sourcing is dubious.
7/10
10. You have serbed your time, Arsene
John Lukic never got a look in under Wenger, making just 15 league appearances in five years under the Frenchman. No wonder he wants him out.
6/10
11. Deserted
No. Come off it. I'm not buying it. Is it even the Kalahari? New Arsenal kit looks nice, mind.
4/10
Join our commenting forum
Join thought-provoking conversations, follow other Independent readers and see their replies