Arsene Wenger: Mesut Ozil had a jaded period but he will be Player of the Season... next season
£42.5m record signing returns to the Gunners squad for Sunday's trip to Hull
Jack Pitt-Brooke
Thursday 17 April 2014 23:42 Comments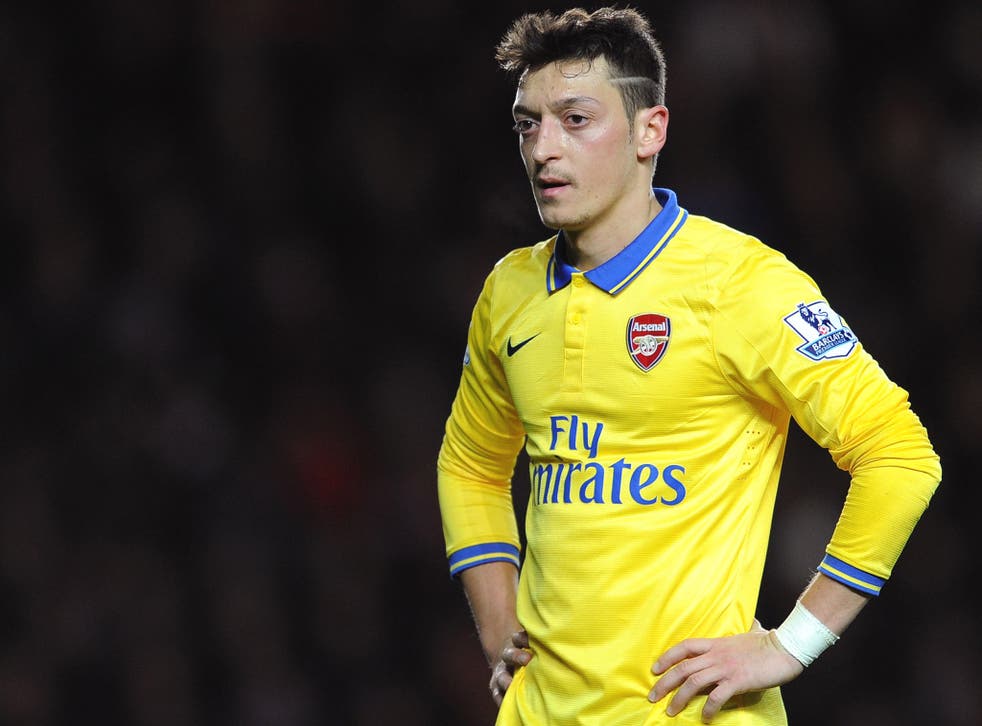 Arsène Wenger has admitted that his record signing Mesut Özil has struggled with the ferocity of the Premier League since joining Arsenal, but believes fans will see the real deal next season.
Wenger hopes to welcome Özil back into the team on Sunday for the trip to Hull City after five weeks out with a hamstring injury. And while the German could yet make an impact over the final weeks of the season, it was what he could contribute next season that really excited Wenger.
"He is a fantastic football player," Wenger said of Özil, the man he paid £42.5 million for last summer and of whom he remains fiercely supportive. "I would put him on the list to be player of the season next season."
His first campaign in England has produced some mixed results, with some brilliant performances but also plenty of quiet ones and a few times where he simply did not look ready for the physical demands of the English game.
Wenger, though, knows a fair bit about helping talented players adjust and he predicted bigger and better things in 2014-15. "The first season is the season in which you adapt and then you know what will happen," he said. "And I believe that he will know better his partners, he will know the league better and the potential is absolutely fantastic."
Arsenal have missed Özil recently, playing with none of the pace or wit that he brings to the team. Had he been fit to face West Ham on Tuesday, he would have been Arsenal's youngest – and fastest – outfield player, but he was not.
"He is a quick player, and agile," Wenger said. "He can get out of tight situations. Players can open up to do something interesting in behind, so when he is not there, you get out of the situation and lose the ball."
Özil's struggles at Arsenal are primarily down to the radical change of context that he underwent on deadline day. The Premier League is more competitive than La Liga, and Özil has more individual responsibility at Arsenal as well. He is the star of the show here, in a way he was not in Spain.
"He has gone through a difficult spell," admitted Wenger, "because physically he was not as present as you would expect him to be. He had no real preparation and had a period where he was tired because he was not used to playing [right] through the season.
"He felt the difference between Spain and here. Sometimes he was rested there because in Spain, when you are 2-0 up –when Real Madrid are 2-0 up – what strikes him is that the teams give up. They know they will lose the game.
"Mesut said what is the most difficult for him here is that 2-0 up, the teams fight like mad to come back. And that was the main difference – you have to fight until the last second of the game."
Register for free to continue reading
Registration is a free and easy way to support our truly independent journalism
By registering, you will also enjoy limited access to Premium articles, exclusive newsletters, commenting, and virtual events with our leading journalists
Already have an account? sign in
Join our new commenting forum
Join thought-provoking conversations, follow other Independent readers and see their replies