Arsene Wenger claims he sacrificed himself as manager to save Arsenal's global image
The club announced on Friday that Wenger would leave at the end of the season after 22 years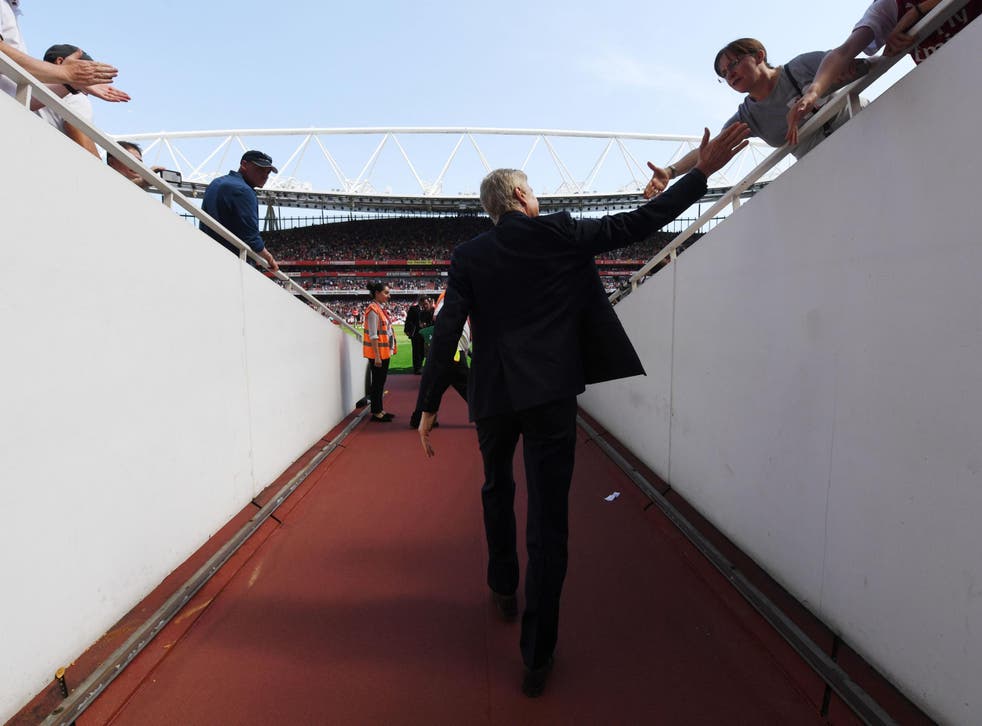 Arsene Wenger has claimed that had to sacrifice himself as the Arsenal manager in order to save the global image of the club he had given his life to build.
Speaking publicly for the first time since announcing his departure on Friday, Wenger spoke with emotional depth about giving Arsenal "the best years of his life" for 22 years, the events of the last few days, and the "difficult challenge" of how he moves on from this.
Wenger also refused to be drawn on the details of the conversations of last week, and the bigger question about whether he jumped or was pushed by the board. Just as Ivan Gazidis had ducked the same questions in the same chair on Friday evening.
Arsenal candidates to replace Arsene Wenger

Show all 11
But Wenger spoke passionately about protecting the "image of unity" at Arsenal, inseparable from the values he has instilled here, so popular all over the world. He accepted with a heavy heart that that image had been damaged by the last few years of fan protest and discord against his rule. So he understands why he had to be sacrificed for the sake of unity at the club and across its global fanbase.
"I believe this club is respected all over the world, much more than in England," Wenger said in his post-match press conference today. "Our fans did not give the image of unity at the club I want at the club all over the world, that was hurtful. I feel the club is respected, and the overall the image we gave of our club is not what it is and not what I like."
While Wenger pulled back from criticising the fans for turning on him, he said that he understood their concerns, and that ultimately came at his cost. "I am not resentful [towards] the fans, I do not want to make stupid headlines," he said. "I just feel that if my personality is in the way of what I think our club is, for me that is more important than me staying."
Wenger is very proud of how popular Arsenal have become all over the world under his management, which is why he is so keen to preserve that reputation, that image and those values: which are as much his life's work as any team or trophies.
"Sport is about something bigger than just winning or losing and for me that was always a worry," Wenger said. "How the club was perceived worldwide, for kids playing in Africa, China and America and the dreams it can create for young children who want to play football and all our clubs have a responsibility for that."
"If you travel with us, his club is respected all over the world. That is down to work and the way we play football, the way we behave and the way we treat people. I want that to go on and be respected, and give the image I think is right. It is the way the club is received and the impression it leaves all over the world."
Wenger does not know what he will do next, but gave a suggestion of his readiness to continue working, and his reluctance to step down, when he said that he "was not tired", and that his situation was "different" from when Sir Alex Ferguson retired as Manchester United manager in 2013. But when asked if he could manage another English team, Wenger accepted it would be difficult.
"That will certainly be emotionally difficult," Wenger said. "At the moment it is difficult for me to say. But at the minute I speak to you, I am too attached to this club."
Wenger has often spoken about his work at Arsenal as a "sacrifice of his life", and compared himself to a "monk" or a "priest". He returned to that theme this afternoon, and said that his work would make it very difficult for him ever to emotionally detach himself from Arsenal.
"I will never completely leave this club because I will always first look for Arsenal's result and see how well the club develops," he said. "I will always be attached. It is difficult. You do not give 22 years like that, and I gave the best years of my life to this club. I arrive at 46 years old and I worked seven days a week, not six, and not six-and-a-half, seven for 22 years. You cannot just walk away and say 'thank you very much, bye-bye. You cannot be on one side completely committed and then walk away and nothing happens. It is impossible."
Since announcing his departure on Friday, Wenger has been inundated with praise and he said the surreal feeling was as if he had seen his own funeral. "I must say I'm touched by all the praise I got from all of English football and I'm grateful for having had that experience in this country," he said. "For me, that is special."
"After that, I had the feeling a little bit that I have [a seat at my] funeral because people speak about you, it was a little bit interesting on that front. I don't need to die anymore - I know what people will say about me! That is quite interesting."
Register for free to continue reading
Registration is a free and easy way to support our truly independent journalism
By registering, you will also enjoy limited access to Premium articles, exclusive newsletters, commenting, and virtual events with our leading journalists
Already have an account? sign in
Register for free to continue reading
Registration is a free and easy way to support our truly independent journalism
By registering, you will also enjoy limited access to Premium articles, exclusive newsletters, commenting, and virtual events with our leading journalists
Already have an account? sign in
Join our new commenting forum
Join thought-provoking conversations, follow other Independent readers and see their replies