The Independent's journalism is supported by our readers. When you purchase through links on our site, we may earn commission.
Bankrupt of talent now, Arsenal pay a high price for austerity magnified by loss to Manchester United
Manchester United 2 Arsenal 1
Ian Herbert
Monday 05 November 2012 00:00 Comments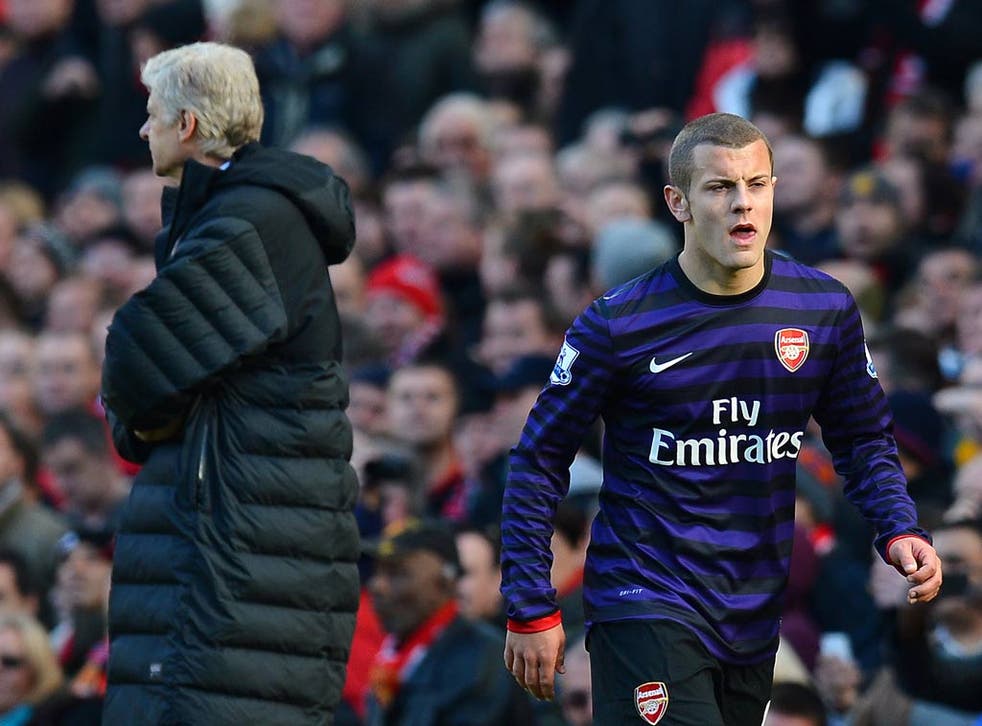 The death of the once great Arsenal has been so slow and suffocating that it is easy to dismiss Saturday's chants of "Ivan Gazidis, what the f*** do you do?" as background noise rather than the signs that an insurrection by the club's long-suffering supporters could become one of this winter's big football narratives.
Even when an Arsenal pizza hit Sir Alex Ferguson smack in the face at Old Trafford, eight years ago, this era of austerity was under way, triggered by the club's decision to plough funds they didn't have into a new 60,000-seater stadium. But at least they had Thierry Henry, back then. "From team man to one-man team" is how the journalist Phillipe Auclair describes the 2004-05 season in his peerless new biography of Henry, though there was not one solitary soul to lift this insipid, crushing defeat of Arsenal.
There is always that sense that Arsène Wenger, the finest practitioner of the art of managing men in the Premier League, will conjure something. Henry started very slowly, after all, and yet finished his first Arsenal season with 26 goals. But Henry was a £26.9m player, in today's money, when Wenger signed him, and if that kind of investment for an Arsenal player seems to belong in a different century then it is because it does. Examine the Premier League table of the net transfer market over the past five years and you will find Arsenal rock bottom, with a profit of £45m. Consider the 35 per cent pay rise taken by Gazidis, the chief executive, pushing his annual salary to £1.36m, when the club are running an operating loss of £31m before transfers and you begin to see why the chants of "We want our Arsenal back" are far more significant, if less visible, than United's green and gold campaign. And why the club's supporters can learn something from Liverpool's activism.
The most shocking motif of Saturday's capitulation was Andre Santos asking for, and getting, Robin van Persie's shirt at half-time, an act which left one former international well acquainted with the cauldron of this fixture to reflect that Ferguson would never tolerate that kind of act, while Wenger always would.
But the Arsenal manager's own reflections were also pessimistic after a game from which only Jack Wilshere emerged with credit. No promises were forthcoming when Wenger was asked if this group of players is actually good enough. "That's what we have to show," he said. "At the moment you cannot say that, because we are far away. But that's what the target is at the end of the season."
There are questions to be asked of him, like how he apparently allowed his own pique over Theo Walcott's contractual dispute to keep back his one player of pace, who had scored a hat-trick in midweek. Wenger knows better than most that his compatriot Patrice Evra would not have enjoyed Walcott going at him in a hurry.
But Arsenal's lack of quality personnel was spelt out when it was pointed out to Wenger that Ferguson had removed Tom Cleverley from the fray whilst he had persisted with Wilshere, after the two players, both on yellows, were given a final warning. "Yes of course [I thought of removing Wilshere]. But we were in a position where we had to attack, and I had no offensive midfielders or central midfielders on the bench as well, so I thought I'd leave him a bit longer."
Wenger accused Evra of over-reacting to Wilshere's 69th-minute challenge. "Yes, of course [he over-reacted]. He has 10 years in the Premier League," he said, though the figure is six. "I find the referees very naive, because when you say to a player 'for the next foul you are going to get a second yellow', that is a signal to everybody to dive. And of course they do it."
This may be Arsenal's worst start to a season since 1994-95, when they finished 12th, but it is not all bad. Per Mertesacker befits the club's central defensive traditions even if Thomas Vermaelen, who gifted Van Persie his third-minute goal, does not. But selling your best player to the team who have slowly ground you into the dust for five years has consequences. "People can now see that he is strong mentally," Evra said of Van Persie. "He reminds me of [Ruud] Van Nistelrooy. The class and the touch – they both have that when you pass the ball to them." Wenger needs no reminding.
Champions League: Eye on the opposition
Braga prepared for Wednesday's visit of Manchester United with a 3-1 victory over Gil Vicente on Saturday to keep pace with Porto and Benfica at the top of the league. Schalke, Arsenal's hosts tomorrow, went down to a late winner in a 3-2 defeat at Hoffenheim to cede further ground on leaders Bayern.
SILLY SANTOS: REACTION
* Andre Santos' decision to ask former team-mate Robin van Persie for his shirt at half-time at Old Trafford on Saturday sparked fury among Arsenal supporters on Twitter.
"Andre Santos has made a mockery of Arsenal football club and it just underlines how players have little regard for their own fans" @ArsenalLover111
"Andre Santos looked like a fan that won a prize to play" @HellbillyJoker
Match facts
Man Utd: GEA 7/10, RAFAEL 6, FERDINAND 6, EVANS 7, EVRA 7, VALENCIA 6, CARRICK 6, CLEVERLEY 5, YOUNG 5, ROONEY 8, VAN PERSIE 7
Arsenal: MANNONE 7, SANTOS 2, VERMAELEN 4, MERTESACKER 6, SAGNA 4, PODOLSKI 5, WILSHERE 7, ARTETA 6, CAZORLA 6, RAMSEY 5, GIROUD 5
Goals: MU Van Persie 3, Evra 67. Ars Cazorla 90. Subs: MU Anderson 7 (Cleverley, 61), Nani (Valencia, 82). Ars Walcott 6 (Ramsey, 52), Arshavin (Podolski, 81). Booked: MU Young, Cleverley, Van Persie, Rooney, Anderson. Ars Arteta, Arshavin, Wilshere (x2). Sent off: Ars Wilshere (69). MoM Rooney. Match rating 6/10. Poss: MU 52% Ars 48%. Attempts on target: MU 7 Ars 3. Ref M Dean (Wirral). Att 75,492.
Register for free to continue reading
Registration is a free and easy way to support our truly independent journalism
By registering, you will also enjoy limited access to Premium articles, exclusive newsletters, commenting, and virtual events with our leading journalists
Already have an account? sign in
Join our new commenting forum
Join thought-provoking conversations, follow other Independent readers and see their replies