Barton: 'Ashley tried to cut my wages when I was in jail'
Midfielder claims senior players were frozen out over bonus row which led to sacking of Hughton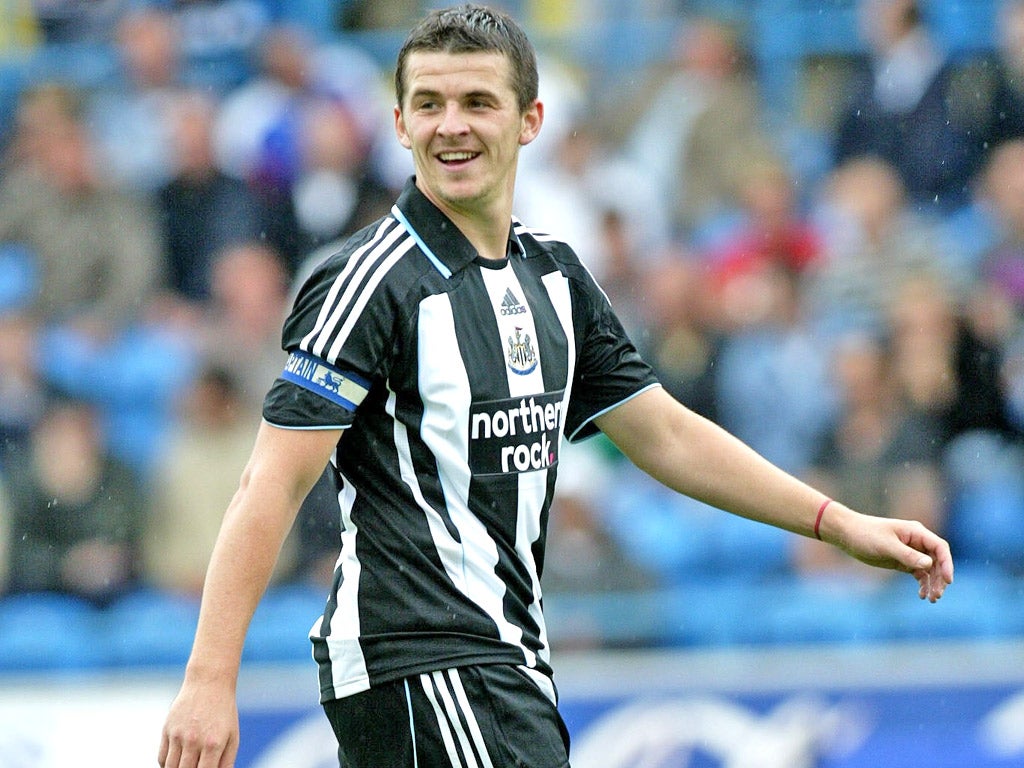 Joey Barton last night delivered a series of fresh attacks on the Newcastle United board, branding the club's money-men "cretins" and claiming he was driven out of Tyneside.
During an interview with QPR podcast Open All R's he claimed Newcastle threatened to sack him while he was serving a jail sentence in 2008 unless he agreed to cut his near £80,000-a-week wages. Barton also claimed a bonus row last season led to the dismissal of manager Chris Hughton and the five members of a senior "players' committee", who were advising others not to sign the disputed bonus agreement being either sold or frozen out of the club's plans.
Barton said: "I've got a lot of ill feeling towards [managing director Derek] Llambias and [owner Mike] Ashley, like a lot of fans have, but the football club is always going to be bigger than any said individual. I keep getting told they are really savvy businessmen... but they didn't want me as I ask questions. They promised a number of things and delivered on very few.
"When you pull the shirts on you do if for yourself, the fans and the club but if you despise everything that the owners stand for then its very difficult. I'm a man of principles and maybe that's why I am not at Newcastle.
"I'm happy with them doing well, but the flipside of my happiness is if they do well then the people who I don't like are doing well. I just wouldn't like to work for those two cretins."
Barton alleged that when he was imprisoned for six months for a drunken attack in Liverpool he was not paid during his 77-day jail term and was also threatened with the sack unless he agreed to an 80 per cent salary cut.
FA contract rules prevented Newcastle from pushing their threat through, according to Barton. "Newcastle never paid my wages when I was in jail. I was also given a contract... saying if I didn't sign a renegotiated deal on less money than I was on then they would sack me," he said. "That came from Mike Ashley who controls the club. I was sitting in a jail cell at the time. As a man of principle, I told my agent at the time I'm not signing." The in-fighting eventually ended when Newcastle cut their losses with Barton, who had less than a year remaining on his contract, and let him go to QPR in the summer.
Barton claimed player power sparked Hughton's shock removal last season. Barton said the players wanted a 50 per cent increase on the £1m bonus pool for winning the Championship.
"Newcastle as a playing squad last year were only club in Premier League history not to sign a bonus sheet," added Barton. "They tried to railroad us into signing. It fundamentally cost Chris his job, in my opinion, as he couldn't get us to sign so Mike Ashley said he had no control over the players. Myself, and the bigger name players at the time advised the playing staff not to sign the bonus sheet. It's no coincidence I was sold, or given away. Andy Carroll and Kevin Nolan were sold and Steve Harper has been forced to go on loan and Alan Smith has to train with the reserves."
Newcastle declined to comment on Barton's claims.
The full interview with Joey Barton can be found at qprpodcast.com
Join our commenting forum
Join thought-provoking conversations, follow other Independent readers and see their replies