Benoit Assou-Ekotto banned for three games after 'congratulating' Nicolas Anelka on Twitter following controversial quenelle gesture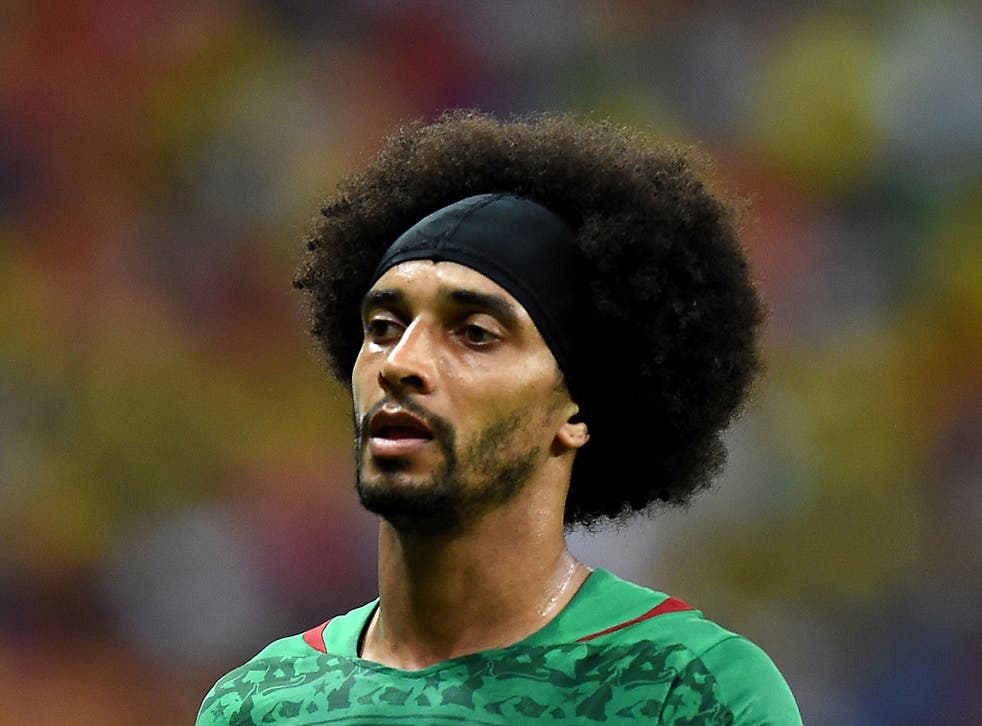 Tottenham defender Benoit Assou-Ekotto has been banned for three games and hit with a Football Association fine after sending Nicolas Anelka a message on Twitter following his controversial 'quenelle' gesture last season.
Anelka, playing for West Brom at the time, made the gesture having scored against West Ham on December 28 - with the Baggies sacking the striker following their own internal investigation. The gesture was deemed by the FA to have an anti-Semitic element to it.
Assou-Ekotto was charged after sending a tweet to Anelka congratulating him on the gesture and, despite the 30-year-old's denial of wrongdoing, he will now serve a ban and pay a £50,000 fine.
Hull striker Yannick Sagbo served a two-game ban and was fined £15,000 having also given his support to Anelka via social media, with Samir Nasri and Mamadou Sakho escaping with warnings for similar misdemeanours.
Cameroon international Assou-Ekotto, who was on-loan at QPR last season and has been omitted from Tottenham's Barclays Premier League squad, will serve a longer ban, as the FA confirmed his punishment via its website.
"Following an Independent Regulatory Commission hearing, Benoit Assou-Ekotto has been suspended for three matches and fined £50,000, subject to any appeal, after he denied an aggravated breach of FA Rule E3," the statement read.
"The Tottenham Hotspur player was also warned as to his future conduct and ordered to complete a compulsory education course. He was also ordered to pay the full costs of the hearing.
"Mr Assou-Ekotto was charged by The FA with improper conduct concerning social media postings relating to the quenelle gesture performed by Nicolas Anelka in December 2013...The FA considered the comment to be an aggravated breach, as defined in FA Rule E3(2), in that it included a reference to ethnic origin and/or race and/or religion or belief."
Assou-Ekotto had claimed he was congratulating Anelka from an anti-establishment standpoint and was in no way anti-Semitic but Mr Peter Griffiths QC, the chairman of the Regulatory Commission added: "Even though we have found that there was an aggravated breach of FA Rule E3 we are satisfied that when the Player sent the tweet on the 28th December 2013 congratulating Anelka, in his mind he believed he was congratulating Anelka on what he perceived to be an anti-establishment gesture as opposed to one associated with anti-Semitism."
With Spurs having a large Jewish fan-base, Assou-Ekotto announced in a release to Press Association Sport from his lawyer, issued before the FA's decision was announced, that he was pleased the governing body had acknowledged he was not anti-Semitic.
"The FA will today release the findings of its Disciplinary Panel in relation to charges brought against me following a Tweet I posted in December 2013," it read.
The quenelle gesture became a symbol of anti-Semitism in France after controversial comedian Dieudonne M'Bala M'Bala performed it on numerous occasions.
After his own re-enactment of the gesture, Anelka went on to represent West Brom on four more occasions before an FA ban of seven games - upon which the former Arsenal and Chelsea striker announced he was leaving the club - although West Brom claimed to have had no prior knowledge of such an agreement.
The 35-year-old has not played since but has recently signed for Mumbai City ahead of the inaugural Indian Super League.
PA
Register for free to continue reading
Registration is a free and easy way to support our truly independent journalism
By registering, you will also enjoy limited access to Premium articles, exclusive newsletters, commenting, and virtual events with our leading journalists
Already have an account? sign in
Register for free to continue reading
Registration is a free and easy way to support our truly independent journalism
By registering, you will also enjoy limited access to Premium articles, exclusive newsletters, commenting, and virtual events with our leading journalists
Already have an account? sign in
Join our new commenting forum
Join thought-provoking conversations, follow other Independent readers and see their replies