Berbatov agrees new United deal but Fletcher toils
Ian Herbert
Thursday 01 March 2012 01:00 Comments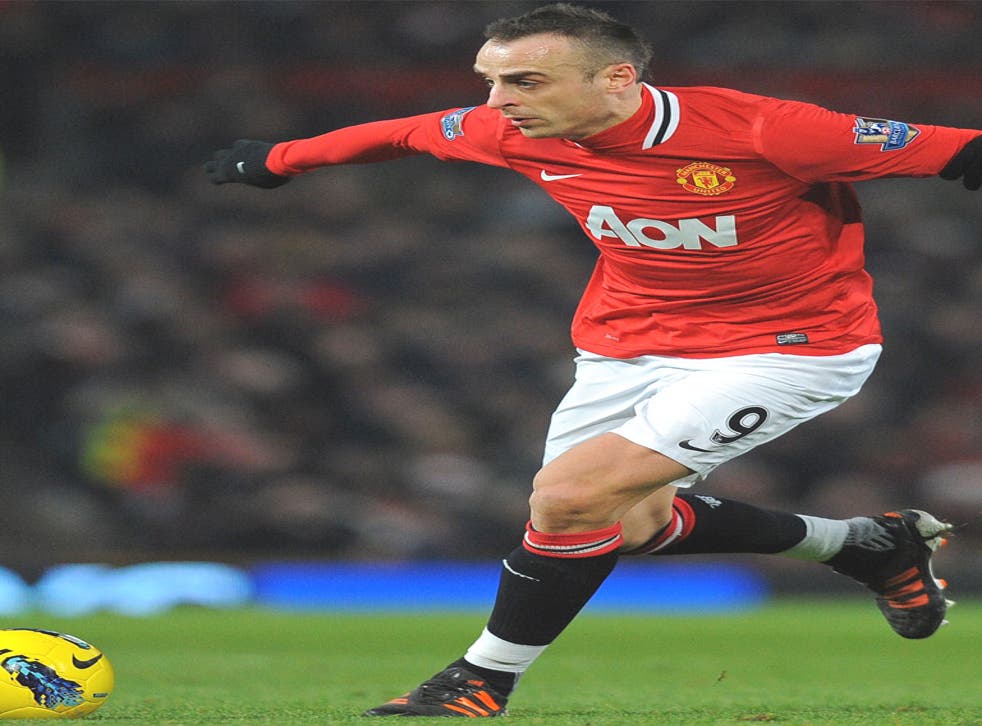 Manchester United's Dimitar Berbatov will this month have his contract extended until the end of next season, laying to rest any lingering doubts about the club's desire to keep a player who has slipped further out of contention.
The 31-year-old's existing contract ends this summer but a "one-way" option enables United to extend it by a year at any time until it expires. They will do so this month, which means Berbatov will be a part of Sir Alex Ferguson's squad until June 2013 unless another club comes in for him in the next two transfer windows. The one-year extension is understood not yet to have been signed, though United will invoke the option. Ferguson said of Berbatov's future before his strong first half in United's 2-1 defeat to Ajax last week: "I think we resolved that – that he will be here next year."
Doubts about Berbatov's United future have persisted as he has dropped to fourth-choice forward behind Wayne Rooney, Danny Welbeck and Javier Hernandez, and it has seemed that he would be unlikely to accept another campaign on the margins – especially with interest from Germany and France. Paris St-Germain, Bayern Munich, Bayer Leverkusen and wealthy Russian club Anzhi Makhachkala have all been keen to sign the Bulgarian. Despite the extension, he and the club may decide he should leave this summer anyway – if a £4m-£5m offer comes in for him. His languid style can be a cause of frustration, though the way he interlinked with Hernandez against Ajax in the Europa League last week, setting up United's early goal, showed why Ferguson considers him a useful asset for the title run-in.
Darren Fletcher has offered no guarantees that he will be back in the Manchester United side next season, having turned to hypnotherapy among other treatments in an attempt to beat a career-threatening bowel condition. The 28-year-old said his aim was to return in August, following the diagnosis of his debilitating ulcerative colitis, though that seems to be an aspiration rather than a certainty.
"I'm OK," Fletcher said. "I'm taking all my medication and listening to the doctor. It's a week-by-week situation so I've not got any timescale on recovery, but the target for me is next season now. If I can come back then that would be great for me.
"It's something that will never leave me, but you have to find somehow a way to manage it. I'm trying everything under the sun – diet, hypnotherapy."
Fletcher, who has been working with United reserves during his time on the sidelines, was speaking at a Manchester United Foundation lunch.
Professor Chris Probert, a consultant gastroenterologist at the Royal Liverpool Hospital, has said he would be "very surprised" if Fletcher could perform again at his former level. "He must have been extremely fit to have been able to play for as long as he has," Probert said. "It seems inconceivable that he would not have had his performance impaired somehow by the condition and it's no surprise that he's been forced to take short breaks from time to time."
Register for free to continue reading
Registration is a free and easy way to support our truly independent journalism
By registering, you will also enjoy limited access to Premium articles, exclusive newsletters, commenting, and virtual events with our leading journalists
Already have an account? sign in
Join our new commenting forum
Join thought-provoking conversations, follow other Independent readers and see their replies