Arsenal trapped in a cycle of improvement-less consistency peddled by Arsene Wenger
Arsenal have missed out on the movement of high-profile managers
Miguel Delaney
Chief Football Writer
Tuesday 07 February 2017 14:42 Comments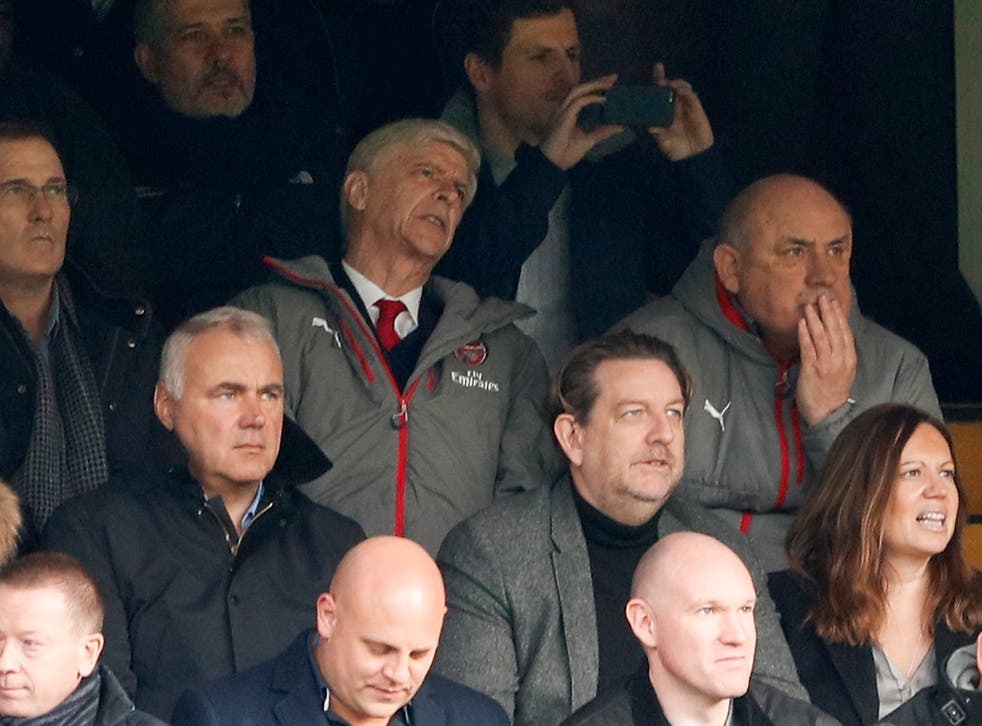 It's a telling little story that shows just how long so many of these issues have been a weight on Arsene Wenger, and just how long we seem to be replaying the same themes. Back in February 2013, Arsenal had just lost 3-1 at home to Bayern Munich in the first of what is to be eight fixtures between the clubs in the last half decade, and the French manager was clearly feeling the full force of a convincing defeat.
In between the final whistle and eventually coming out for his post-game press conference, Wenger spent 25 minutes sitting in a room in the Emirates on his own. It isn't too much of a stretch to imagine what he was so deeply contemplating: just how far away his team really was from the top level; how long it had been since he won something of worth; whether he would really ever win his grand "obsession" of the Champions League; and just what the true reasons for all this were; why were they so short.
Arsenal are now preparing for yet another tie with Bayern Munich and none of that has really changed, with the very identity of their last-16 opponents almost symbolising the Sisyphean cycle the club seem to find themselves in. It's been the same general feeling over and over, the same general season over and over.
It points to the argument that, far from it being debatable whether Wenger should go now, the time was really right a few years ago.
Sure, many might point to the notional progress during that time of two FA Cups, a third-place finish in 2015 and a second-place finish in 2016, but that all still feels unsatisfactory; constant deflections rather than gradual deliverance. The problem is that feats that should be stepping stones haven't really seen Arsenal make true strides. That 'progress' feels incremental rather than encouraging and influential.
They yet again finished ahead of the inferior-resourced Tottenham Hotspur last season, for example, but it was Tottenham who were the team still actually in the hunt in the seconds before Leicester City made the title mathematically certain. Arsenal's belated run into second merely felt like the late goals they scored against Bayern in that 2012-13 tie second leg. The narrow final margin of elimination allowed them to convince themselves that they weren't actually that far away… but the reality was that, when it was really in the balance and competitive, they were nowhere close.
And this is the hub of it. In 12 full seasons since their last title, there's only been one when they were genuinely in a title fight into March. That was as far back as 2007-08. In that, they still finished third, watching on from the sidelines as Manchester United and Chelsea fought it out properly.
It's all so frustrating, indicating there really is something deeper to it all. With big money, without big money; with big sales like Robin van Persie, without big sales like in 2015; with big buys like Mesut Ozil; without big buys like in 2010, the general performance level has remained constant. They still feel no closer to actually competing for a title.
And, if that didn't change last season or this, when is it going to change?
Other than the fact that a great football and Arsenal figure like Wenger deserves to have gone out on the high of ending his trophy drought and winning those FA Cups, what has there been to suggest that keeping him the last few years was actually worth it?
By contrast, something has changed on the outside.
Arsenal have missed out on a pretty major movement of high-profile managers. The options now feel thinner than at any point over the past four years. That is ironically one big reason why Wenger should stay.
Without ever knowing exactly what he's thinking, and even allowing for the fact all the sound and fury may be growing less and less bearable, many of those close to him expect him to sign the new contract.
'What else is he going to do?' is a common refrain.
Arsenal candidates to replace Arsene Wenger

Show all 11
And what would Arsenal do? Diego Simeone is by far the best realistic candidate, but not necessarily the best fit for the club and currently more interested in Internazionale anyway. Max Allegri is a good Carlo Ancelotti-style stability manager but not a force of personality. Beyond Thomas Tuchel, who wants to build a bit of a legacy at Borussia Dortmund, that leaves a series of unproven candidates.
In this vaunted new 'league of managers', it would feel hugely underwhelming if Arsenal ended up with someone untried at their level. That, however, also touches on another dilemma underscoring all of this.
A huge argument for keeping Wenger has been the potential loss of stability, the fear at what might happen if he leaves. That inherent caution actually runs contrary to the bravery Arsenal showed in first appointing him, and to the forward-thinking ideas he himself introduced in a different time.
The problem is they're going to have to roll the dice eventually, and sooner rather than later. Similarly, no manager is ever going to be a 100 per cent certainty. Wenger himself wasn't.
What feels certain right now, though, is that the club aren't truly maximising the major advantages available to them: their location, their cash flow, their commercial potential. They could be an ultra-competitive super-club. Right now, they are not.
It offers a lot to contemplate.
Register for free to continue reading
Registration is a free and easy way to support our truly independent journalism
By registering, you will also enjoy limited access to Premium articles, exclusive newsletters, commenting, and virtual events with our leading journalists
Already have an account? sign in
Join our new commenting forum
Join thought-provoking conversations, follow other Independent readers and see their replies