Arsenal throw away lead to expose an average team that will get worse when Alexis Sanchez leaves
Bournemouth 2 Arsenal 1: Jack Wilshere, a player who was up for sale last summer, remains Arsenal's best player but their fortunes will only get worse after this entirely avoidable defeat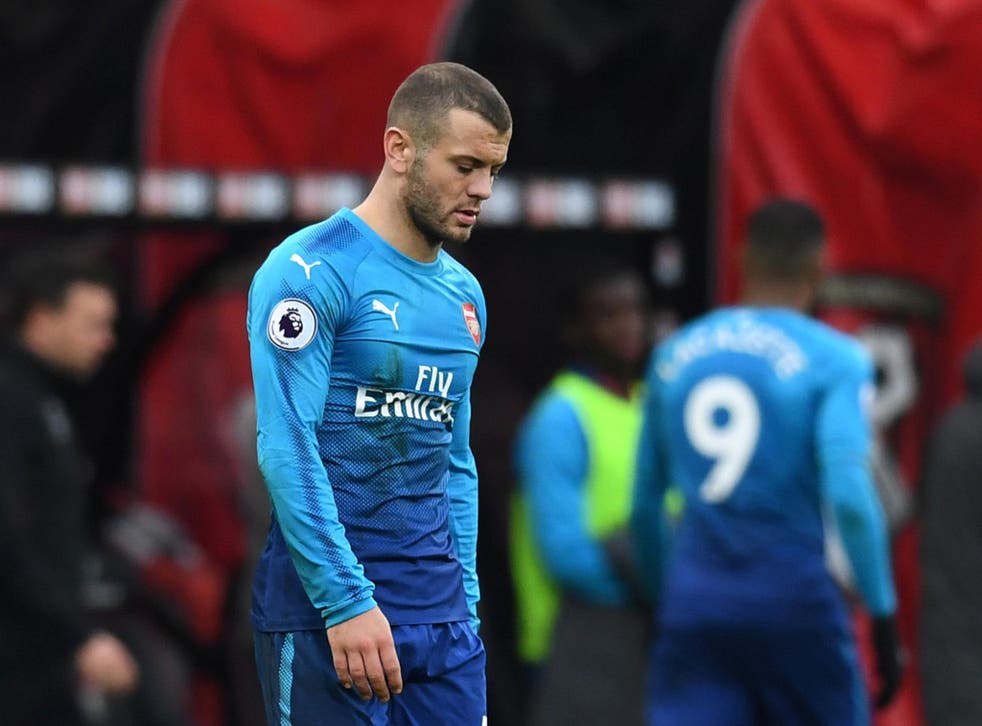 No wonder Alexis Sanchez is so desperate to leave. Arsenal threw away a 1-0 lead to lose 2-1 at Bournemouth on Sunday afternoon, a disastrous result from a performance lacking in quality, control, organisation and spirit.
Arsenal missed their best player too, with Sanchez not even travelling as he is so close to a move. But who can be surprised that Sanchez for forcing a move away when the rest of the team plays like this? He has spent three and a half years exasperated at his mediocre team-mates and nothing he saw on Sunday – if he was watching – will have convinced him to stay. This is an average team, getting worse, and if Sanchez wants to win things then who can blame him for clearing out his locker and getting on the next train to Manchester?
Yes, they missed their second best player here too, with Mesut Özil still absent with a knee injury. Arsenal have redoubled efforts to keep him at the club, knowing how bad it would be to lose Sanchez and Özil together. If they offer enough money it might even work. But he joined Arsenal from Real Madrid, and now finds himself at a team stranded in sixth, a long way off fourth. They have barely put together a serious title challenge in Özil's five seasons at the Emirates.
Bournemouth vs Arsenal player ratings

Show all 22
Without Sanchez and Özil this is not a good team, and their best player here by far was Jack Wilshere. He has done very well to get himself fit and sharp again, and played much better here in an Arsenal shirt than he ever did in his season on loan at Bournemouth. He won the ball in his own area, skipped past tackles, played searching long passes and wriggled through tight spaces. This was his most complete performance yet and without him Arsenal would have been even flatter, even softer than they were. But even Wilshere is a player Arsenal tried to sell last summer, who has six months left on his deal and whose future has still not yet been secured.
The last time Wilshere could claim to be Arsenal's best player was back in 2012/13, before Sanchez and Özil were signed but after the departures of Cesc Fabregas and Robin van Persie. For Wilshere to be to Arsenal's main man again is credit to his own hard work and resilience. But it makes you wonder what the last five years have been all about.
This was the third game of Wenger's three-match touchline ban and when he came into the press conference afterwards he looked defeated and infuriated by the failures of his team. The first thing that upset him was the lack of creativity and threat given his team had controlled possession for the first hour.
This Arsenal front-line, without Sanchez, is desperately lacking in goals. Alexandre Lacazette has not scored in nine games now, Alex Iwobi has one goal all season and Danny Welbeck has not scored in the league since September. None of those three ever looked like changing those records today. Welbeck had a chance late in the first half and Iwobi should have made it 2-0 but that was it. The days when Arsenal could give Sanchez the ball on the edge of the box and wait for him to do something are over. They will all have to work much harder now.
When Arsenal did take the lead, seven minutes into the second half, it came from Hector Bellerin. The right-back has two goals in 2018 now, more than Sunday's front line have between them. It came from one clever move between Wilshere and Granit Xhaka which gave Iwobi the ball in space. He threaded a clever pass through to Bellerin, racing in behind Charlie Daniels. Bearing down on goal his powerful shot hit Asmir Begovic and looped in.
Leading 1-0 against Bournemouth should have been enough, and Iwobi had a chance to make it 2-0 from the same position that Bellerin scored from, only to dither too long. Arsenal created very little else to kill the game.
What really upset Wenger, more than the lack of edge in the final third, was the two unforced errors, the "lack of the right decision-making", that cost them the game. Arsenal went from 1-0 up to 2-1 down within four minutes, but it was not because of any great siege or pressure from a Bournemouth side lacking confidence. In truth, Arsenal just threw the game away.
First Ryan Fraser broke down the right and whipped a clever cross round the back of the Arsenal defence. Petr Cech decided to dart out to get it but he was too slow. Callum Wilson got their first at the near post, leaving him with a simple finish into an empty net. Any well-drilled defence should have been able to stop it.
So Wenger took off Calum Chambers for Aaron Ramsey to push for a winner, and straight after Arsenal conceded again. As the defence adjusted from a back five to a back four, they left a huge space, and Lewis Cook clipped a ball to Wilson which flew straight over the head of Shkodran Mustafi. He laid the ball back to Jordon Ibe, rushing into the box, and he thumped the ball past Cech to make it 2-1. Rob Holding was left standing there wondering what had just happened.
Arsenal have spent much of this season switching between a back four and a back five but in truth it has barely ever made the slightest bit of difference. Their defenders are not good enough, they are not properly organised and they leak goals whoever they play. That is the obvious trend of this team and now they have stopped scoring too. Arsenal are only heading in one direction, which is why Sanchez has given up on them. The next question is whether Özil will too.
Join our new commenting forum
Join thought-provoking conversations, follow other Independent readers and see their replies