Brendan Rodgers: 'If you are fearful you don't make progress'
Liverpool manager insists he will certainly not be in awe of Sir Alex Ferguson when United visit Anfield tomorrow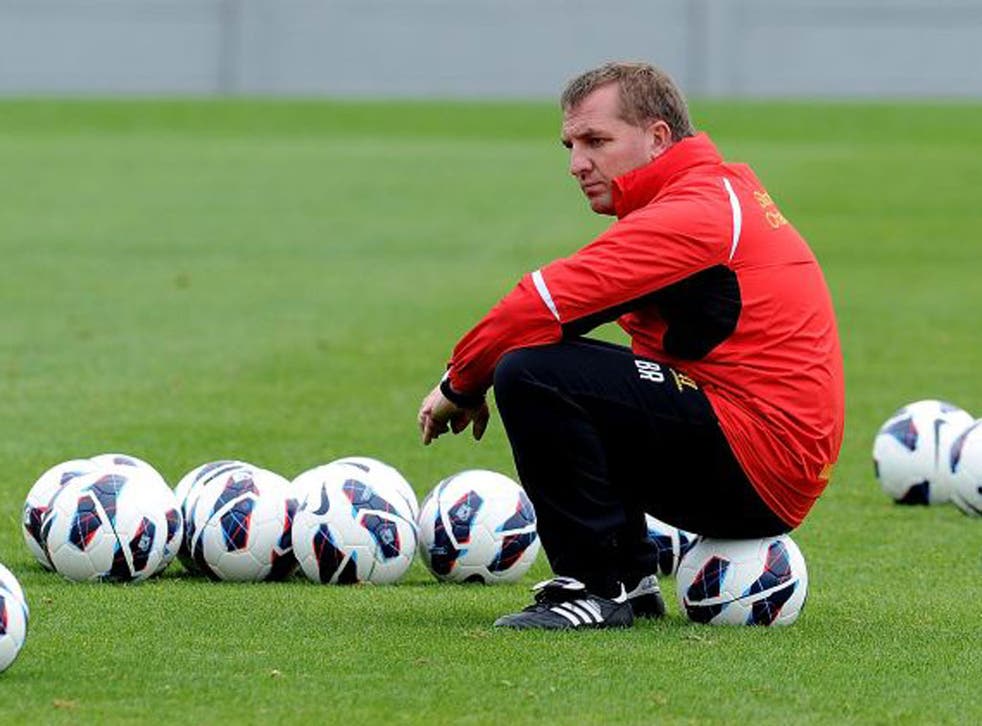 It is a challenge that has had to be faced by every manager of Liverpool football club sooner or later – that moment when they have to confront Manchester United, the beast to the east that has spent two decades winning the trophies that were once the preserve of the team that played at Anfield.
Tomorrow is the turn of Brendan Rodgers, who is the seventh man to take the reins at Liverpool – including a second spell by Kenny Dalglish – since Sir Alex Ferguson turned up at United and set about changing the hierarchy of English football. At 39, Rodgers is the youngest man to have done the job since Graeme Souness, who was 37 when he succeeded Dalglish in April 1991.
The respective stories of United and Liverpool are, to a great extent, the key narrative of English football over the past 20 years and there was no need to relive it all yesterday at the club's training ground, safe to say that Rodgers is well aware of the details.
Was he daunted, he was asked yesterday, not least by the possibility that a defeat, combined with results elsewhere could leave Liverpool bottom of the league? Rodgers said the thought had never entered his head. "I'm very optimistic in my life and it is why I have arrived at where I am at a young age," he said. "If you are fearful you don't make the next steps.
"If you are frightened to lose, you don't do enough of what it takes to win a game. I always look to get the team in a positive frame of mind, that's how I have always been. The reality is we are four games into the season. I am more worried about where we will be at the end of May and if we have made progress."
It would be no exaggeration to say that every football fan in the country and a good deal more people beyond will take an interest in what happens at Anfield tomorrow. A club mourning the deaths of 96 of their supporters, now in the light of the extraordinary revelations of the Hillsborough Independent Panel, and the official reaction to it, on the occasion of a visit from the most bitter of all their rivals.
It hardly needs to be said that no football match, whatever the stakes, will ever take precedence over the Hillsborough disaster and its legacy. But tomorrow when the tributes are done and the 96 balloons are released, a football match will take place and a young Liverpool manager will face down the most successful United manager in history on a day when the sense of emotion at Anfield will be stronger than ever.
These moments in the life of a coach are not covered in those how-to-be managerial manuals or on Uefa-approved coaching courses. They have their own unique demands. They rarely stand up to the usual rational analysis. Is Rodgers ready for this?
"Absolutely. First and foremost I want to be a pillar of support. I know what these families have been through over the last 23 years. I am also sure of the hope that they can get from the tribute and everyone there will recognise that. I am happy. This is about life here at Liverpool. It's not just about a coming in at half past nine and doing a coaching session and going home again. This is about life and you know that as soon as you arrive here."
He had arrived back from Switzerland and the 5-3 win over Young Boys Bern in the early hours of Friday morning. It was with some of his own young boys, plus the likes of Jamie Carragher, that a win in the Europa League was achieved. Against United the big guns will come back in, although the performance of Jonjo Shelvey, 20, who scored twice on Thursday has given Rodgers cause for thought.
What of the man whom he faces tomorrow? Ferguson was 44 when he took over at United (left), five years older than Rodgers when he was appointed by Liverpool this summer. When Ferguson took over, United had not won the league for 19 years. Rodgers inherited a club that had gone 22 years since their last title. Even Ferguson acknowledged yesterday that when he started at Old Trafford in November 1986, "there was less pressure". "The world has changed," he said. "The press has changed."
There are similarities in the situations of the respective clubs they inherited. Rodgers, however, was uncomfortable comparing himself to a manager who had won so much before he came to United. "I don't think there are too many comparisons other than when he entered there in 1986 he had a massive job to do," Rodgers said.
"It [United] was a failing school. He had to pick it up from its knees and he was looking to put his own stamp on it. He looked to youth to have no fear and to grow from there. For me, the similarities are that I have come in to an incredible club. I wouldn't have left Swansea for many because I like to get peace and satisfaction with how I work. I would rather work with a group of Under-10s than say to a team of mine 'Smash the ball up the pitch'. I believe British players can play football. But very few clubs give you a chance to do that."
Rodgers' predecessors have dealt with Ferguson in different ways. Dalglish and Rafael Benitez appeared to loathe him. Roy Hodgson suffered from perceptions among Liverpool fans that he was too chummy with his United counterpart. Rodgers admitted that he been the recipient of a supportive letter from Ferguson when he was sacked by Reading in 2009 – something the latter does for every manager who loses his job – although he respectfully pointed out that there was no special relationship between the two men.
As for all the complex elements that will go to making tomorrow such an occasion, Rodgers said he would control what he could. "I have found my peace here. I know the pressures but I have found a home here. The supporters have been brilliant and there is sense of reality in terms of where we are at. Hopefully we will grow from this and move on and over the next couple of years we will take the next step forward."
Five alive: Reds managers' bows
Liverpool manager's records after first five league games:
Results Final position
Bill Shankly 1959-60 LLWWW 3rd (Div 2)
Bob Paisley 1974-75 WDWWW 2nd (Div 1)
Joe Fagan1983-84 DWWDW 1st (Div 1)
Kenny Dalglish 1985-86 WDLWD 1st (Div 1)
Nov 1986: Ferguson takes over at Man United
Graeme Souness 1990-91 WWLLW 2nd (Div 1)
Roy Evans 1993-94 DLLWL 8th (Prem)
Gerard Houllier & Evans 1998-99
WDWWL 7th (Prem)
Houllier 1998-99 LWWLL 7th (Prem)
Rafael Benitez (pic) 2004-05 DWLWL 5th (Prem)
Roy Hodgson 2010-11 LDWDL 6th (Prem)
Dalglish 2010-11 LDWWW 6th (Prem)
Join our new commenting forum
Join thought-provoking conversations, follow other Independent readers and see their replies