Brendan Rodgers points to improving 'game, mental personality and fitness' at Liverpool
The Reds take on Aston Villa at Anfield this weekend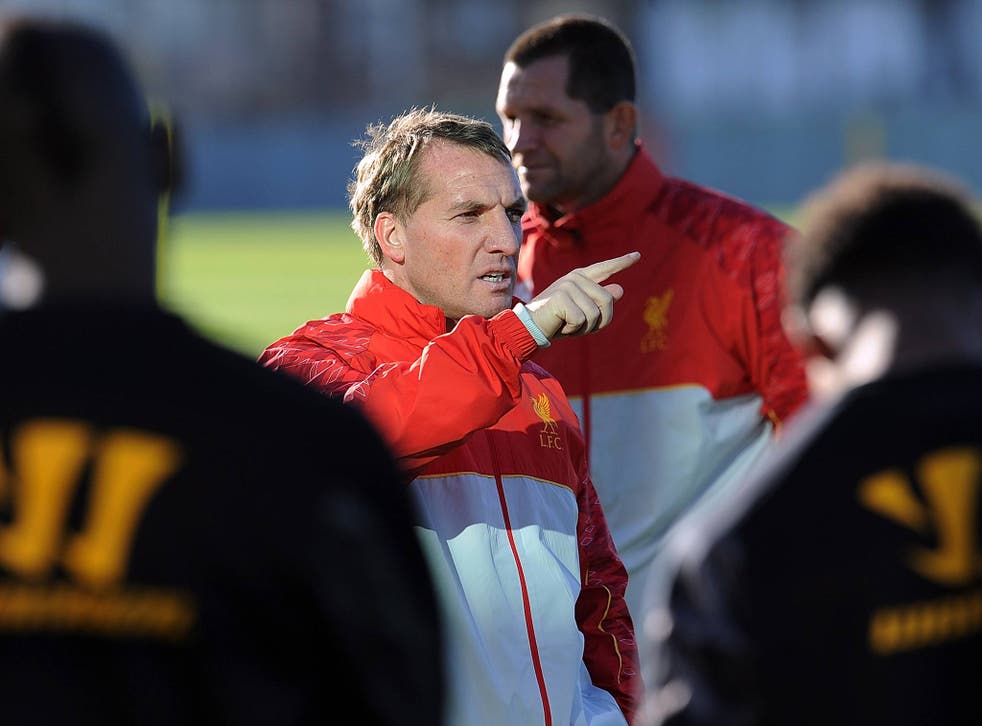 Liverpool manager Brendan Rodgers believes his side have developed a mental toughness which means he is more confident talking about a title challenge than he has previously.
The team are fourth, six points behind leaders Arsenal, and the Reds boss thinks this is due in part to the fact the psychology of the players has changed.
Rodgers talks about mental endurance, personality, confidence and belief and, after last weekend, has evidence to back up his claims.
Leading 2-0 at Stoke - where they had not won for almost 30 years in the league - Liverpool were pegged back to 2-2 at half-time before coming through to win 5-3.
That, said the manager, said more about their state of mind than it did about their talent.
"It was a wonderful demonstration of mental endurance," he said.
"I am sure people sat at home at half-time were thinking 'this is a true test' but in the second half we demonstrated emphatically how our game is improving on the pitch - but equally important was the mental personality and fitness.
"I look at it as a game similar to the one at Tottenham (a 5-0 win), a game which sets up a standard for us.
"At Tottenham it was a wonderful footballing display. Stoke away, in the situation we were in, was a great benchmark of our mental fitness.
"What it gives you is that great belief. We go into any stadium without the fear to play, whatever the opponent.
"You are not going to win the game purely on ability. There are going to be games when you are not playing as well and you have to find a way to get a result - and that was last weekend.
"Psychology is a massive part, at the elite level of sport it is the edge, and that type of performance and result bodes well in the coming months because each game is very important."
Last weekend showed just how true that statement was. Liverpool began the weekend fourth but slipped to sixth before regaining their original position late on Sunday evening.
While the top three of Arsenal, Manchester City and Chelsea remain most people's choice for title contenders Rodgers insists his side now cannot be discounted.
"We've got all those teams to play at home, and we're only six points off the leaders, so you have to feel that we are (in the title race), and we have the confidence and belief in ourselves," he added ahead of the visit of Aston Villa.
"Of course, everyone will talk about the three clubs in front of us because they've got squads that have been around there for years and have big squads to choose from.
"For us it's a case of continually improving and working, and trying to fight to be up there.
"It's very close and since Christmas Day (when Liverpool were top) the table has changed quite a bit.
"You win a game, you get a run together and you're right up there. You lose a few, and you can be completely out of it.
"We have to maintain our focus and concentration. You really have to push during the second half of the season and keep your standards high, not just on the games, but every day in training.
"Thankfully I have a group of players that are brilliantly focused and are determined to maintain our standards, take it into every game and ensure we get the points.
"I think we showed that last week. We were one of the last teams to play, and all those in and around us won, so we knew we had to perform to stay up there and above the dotted line as such.
"We've responded to that, and I think over the course of a long period of time, we've shown that consistency.
"I just have to make sure we keep the pressure off the players, and just focus on our performances, because when we've done that, we've shown we can win games."
PA
Register for free to continue reading
Registration is a free and easy way to support our truly independent journalism
By registering, you will also enjoy limited access to Premium articles, exclusive newsletters, commenting, and virtual events with our leading journalists
Already have an account? sign in
Register for free to continue reading
Registration is a free and easy way to support our truly independent journalism
By registering, you will also enjoy limited access to Premium articles, exclusive newsletters, commenting, and virtual events with our leading journalists
Already have an account? sign in
Join our new commenting forum
Join thought-provoking conversations, follow other Independent readers and see their replies