Brexit is a 'fantastic opportunity' for English football says Crystal Palace chairman Steve Parish
Parish is convinced the presence of so many players from EU nations within academies inhibits the development of local footballers
Declan Warrington
Friday 14 April 2017 08:10 Comments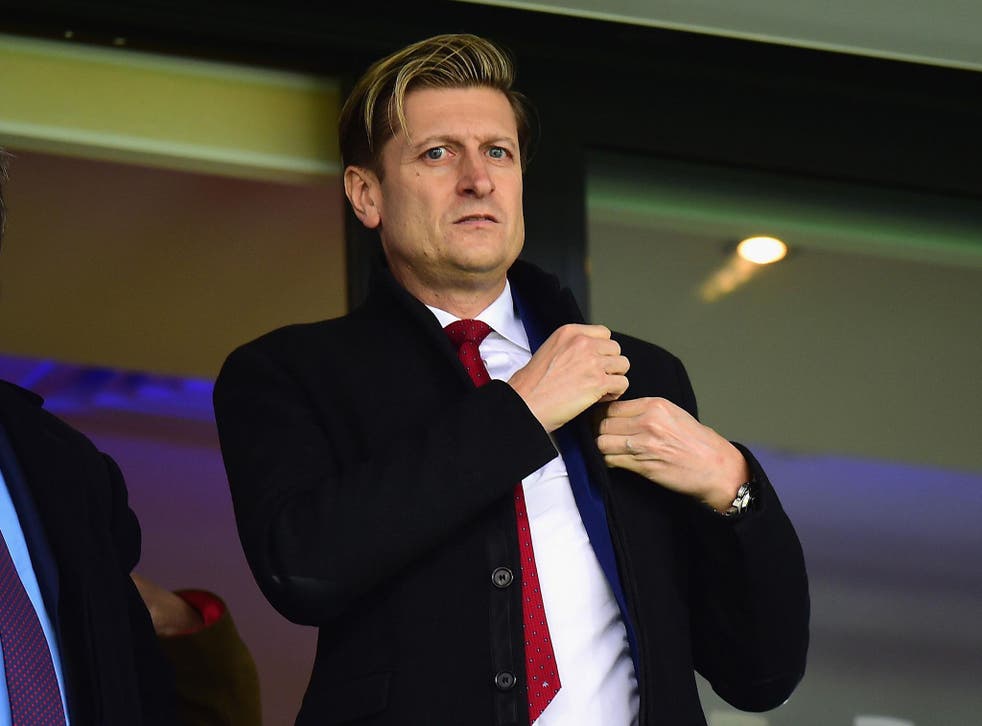 Crystal Palace chairman Steve Parish believes Britain's exit from the European Union represents a "fantastic opportunity" for English football to address what he considers an imbalance within club academies, and to the benefit of the England team.
Parish is convinced the presence of so many players from EU nations within academies inhibits the development of local footballers.
Premier League rules dictate that eight of those in a first-team squad must be considered home-grown, which in the present climate can include those from within the EU who are ineligible to play for England, Scotland, Wales, Northern Ireland or Ireland.
It is Parish's hope that when Brexit is finalised those eight will be able to play for the Home Nations, and also that Palace can benefit from such a change.
Wilfried Zaha's and Jason Puncheon's roots were close to Selhurst Park and both are prominent in Sam Allardyce's team. The club this week relaunched their charity as the Palace for Life Foundation, and both chairman and manager believe its influence on the local community is helped by those players' presence.
"We're faced with the prospect of having a team with eight home-grown players, none of whom qualify to play for the Home Nations," said Parish.
"But because of Brexit, in theory that will change, and actually we will be able to have a rule that says five or six of the eight have got to be English and the rest are (from the) home countries.
"It's not a question of opting in to one thing or the other. We'll be able to do what we want and all the lobbying is going on now to get that right. We've got a fantastic opportunity."
For his solitary game as England manager, Allardyce experienced the challenge presented by selecting a squad from a league in which he says Englishmen sometimes made up only 27 per cent of those playing.
Parish considers it likely that Premier League rivals will open academies overseas post-Brexit, but a bigger concern for Allardyce is the way smaller clubs are vulnerable to bigger ones recruiting their most promising young players, in the same way Palace lost John Bostock to Tottenham in 2008.
"There has to be a change of direction that doesn't allow any football club to nick our best 14-year-old whenever they feel," said Allardyce. "A 14-year-old shouldn't be bought from Crystal Palace by Manchester City or Chelsea, because they're just overloading, right?
"Leave them where they are, and let them go and play and develop in their own football club.
"Alright, if the time comes along where the big club comes along and takes him away, but take him away when he is ready.
"The more the Premier League grows the more difficult it will become (for the England team to succeed, without change)."
The Palace for Life Foundation has launched with a mission to transform the lives of young south Londoners through sport, encouraging them to be more active, helping them become employable and intervening to help the most disadvantaged.
Register for free to continue reading
Registration is a free and easy way to support our truly independent journalism
By registering, you will also enjoy limited access to Premium articles, exclusive newsletters, commenting, and virtual events with our leading journalists
Already have an account? sign in
Join our new commenting forum
Join thought-provoking conversations, follow other Independent readers and see their replies