Burnley, Brexit and Britishness: The Premier League's most interesting club and how it represents society's split
Burnley are a demographic outlier, an enclave of footballing 'Britishness' in a sport where national borders can seem largely fluid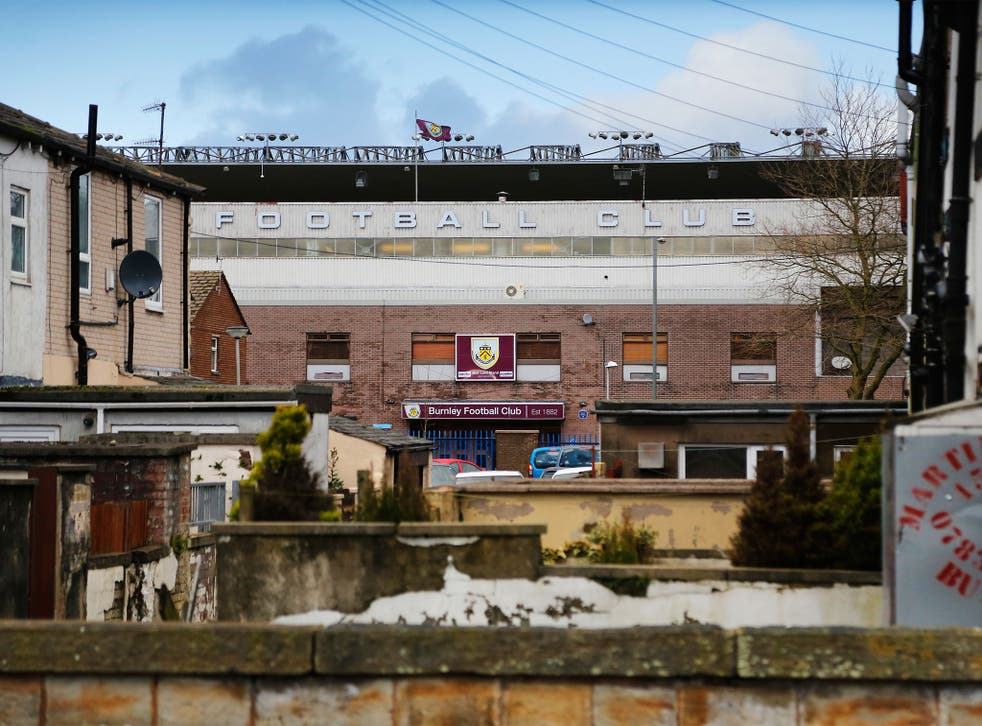 A few weeks ago, the former England goalkeeper Paul Robinson offered a cautiously revealing insight into life at Burnley under Sean Dyche. Robinson retired only this summer after spending two seasons at the club, and speaking to Richard Keys and Andy Gray on BeIN Sport, he depicted a curiously repressive regime, characterised by petty rules, arbitrary punishments and a culture of secret denunciation.
No tracksuit bottoms at training. No hats. No gloves. No headphones when travelling on away trips. And at the centre of it all, the dreaded "wheel of fortune", where players who have committed minor infractions, such as wearing the wrong socks, or leaving a club sweater on the floor, are exposed, German Democratic Republic-style, by team-mates or staff.
The guilty player is forced to spin a forfeit wheel with lettered segments. "E" is for Elvis, which means you have to get up in an Elvis costume and croon a tune. "B" is for Boyband, so you then have to pick three team-mates and perform as a boyband. One of the forfeits involves a dunk in the freezing River Calder.
Winter transfer window: Ten players looking for a move in January
"It's very British, isn't it?" Gray remarked.
"He has a very, very strict recruitment policy," Robinson replied. "There's a certain type of player he wants. He's got a style that he wants to play, and a certain player that fits the mould."
If you had to describe Dyche's Burnley in one word, "British" would probably be it. And this is not simply a matter of culture but personnel: in a Premier League that stands as a monument to sporting globalism, the squad currently in sixth place is drawn almost exclusively from the British Isles. A smattering from Scandinavia and the English-speaking Commonwealth. Belgium's Steven Defour. Austria's Ashley Barnes, actually born and raised in Bath. That's everyone.
Burnley, in other words, are a demographic outlier, an enclave of footballing 'Britishness' in a sport where national borders can seem largely fluid. What is certainly true is that the notion of "British football" is becoming ever more tightly defined, perhaps even ring-fenced: guts, honesty, an unashamed embrace of the physical. British is rock, not scissors, and definitely not paper.
You may recall that when David Moyes was at Sunderland, he once dropped Didier Ndong in favour of Jack Rodwell and Darron Gibson because, as he put it, he preferred "more Britishness in the middle of the pitch". Quite whether it is the most appropriate description of a country that has produced Bobby Moore, Ryan Giggs, Kenny Dalglish and Matt le Tissier is, in many ways, a moot point. If the football of Dyche and Moyes is "British", then, by definition, the reverse must also be true.
And yet even measured against the likes of Moyes, Sam Allardyce and Tony Pulis, Burnley still stand out. For example, the club has never signed a player from Asia or north Africa. Their only Latin American (goalkeeper Diego Penny) made just one league start a decade ago. Meanwhile, not a single Premier League minute this season has been played by a non-white footballer.
Now, there will be myriad factors behind this: most unconscious, some probably entirely coincidental. But what makes all this so interesting is that whether intentionally or not, the Burnley phenomenon taps into so many of the other cultural currents swirling around this country at the moment. The local against the global. The common against the elite. The closed system against the free market. Leave against remain.
I have no idea what Dyche or anyone at Burnley thinks about Brexit. But ideologically, the comparison is irresistible. If you really boil it down, the idea behind Brexit is that it is somehow possible to push back against the winds of chaos, to recapture the hard certainties that existed in a pre-globalised economy. That you can, essentially, take back control: go it alone, buy British, employ British, and that what you gain in cohesion and identity is worth any loss of market edge.
These are the same principles that underpin Burnley's recruitment strategy, its style of football, perhaps even the town itself, which voted two to one in favour of Brexit. You see it not only in the team's British core, trading in diversity for solidarity and a shared set of values, but in the vague distrust of intellectual elitism and metropolitan pretension.
Fantasy Premier League tips: Gameweek 19

Show all 6
Naturally, there is a certain casuistry involved as well, a sense of victimhood that can easily be turned outwards: for the demonisation of the immigrant, read the lack of opportunities given to British managers. Whenever Dyche talks about English coaches being overlooked in favour of fancy foreigners, the sense of 'other' he evokes is one of the founding stones of nativism.
You might infer a certain distaste in all this. Not really. In fact, I find Dyche's Burnley by far the most interesting project in the Premier League right now: one that would be impossible to recreate elsewhere, and thus may never be repeated. Even Pulis's Stoke had its Senegalese core. Even Leicester's title success, the best attempt yet at articulating what a modern British style of football might look like, was a polyglot triumph, achieved with the help of an Italian coach, an Algerian winger, a French midfielder and Thai owners.
The irony, of course, is that as nativism gains traction in global politics, it has never been less fashionable at the top level of football. And so Burnley stand alone, some corner of the Premier League that will be forever Britain: a bold experiment, a bulwark against the times, perhaps even a gnomic, Elvis-soaked glimpse of our shared future.
Register for free to continue reading
Registration is a free and easy way to support our truly independent journalism
By registering, you will also enjoy limited access to Premium articles, exclusive newsletters, commenting, and virtual events with our leading journalists
Already have an account? sign in
Register for free to continue reading
Registration is a free and easy way to support our truly independent journalism
By registering, you will also enjoy limited access to Premium articles, exclusive newsletters, commenting, and virtual events with our leading journalists
Already have an account? sign in
Join our new commenting forum
Join thought-provoking conversations, follow other Independent readers and see their replies