Burnley's impressive win makes Sean Dyche a coach Everton must consider to replace Ronald Koeman
Once the Ginger Mourinho, Dyche is making a name for himself with no need for playful monikers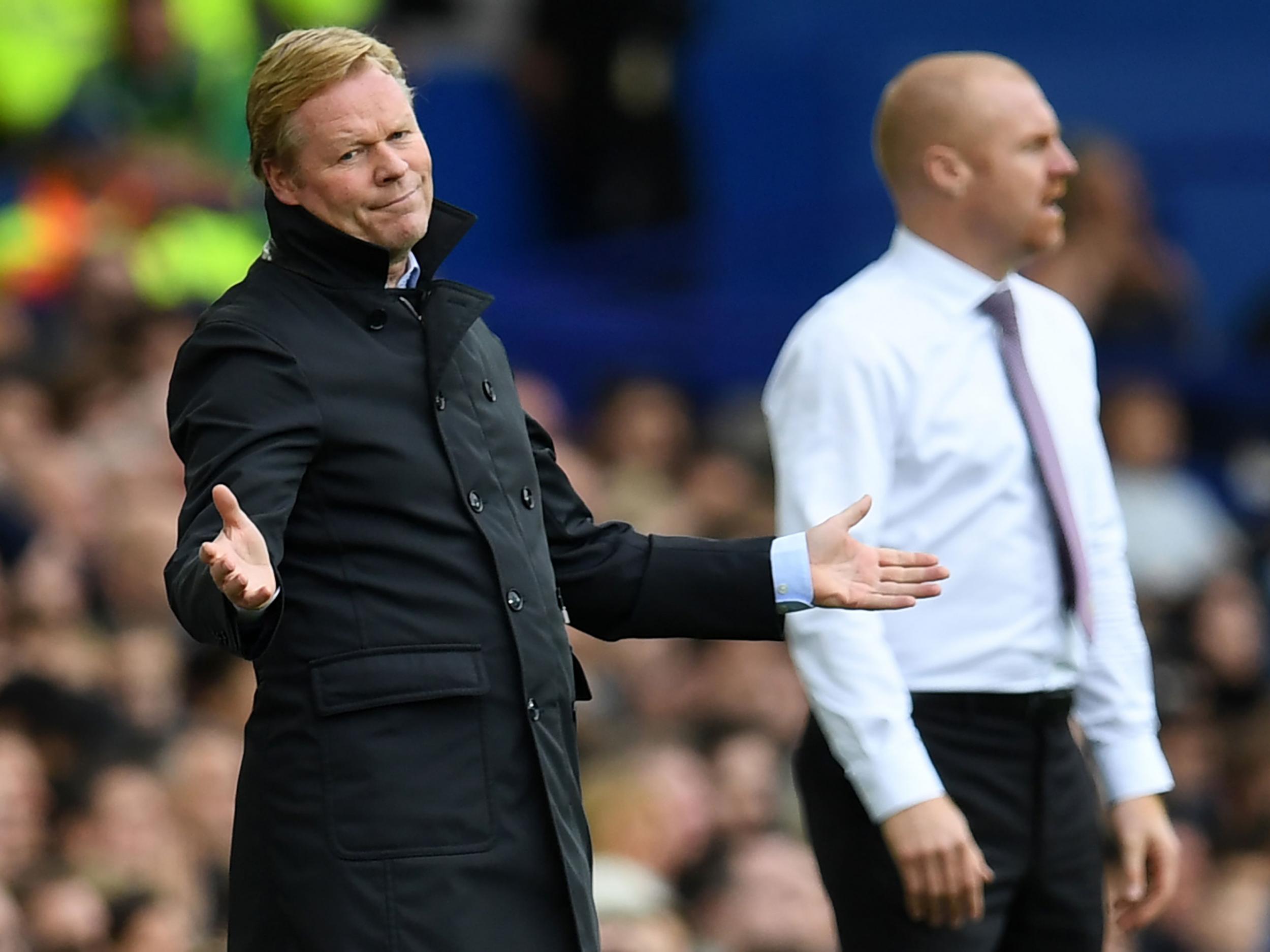 Goodison Park was still empty enough to hear the shouts of the players and their coaches above Coldplay on the public address system. Perhaps much should be taken from the warm-ups taking place at each end of the ground. It was not that Everton were doing anything particularly wrong but listen to Burnley and you begin to really appreciate the role of preparation and attitude behind this team's accomplishments.
Essentially, it was a game of piggy-in-the-middle only at match-speed and there were repercussions when standards slipped below expected levels. There came a fierce audible reprimand from first team coach Tony Loughlan for Chris Wood when the powerful centre forward did not stretch to intercept a slightly loose pass from James Tarkowski, the centre back. It meant the next time the chance came for Wood to win the ball, he lunged into a challenge with Jack Cork. Cork was in heap but back on his feet seconds later, ready to receive possession. Kick-off was still 20 minutes away.
Loughlan's coaching career began under Roy Keane at Sunderland and it continued at Ipswich Town when Keane went there as manager. Loughlan, Keane, as well as Sean Dyche and Dyche's assistant at Burnley, Ian Woan, all started their professional playing careers together under Brian Clough at Nottingham Forest in the early 1990s. It is imaginable that this shared experience would influence a collective way of thinking about football and the required measures for success.
This proved to be another day that makes you think about whom Everton will look towards when Ronald Koeman eventually departs; whether, indeed, Dyche should be amongst the considerations as a replacement.
The game's most significant moment triggered thoughts of all the possibilities. It did not help Koeman that Jeff Hendrick's opening goal involved the help of Ashley Williams, who was the only Everton defender that did not see the danger when Scott Arfield supplied Stephen Ward. Had Williams done so, then Ward would have been offside. Williams is enduring a nightmare season and he, indeed, is one of those short-term signings made by Koeman at considerable cost that initially might encourage some supporters because few teams achieve anything without the right sort of experience, though others will insist it says something about Koeman – that he doesn't care about forking out nearly £60million on Williams and a near 28-year-old Gylfi Sigurdsson because he knows he might not be around to deal with the consequences of low sell-on fees in a few years' time.
To focus alone on Everton's shortcomings would be unfair on Dyche and Burnley, though. Hendrick had skilfully slipped past Morgan Schneiderlin to slide a precise shot past Jordan Pickford. Burnley's goal had involved 24 passes, with the full dimensions of the pitch being used and this, inevitably, will be a fact that Dyche clings to when he fields questions in forthcoming press conferences about how he has taken Burnley into the Premier League's top seven.
Victory here means his side have now beaten Chelsea and Everton away from home this season, recording draws at Wembley against Tottenham Hotspur as well as Liverpool. Only Premier League champions Chelsea and Tottenham had won at Goodison Park in 2017. Though you can now add Burnley to that short list, Dyche's has spent much of his time since arriving at Turf Moor five years ago trying to bring balance to the discussion about Burnley's style of play, with it widely being a claimed that Dyche is a long-ball manager and Burnley are a long-ball side.
What they certainly are is a belligerent team, one that is built in Dyche's image. It is direct but it is also urgent, contrasting, of course, with Everton for whom Koeman's selections have not involved the necessary pace, width or power in attack to encourage the type of football that has made Goodison the hostile venue it can be. Perhaps Dyche will be thought of as a character able to bring the belligerence back.
Join our commenting forum
Join thought-provoking conversations, follow other Independent readers and see their replies