Carl Jenkinson: From gooner to gunner
Carl Jenkinson was an Arsenal fan as a boy so when he joined the club last summer it 'blew him away', he tells Sam Wallace. He's now adapted and is thriving at the Emirates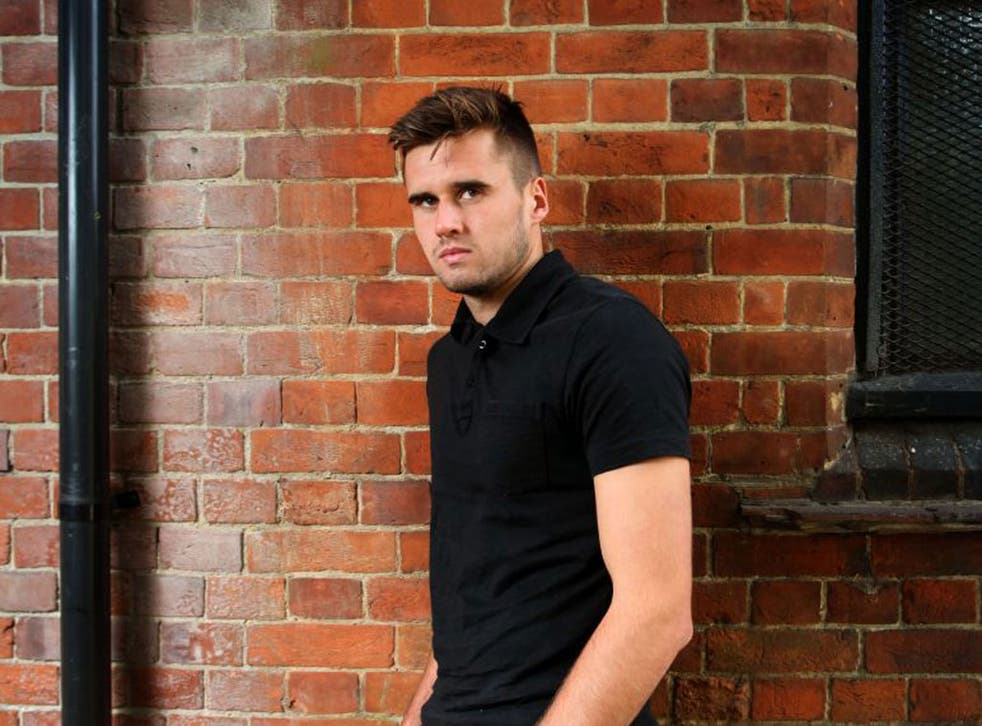 As an Arsenal fan all his young life, Carl Jenkinson has the same shared memories as many supporters. He can remember his dad driving him and his brother to games and walking across Finsbury Park to Highbury. He liked the cheese bagels they sold at half-time at the old stadium. He was there, as a six-year-old, when Arsène Wenger's team won their first Premier League title in 1998.
The difference between the tens of thousands who watch the team every week and Jenkinson is that the 20-year-old has made that transition from the Highbury stands – in his case, West Stand upper, towards the Clock End – to the team. In the modern Premier League, where the players can feel more distant than ever to the supporters, Jenkinson's story is a throwback to another era.
"I remember the peanut man at Highbury, who would sell them in bags," he says. "Funnily enough, I have never seen him at the Emirates." He has a stone engraved in his late grandfather's memory in Armoury Square outside the stadium. His Arsenal-loyal father, Steve, still has his season tickets at the Emirates, although he has changed his seats so as not to make it awkward for those around him who knew it was his son playing at right-back, and might have wanted to vent their spleen at the team.
Not that there has been much of that this season. It has been a dream start for Jenkinson, signed for £1.2m just 15 months ago from Charlton Athletic, where he was pursued by a number of Premier League clubs. Bacary Sagna's injury has meant a run of six starts in the league and Europe. Jenkinson should be in the team this lunchtime against Chelsea, the weekend's biggest game between two old rivals who have started the season well.
Chelsea were one of the many clubs who tried to sign Jenkinson as a boy, so too Tottenham Hotspur and Wimbledon, but there was only one he was interested in. "When I was playing in five-a-side tournaments my dad would say 'I've got this card from a Chelsea scout today' and I was always waiting for the Arsenal one. It never came."
He joined Charlton as a seven-year-old and developed there along with another Essex prodigy, Jonjo Shelvey. Jenkinson grew up in Buckhurst Hill where, in the summer, he switched from football to athletics and was a formidable 100m and 400m runner. There were also annual trips to Finland, where his mother Hayde comes from, and a country which has played a significant part in his football story.
Hayde comes from the village of Box, 20 miles east of Helsinki in the Swedish-speaking region of the country. She moved to London to work as an au pair, met Steve and ended up staying. Jenkinson and his older brother, Marc, grew up conversing with their mother in Swedish.
Marc has just graduated from Loughborough University with a first-class degree in chemical engineering while Jenkinson is, figuratively speaking, completing the kind of elite higher education that Wenger has provided to so many bright young players. It is fast progress for a footballer who was playing on loan at Eastbourne Borough in the Blue Square Premier just two seasons ago, and Welling United in Conference South the season before that.
There is also the small matter of an England squad being announced on Thursday which, with Glen Johnson suspended for San Marino, the first of the two World Cup qualifiers next month, Jenkinson could well be in contention for. He has played for England at Under-17s level and then Finland at Under-18s, 19s and 21s but has not committed for them at senior level.
"At the moment I am just concentrating on establishing myself at Arsenal and I will cross that bridge when it comes," he says. "That's all I can really say on it. When it comes around I'll have to think and see what I can do." The Finns only discovered his eligibility to play for them when Charlton took a Finnish goalkeeper on trial a few years ago and the player's father, a club chairman, discovered Jenkinson's parentage.
Already, Jenkinson has packed a lot into a short career. At the start of last season he was thrust into the Arsenal team for their Champions League away leg qualifier against Udinese, in which he played well, and then, infamously, for the 8-2 drubbing at Old Trafford in which Jenkinson was sent off. Such a tumultuous start might have damaged a young player but Jenkinson is made of tough stuff.
"The United game was an awful day for the club and myself but it happened," he says. "That is part of my story, I'll never change that but you just get on with things. You can't do anything about the past. I learnt a lot of things about myself. I had to have a look at myself in the mirror after that game and look at what I need to improve. Maybe it has made me a better player in the long run.
"Whenever I have had a bad game my dad has snapped me out of it as quickly as possible and said, 'There is nothing you can do about the past, you can only affect the future.' That is something I have always lived by. It's a bit different when you are playing at the top level because you hear what people say about you and what is said in the press. If you have a bad game at this level you get reminded of it.
"People say I got chucked in at the deep end like it is a bad thing but I was signed to be the second-choice right-back. Sagna was injured. It was my responsibility to play. I should have played and I didn't have a good game, that's life. That's how it was."
It is remarkable to think that the United match on 28 August last year was, including his time at Charlton, only the 13th professional game of Jenkinson's career. He played 10 more times for Arsenal that season, with a stress fracture to his back meaning he was out of action for a long time over Christmas and the new year.
The previous season, 2010-2011, he had broken into Phil Parkinson's Charlton team in December, having returned from the loan spell at Eastbourne. He tells a nice story about his second game for Charlton away at Hartlepool in the league, which was one of those fork-in-the-road moments in the career of a young player.
"It was something I'll never forget. I had only been on the pitch [as a substitute] a few minutes and I did a reckless tackle. Not really bad but it was either a yellow or a red. I still remember walking over to the ref and the linesman passed me. He said: 'Don't worry, I'm going to tell him [the referee] it was only a yellow'.
"I think with everything that was going on, if the lino hadn't said that I would have been sent off, lost my place in the team and the other [Charlton] right-back was only out for a couple of games. By the time I would have come back from suspension he would have been in the team. So I always think I need to find out who that lino was and buy him a beer!"
Before Arsenal signed him last summer he played just nine games for Charlton with many of them at left-back, rather than his favoured right-back, although he feels comfortable on either side. It was the Charlton academy manager, Steve Avory, who converted him from a central midfielder to a centre-back and then to a full-back, seeing in Jenkinson the athleticism and technique that have made him such a good player.
"When Arsenal signed me it blew me away," he says. "It was all a bit of a blur. It was my dream. You always want to play for the club you support. It was just a big shock, more I was so happy that Arsenal had come in and wanted to sign me. There were other big clubs who were interested. None of them would have meant the same. When I knew Arsenal were interested there was only one place I wanted to go."
As a boy, Jenkinson was at Highbury to see Arsenal win that title in 1998 and he was there in May 2004 when Arsenal completed their unbeaten, title-winning season against Leicester City. He was one of the thousands who attended the victory parades in Islington. "I have loads of different memories and they are nice memories, because it was a really nice day out for me, dad and my brother.
"It is weird to think I was one of the supporters two years ago. When you are a fan, especially when you are young, you are so distant and you look upon the players like 'Wow'. I was playing for Charlton but from being a fan to becoming a player was a very short space of time. From looking at them as heroes and idols to becoming one of their team-mates. It was really strange at first. As time goes by, you just adapt."
My other life
My favourite film by a mile is 'The Shawshank Redemption'. It's captivating. I like prison dramas, like 'Prison Break', and 'Shawshank Redemption' is the crème de le crème of prison dramas.
Register for free to continue reading
Registration is a free and easy way to support our truly independent journalism
By registering, you will also enjoy limited access to Premium articles, exclusive newsletters, commenting, and virtual events with our leading journalists
Already have an account? sign in
Register for free to continue reading
Registration is a free and easy way to support our truly independent journalism
By registering, you will also enjoy limited access to Premium articles, exclusive newsletters, commenting, and virtual events with our leading journalists
Already have an account? sign in
Join our new commenting forum
Join thought-provoking conversations, follow other Independent readers and see their replies