Ex-Arsenal star Cesc Fabregas finally comes clean about that pizza-throwing incident and Sir Alex Ferguson
The true culprit of the 'Battle of the Buffet' has remained a mystery since October 2004, but the former Arsenal midfielder has finally revealed all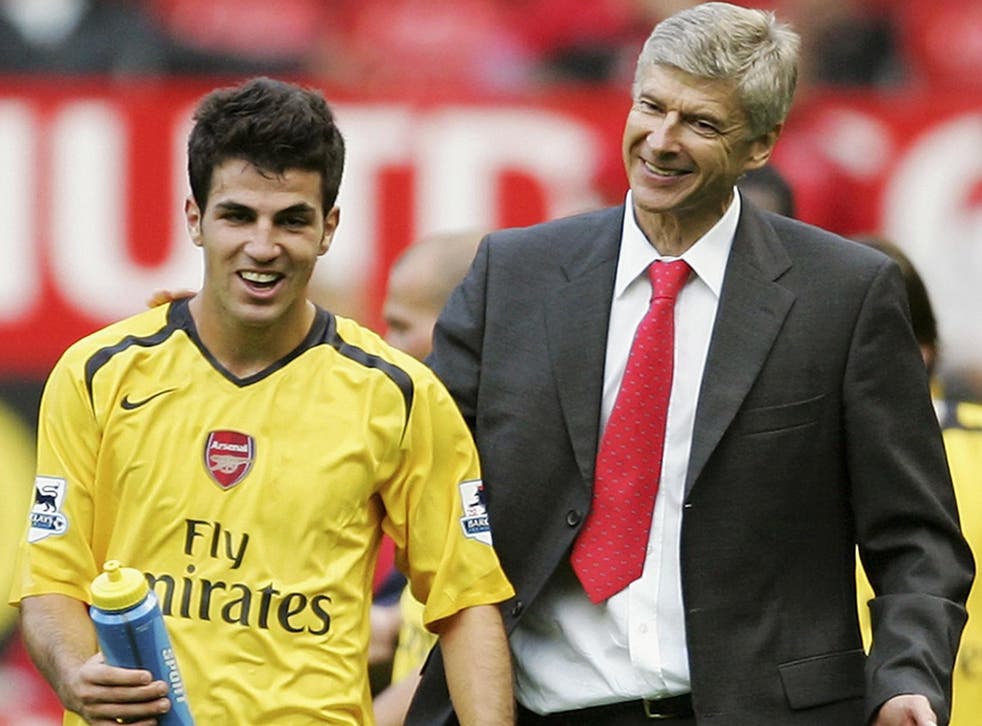 Cesc Fabregas has finally revealed himself as the culprit behind the 'Battle of the Buffet' – the infamous incident at Old Trafford in 2004 which saw Manchester United manager Sir Alex Ferguson covered in pizza.
United had won an explosive game 2-0, with goals from Ruud van Nistelrooy and Wayne Rooney ending Arsenal's 49-match unbeaten run.
Tempers flared over in the tunnel afterwards, with the Scot receiving a fresh slice of Margherita to the face.
Top 25 managers in Premier League history

Show all 26
The offender has been shrouded in mystery ever since, although Fabregas was always been the number one suspect.
In his autobiography released in 2013, Sir Alex explained: "My recollection of that fabled incident is that when Ruud van Nistelrooy came into the dressing room, he complained that Arsene Wenger had been giving him stick as he left the pitch.
"Right away I rushed out to say to Arsene: 'You leave my players alone.' He was incensed at losing the game. That was the reason for his combative behaviour.
"The next thing I knew I had pizza all over me. They say it was Cesc Fabregas who threw the pizza at me but, to this day, I have no idea who the culprit was."
Martin Keown appeared to give the game away, by saying later: "From what I understand, it was a Spanish fella with great technique. Even when it came to the pizza he had great technique. He threw it like a Frisbee."
Indeed, in an episode of 'A League of Their Own' set to be released this week the Spaniard confirmed his role in the incident, but suggested Keown wasn't telling the whole truth.
Host of the Sky One show James Corden asks: "Tonight, can we finally put the case of the flying pizza to bed once and for all? Were you the culprit that threw the pizza?"
Fabregas replies, "yes!", before explaining: "Martin Keown is a liar because I saw him in front of me just, like, punching people. So he didn't see anything.
"All of a sudden, I heard noises and I thought what's happening? So I go out with my slice of pizza and I saw Sol Campbell, Rio Ferdinand, Martin Keown... everyone pushing each other.
"I was like 'I want to get in but I don't know how to' and I threw... peeew... just threw it. Once I saw it was hitting, like, who it was hitting, which I didn't mean…"
Fabregas then turns to the camera and says: "I apologise Sir Alex, I really didn't mean to do that."
Register for free to continue reading
Registration is a free and easy way to support our truly independent journalism
By registering, you will also enjoy limited access to Premium articles, exclusive newsletters, commenting, and virtual events with our leading journalists
Already have an account? sign in
Register for free to continue reading
Registration is a free and easy way to support our truly independent journalism
By registering, you will also enjoy limited access to Premium articles, exclusive newsletters, commenting, and virtual events with our leading journalists
Already have an account? sign in
Join our new commenting forum
Join thought-provoking conversations, follow other Independent readers and see their replies