Chelsea 2 Brighton 0: Blues close on Manchester United after stylish win over sloppy Albion
Goals from Alvaro Morata and Marcos Alonso ensured Chelsea had a Feliz Navidad, and the Blues are now just one point behind former boss Jose Mourinho's United
Jack Pitt-Brooke
Stamford Bridge
Tuesday 26 December 2017 17:49 Comments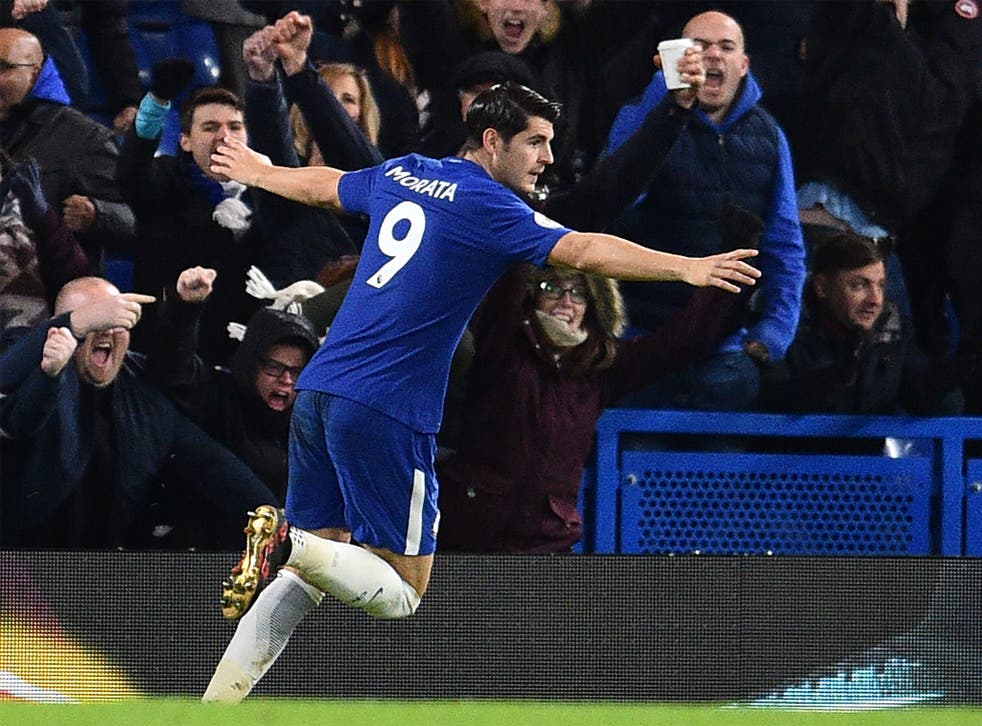 This is the time of year for riotous upsets, role-reversal and revelry – just look across to Old Trafford – but not here at Stamford Bridge this afternoon. Manchester United's own league push has been disrupted this Christmas and now they are just one point ahead of Chelsea in the battle for second place. There was no misrule here, as the match went entirely to Antonio Conte's script, a 2-0 win that could have been plotted in advance.
Conte knows that his team's chances of retaining the title are remote in the extreme now, but he is still proud of his players' dogged distant pursuit. "Manchester City are doing something extraordinary, to win every game," he said. "There is a great motivation for me, for the players, and we want to try to improve. It is very important for us to start the second half of the season with a win."
Brighton and Hove Albion came and played well, defending with discipline and compact organisation. They made things difficult for Chelsea, slowed the game down and even played well with the ball when they had it. They did not come here to be expansive – why would they – but they executed their game plan as well as you might hope.
Chris Hughton summed it up perfectly. "When you analyse the game, it was not dramatically different to what you'd predict," he said. "They would have a lot of possession and ask a lot of questions, and we'd have to defend well."
This is how many Premier League games play out now, with the small team camped in and the big team trying to unpick them. It was not a walk-over at all and when the half-time whistle went at 0-0, other teams might have started to worry that they had not yet got ahead in the game.
But Chelsea are tougher than that and cleverer than that. They simply came out at full pelt for the start of the second half, and within less than one minute they were ahead. The goal that broke the game open came from the increasingly productive pairing of Cesar Azpilicueta and Alvaro Morata. As Chelsea advanced, Azpilicueta picked up the ball under no real pressure. Knowing exactly what Morata was going to do – make a run in behind Lewis Dunk – he curled a perfect cross onto his forehead, and the header was emphatic.
Six of Morata's goals for Chelsea have been set up by Azpilicueta now, often with that same curling cross from deep. Conte described it as a "great link" between the two players and joked that Morata should start taking Azpilicueta for dinner now, and inviting their manager too.
From there the pressure was on Brighton to come out and play, and it was always more likely that Chelsea would score a second. Marcos Alonso hit a beautiful free-kick that Mat Ryan had to dive to keep out, but it did not matter. Soon after Alonso had the second, another header by one Spaniard assisted by another. This time it was a Cesc Fabregas corner whipped in from the left and Alonso ducked in at the near post to flick it beyond Ryan.
Chelsea could have had more but they did not need them. Dunk heroically blocked on the line from Hazard after he was set free by Ngolo Kante's run. Hazard, wonderful yet again, set up Tiemoue Bakayoko who misfired again.
The win felt very routine by the end, which is a credit to Chelsea not panicking after a first half when things did not quite break their way. Bakyoko had missed two good chances, the first from Antonio Rudiger heading the ball back to him at the near post. Moses twice got in at the far post, onto the end of a Fabregas cross, but could not score either. All they needed was to get a chance to their best goalscorer, and 50 seconds into the second half, that is exactly what they did.
Chelsea (3-5-2): Courtois; Azpilicueta, Cahill, Rudiger; Moses, Fabregas, Kante (Drinkwater, 85), Bakayoko, Alonso; Hazard (Willian, 73), Morata (Batshuayi, 82)
Brighton (4-5-1): Ryan; Schelotto, Duffy, Dunk, Suttner; March (Knockaert, 82), Kayal (Gross, 73), Stephens, Propper, Izquierdo; Hemed (Murray, 80)
Register for free to continue reading
Registration is a free and easy way to support our truly independent journalism
By registering, you will also enjoy limited access to Premium articles, exclusive newsletters, commenting, and virtual events with our leading journalists
Already have an account? sign in
Join our new commenting forum
Join thought-provoking conversations, follow other Independent readers and see their replies