Chelsea 2 Everton 1 match report: Rafael Benitez lets his Chelsea players take the plaudits as David Moyes bows out
Fernando Torres scores winning goal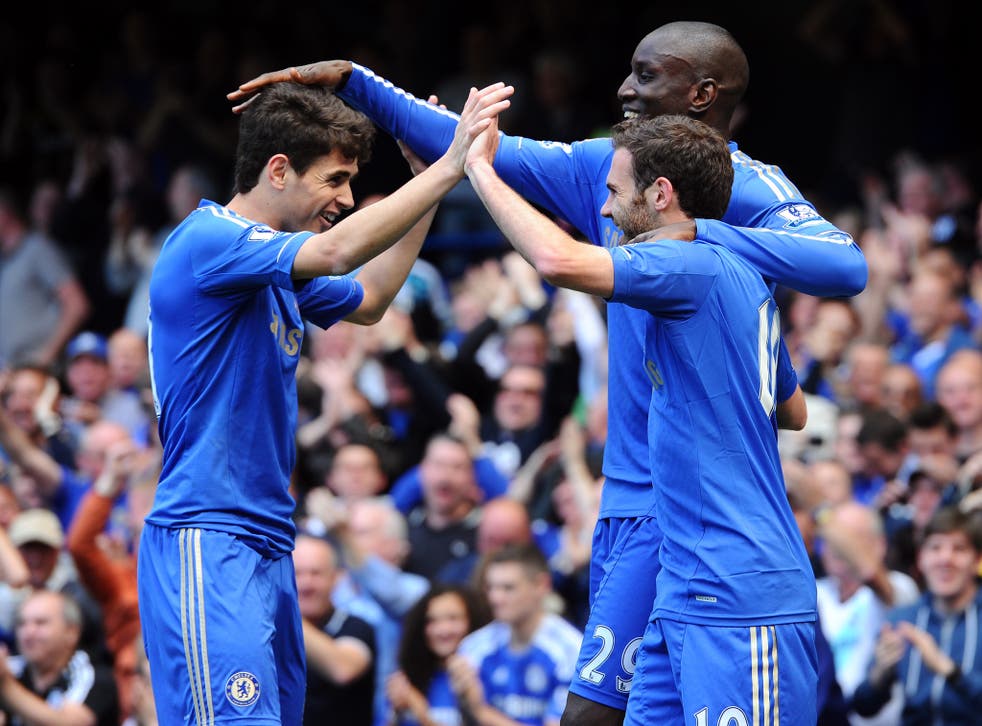 As the teams shook hands at the final whistle David Moyes walked towards the Everton fans, clapped them, then waved goodbye. A sea of hands, interspersed with thank you banners, waved back in mutual appreciation. Then he headed off, for a new life along the East Lancs Road at Old Trafford, taking their best wishes with him.
A few minutes later Chelsea's players re-appeared on the pitch for their lap of honour. The departing Paulo Ferreira was first out to a standing ovation – he carried the Europa League trophy. Next was John Terry, in full kit even though he had not played. Frank Lampard followed, then everyone else: the players, all their children, back-room staff, physios, media officers, kit men, et cetera. Still one man remained absent: the interim manager.
Moyes was at Everton for 11 years and oversaw 518 matches, 218 wins, and no honours. Rafa Benitez was at Chelsea for six months during which time the club won 28 out of 48 games, secured automatic Champions League qualification and lifted the Europa League. They also won this match with goals from Juan Mata and Fernando Torres sandwiching Steven Naismith's equaliser. It was Benitez's 11th victory in 17 matches against Moyes. But he stayed in the shadows.
Benitez could probably have risked an appearance on the pitch. He is still detested by Everton fans for once calling them "a small club" but now he appears merely unloved, rather than reviled, by the Chelsea support. There was even a home-made banner that said: 'Thank you Rafa. We forgive you. Good luck.' And while there was a loud chant of 'Jo-se Mou-rin-ho' after the match, the Special One-in-waiting was not mentioned during the game.
"I think [the lap of appreciation] is for the players and their families," said Benitez. "I've received a lot of messages on my website, maybe 200, saying 'thank you very much', people appreciating what we were trying to do."
Benitez also insisted that "the majority [of fans] were very positive by the end and I think I changed the opinion of some of them."
It had been, he said, a "great experience" with "many of the players improving" under him. Not that they showed their appreciation.
Guus Hiddink, when he was caretaker manager here, left with a £20,000 engraved watch and framed shirt signed by all the players. There was no gift for Benitez, he was not mentioned in speeches made on the pitch by Terry, Lampard and Ferreira, and the Spaniard admitted that Roman Abramovich (not present at Sunday's game) had yet to say "thank you". David Luiz was the only player to publicly wish him well.
"He was an amazing coach for the team and I learned a lot from him," said Luiz. Benitez is still travelling to New York for next week's friendly with Manchester City. After that, who knows? He would not be drawn on the possibility of pitching up in France with the country's champions, Paris St-Germain.
Moyes admitted he had not been given a going-away present by his players either, but said he expected them to buy him a drink on the train home last night. Moyes may not have won anything at Everton but leaves with everyone's good wishes after the notable achievement of turning them from relegation candidates to top-eight regulars on a mediocre budget.
Moyes said he "will be doing two jobs" this week as he ties up loose ends at Everton and begins work at Manchester United – with a meeting with Wayne Rooney top of the agenda. He confirmed he was "sad" to leave Everton and was taking an interest in the appointment of his successor, "but it is [chairman] Bill [Kenwright]'s decision".
On the Everton bench was the one remaining player who appeared in his first match, in March 2002, full-back Tony Hibbert. A sentimentalist might have picked him, but not Moyes.
With a sixth-place finish already confirmed there was little at stake for Everton. They nevertheless matched Chelsea for effort but lacked that extra multi-million-pound touch of class.
Mata tapped in after seven minutes when Tim Howard uncharacteristically spilled Demba Ba's shot. Naismith equalised after playing a neat one-two with Victor Anichebe as he took advantage of Luiz being drawn out of position. Everton then hit the post through a deflected Darron Gibson shot and later on Nikica Jelavic missed three good chances.
The Croatian has had a dreadful season but if he needs inspiration he need only look at Torres. Chelsea's fans had lost patience with the Spaniard by the time Benitez arrived, but under his compatriot's watchful eye the striker has shown signs of rejuvenation and he followed up his midweek goal against Benfica with a fine volley from Victor Moses's knock-down.
"This team will challenge for the title next season," said Benitez. That is a standard expectation-raising exercise by departing managers, but it is also true.
Join our new commenting forum
Join thought-provoking conversations, follow other Independent readers and see their replies