Chelsea offer faint reminder of why they were champions with fine comeback victory over struggling Southampton
Southampton 2 Chelsea 3: Substitute Giroud scored twice in the closing stages as Southampton allowed a two goal lead to slip at St Mary's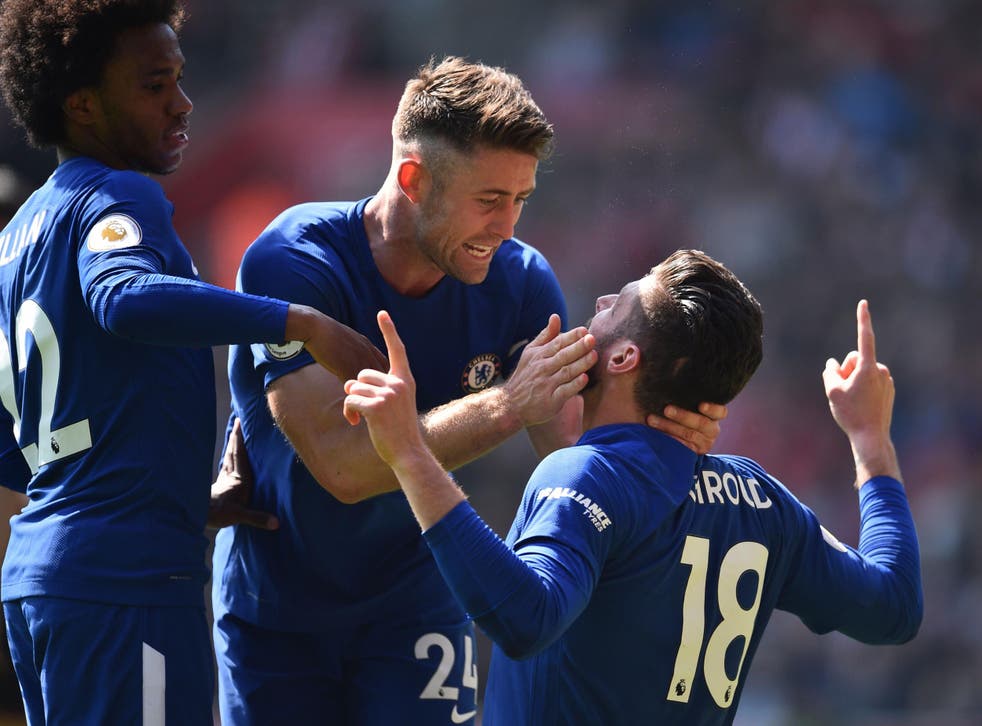 That's why they were champions. And - admittedly - why they won't be for much longer. Chelsea, a side so rotten for the first 70 minutes of this game, claimed all three points courtesy of a staggering eight-minute turnaround, in which they reminded us that for all their tribulations and afflictions, nothing motivates a side quite like wounded pride.
Olivier Giroud came off the bench to notch his first two Premier League goals for Chelsea, either side of Eden Hazard's net-buster from close range. And as the travelling fans toasted their remarkable reversal of fortune in bright sunshine, the thought struck that perhaps all this talk of downed tools and internal squabbles has been taken a touch too far.
Antonio Conte may be off for pastures new before long. Even this win only improved their 2018 record in all competitions to seven wins, seven draws and seven defeats. They still haven't kept a clean sheet for two months. They still haven't won consecutive league games since December. But there has been no Mourinho-style collapse here: just a thinly-spread squad that lacks the maturity and leadership to remain consistent. In a way, this whirling waltzer of a game was their season in microcosm.
Meanwhile: was this the game that sealed Southampton's Premier League fate? It shouldn't be, necessarily. They showed enough skill and guts here to offer hope that the three-point gulf to safety may yet be bridged. But once again, there was a weakness at their core that was exposed as soon as Giroud reduced their lead to 2-1. The midfield retreated onto the toes of the defence; crisp direct passes became frightened swipes. In his first home game, Mark Hughes will have seen plenty to encourage him, but also a side that has conceded 12 goals in four games without looking all that terrible.
That, ultimately, will be the real concern. So many of their players - Pierre-Emile Hojbjerg, Wesley Hoedt, Shane Long, played three-quarters of an excellent game. Jan Bednarek was enjoying a dream debut at centre-half, scoring the second goal that looked to have finished Chelsea off. But as Chelsea turned the screw, Southampton's attractive 3-4-3 contracted into a 5-4-1, and then something more akin to a 9-0-1. The front-footed defending that had contributed to so many interceptions and disruptions in the first hour simply evaporated.
It was from such a breakdown that they took the lead, Ryan Bertrand's cross converted by Dusan Tadic from close range. Tadic's first instinct was to thank Bertrand, who had created the goal with a turbo-charged 70-yard burst up the left wing and around Cesar Azpilicueta. And the direct approach was proving particularly productive for Southampton, Hojberg and Oriel Romeu winning the midfield battle against Cesc Fabregas and N'Golo Kante, and moving the ball with speed and purpose.
Chelsea's best chances were coming from crosses - Alvaro Morata (six yards, easy) and Andreas Christensen (10 yards, difficult) both failed to find the target with headers. And though they began the second half in better nick - Hazard and Willian both had good efforts - when they were undone again on the hour, it was hard to see a way back for them. Gary Cahill misjudged a cross - you could almost hear the discs in his 32-year-old back creaking as he leapt and landed on his backside - and Bednarek smashed the ball home first time.
Cue Conte. He withdrew the ineffectual Morata and the wandering Zappacosta, and replaced them with the skating Pedro and the knobbly Giroud. With 20 minutes left, Chelsea took a quick free-kick and Giroud glanced a header brilliantly past Alex McCarthy from Marcos Alonso's cross. It was as if an alarm clock had gone off. And in retrospect, it was the pivotal moment of the game.
Now Chelsea were cooking, Hazard controlling Willian's cross from the left and firing the ball high into the net. And from there, the denouement felt strangely inevitable. Another cross from the left ball found its way to the feet of Giroud whose shot on the half-volley from 18 yards was imperiously directed. "That's why you're going down," the Chelsea fans taunted their Southampton counterparts in the adjacent stand.
These two teams will meet again next weekend at Wembley, a place in the FA Cup final at stake. And yet, if you had asked Hughes and Southampton's fans which game they would rather win, most would have said this. They had their chances in the dying minutes - Hojbjerg and substitute Josh Sims both had efforts saved - but in the skittishness of their body language and passing was the despair of a side who know they've blown it. And in those eight fateful minutes, Southampton may well have blown their place in the Premier League.
Join our new commenting forum
Join thought-provoking conversations, follow other Independent readers and see their replies