Chelsea 6 Arsenal 0: Arsene Wenger suffers nightmare in 1,000th match in charge of the Gunners
Arsenal manager says 'blame me' for 1,000th-game fiasco in 'one of worst days in my career' after Gibbs' red-card shambles
Michael Calvin
Saturday 22 March 2014 20:12 Comments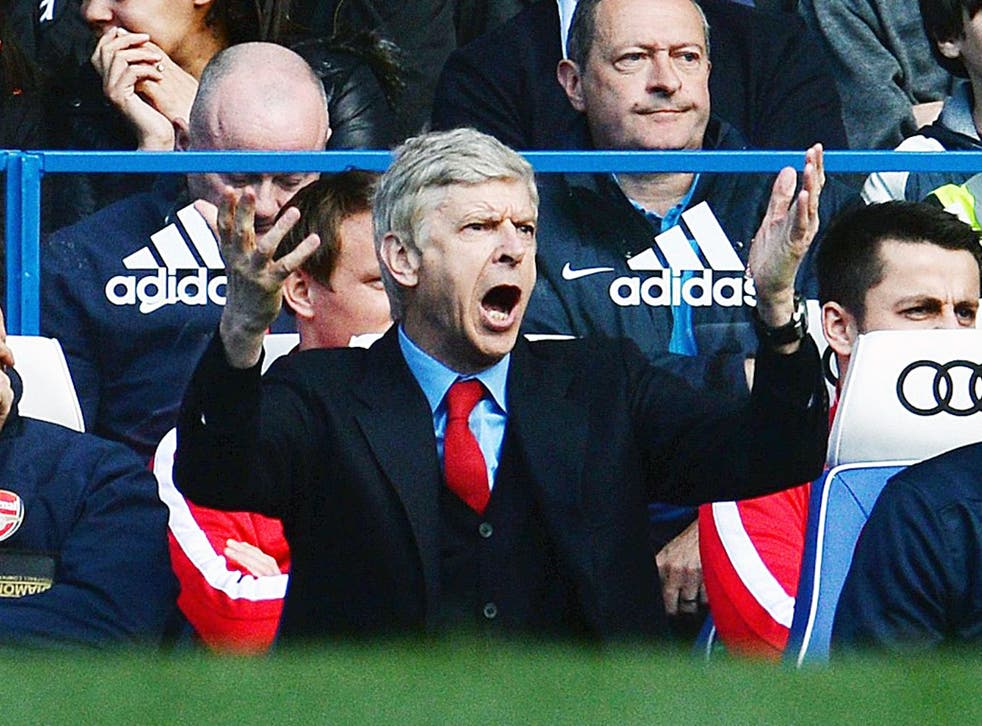 Arsène Wenger was a study in abject misery. His body was taut and his face was scarred by anger, anguish and something akin to self-loathing.
One of the most wretched experiences in a 1,000-match career came close to defining him on a calamitous afternoon at Stamford Bridge in which Arsenal lost 6-0.
He endured the humiliation of Chelsea fans lauding his longevity and insulting his intelligence. He had no defence to inevitable chants of "specialist in failure".
The theatre was compelling and the symmetry of the statistics was telling. Chelsea's biggest win under Jose Mourinho equalled Arsenal's biggest defeat under Wenger. It diminished the achievement of the Frenchman who, in an unprecedented move, did not attend the post-match press conference.
Arsenal: The latest match pictures

Show all 75
"It was a nightmare," Wenger told BBC radio in an interview. "This defeat is my fault. I take full responsibility. We got a good hiding. I don't think there's too much need to talk about the mistakes we made. It's one of the worst days in my career. You don't prepare all week to experience that."
Wenger will demand an instant response from his side against Swansea City on Tuesday, and did not need the stage-managed sympathy of Mourinho which preceded his retreat to the team bus.
"Tomorrow's another day, next week is another match and they can win," he said. "If you win, you forget." The Portuguese manager was in his element afterwards. His suggestion in the build-up that "it's just another match" was his only miscalculation. The Portuguese, with ill-disguised relish, said: "We came to kill. In 10 minutes, we destroyed them. After that? Easy."
Mourinho even revised his previous stance that Chelsea have "no chance" of the title to "just a little". He knew such a comprehensive victory was no less likely than the claims of a self-proclaimed "Alien God" from Bromley, Stephany Cohen, that she had been engaged to Wenger in the 15th century.
Overshadowing the result was a bizarre sequence which would have been far-fetched, even in a sketch for Sport Relief. Despite Mourinho saying "these are the sort of mistakes we accept", managers, who are routinely punished for bringing the game into disrepute for a robust opinion, will rightly question why the referee, Andre Marriner, is not facing a similar fate for wrongly dismissing Kieran Gibbs instead of Alex Oxlade-Chamberlain. The dialogue, interpreted by lip readers on social media was comedy gold.
Gibbs, immediately after being shown the red card, said: "Me?" Marriner replied: "You, for handball." Per Mertsacker then interjected: "It's the wrong player!" Oxlade-Chamberlain even admitted: "It was me ref!"
Cue chaos, which obscured the reality of the situation. The hosts were 3-0 up inside 17 minutes, irrespective of the comedic case of mistaken identity. Such was their domination that had Marriner allowed Arsenal an extra man, they would have still been swept aside. Arsenal were guilty of a wanton wastes of possession, which led to five of the six goals. They lacked defensive discipline and the absence of individual responsibility in a showcase match hinted at deep-seated problems. Wojciech Szczesny, last seen starring in a selfie on the pitch after last week's north London derby, will not care to watch his role in a horror movie. It would be an exaggeration to suggest the welcome was effusive. Neither Mourinho nor John Terry mentioned Wenger's milestone in their columns in the matchday programme. When it was mentioned by the announcer, it triggered booing from home fans.
Stereotypes were set, distinctions had been drawn. Mourinho prowled with the intent of a hyena stalking its prey, which, as it turned out, was easy meat. The game brought out of the best and the worst in the Chelsea manager, whose mastery of the back-handed compliment and casual slur continues to define and degrade him. It was all about the boy. Mourinho was abused by Arsenal fans as he stood on right-hand edge of his technical area and accepted the retaliatory chants of home supporters with a couple of languid waves with his right hand.
Stamford Bridge, though, is the house that Roman built. The Emirates will be an enduring shrine to Wenger's parsimony and perspective. Therein lies the essential difference between the two. Mourinho is the trader who proffers trophies, trinkets which dazzle and seduce. The Frenchman has a broader constituency, who shared his pain yesterday. He desperately needs to win the FA Cup to provide a long overdue down payment on the emotional mortgage taken out by his followers.
The manner in which his tactical strategy unravelled was ominous. Chelsea's powerful pressing game generated errors. The pace in which they exploited sudden space and the clinical nature of the finishing completed the job.
The "specialist in failure" chants typify how the Mourinho soundbites quickly mutate. They become part of the mainstream of the game and holy writ for the lazy critic.
The majesty of Chelsea's display made Mourinho's attempts at victimhood even more perverse. He maintained his persecution complex when he conceded that "we can win the championship – if they let us". He tried to maintain that Manchester City are favourites.
Mourinho is the smouldering ember beside a box of fireworks, but is clearly in the process of building another strong team.
The home supporters showed no mercy with repeated choruses of: "Arsène Wenger, we want you to stay." The Frenchman has turned down Real Madrid, Bayern Munich and England to do so. Arsenal is his life's work but, if he has more days like this, he may consider it an unwanted chore.
Register for free to continue reading
Registration is a free and easy way to support our truly independent journalism
By registering, you will also enjoy limited access to Premium articles, exclusive newsletters, commenting, and virtual events with our leading journalists
Already have an account? sign in
Join our new commenting forum
Join thought-provoking conversations, follow other Independent readers and see their replies