Chelsea and Tottenham fined by the FA after failing to control their players during Stamford Bridge clash
Spurs had nine players booked while the two sides clashed at the end of the match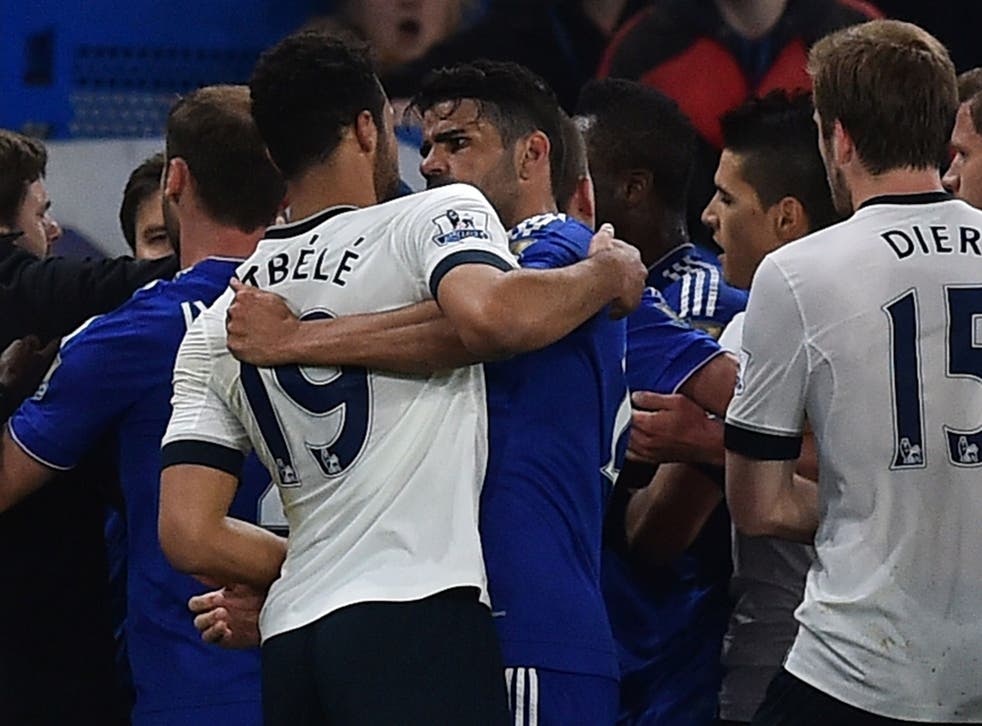 The Football Association has fined both Chelsea and Tottenham after failing to control their players during the recent ill-tempered clash that cost Spurs any hope of winning the Premier League title earlier this month.
Chelsea have been hit with the larger sanction in the form of a £375,000 fine, while Spurs will be made to pay £225,000 after both clubs admitted three charges of failing to control their players and/or officials, which came after the 2-2 draw at Stamford Bridge on 2 May.
Spurs had nine players booked during the match, with Mousa Dembele also receiving a six-match ban for violent conduct after he made contact with Chelsea striker Diego Costa's eyes during one of a number of player clashes.
Chelsea only had three players yellow carded, although Costa was seen thrusting his head towards Jan Vertonghen after the Spurs defender pulled him by his collar. A post-match clash between the two sets of players and staff resulted in Chelsea interim manager Guus Hiddink being knocked into the dugout, with pushing and shoving from a number of players seeing the match end in chaos.
A statement from the Football Association read: "Chelsea and Tottenham Hotspur have been fined £375,000 and £225,000 respectively after both clubs admitted three breaches of FA Rule E20 for failing to control their players and/or officials.
"It follows incidents which occurred in the 45th and 87th minutes and also at the end of their fixture at Stamford Bridge on Monday 2 May 2016."
Chelsea were hit with the bigger fine given they have already been charged with a similar rule breach on four previous occasions this season, while Spurs had already committed two previous indiscretions.
"Prior to this fixture, Chelsea had breached FA Rule E20 on four separate occasions and Tottenham Hotspur twice since November 2014," the statement continued.
"Following the Independent Regulatory Commission hearing, both clubs were also warned as to their future conduct."
Both clubs were also warned about their future conduct by the independent regulatory commission.
Join our new commenting forum
Join thought-provoking conversations, follow other Independent readers and see their replies