Chelsea's idealistic pursuits have pushed the club to the edge - so what next?
There is now a fair argument that Conte's time with this team may have run its course, but it's difficult to deny that he has wrung the maximum possible out of this team
Miguel Delaney
Chief Football Writer
Thursday 15 March 2018 17:28 Comments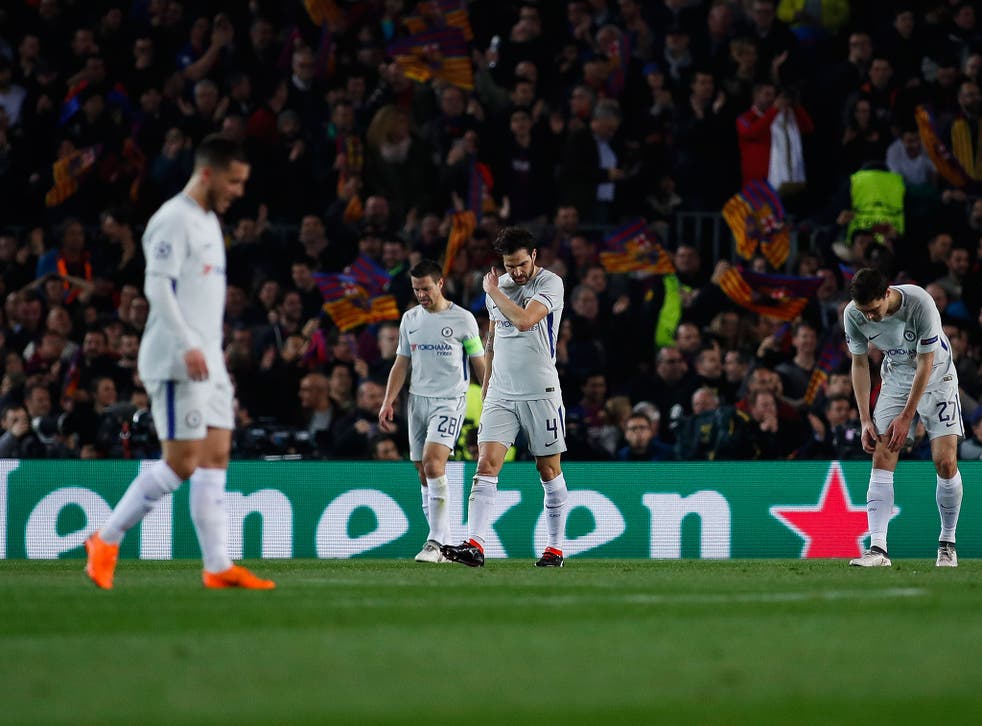 The wonder, as ever with so much at Chelsea, is what Roman Abramovich is thinking – but not quite in the usual way. This was much more specific.
It was not about the manager, nor the players, but rather about where and who they were playing. Abramovich's grand dream for Chelsea has been to emulate Barcelona, but they have never looked so far off in his time. And that's as a club as much as a team.
Sure, Antonio Conte and his players could justifiably talk of being proud of their performance and there was a lot of merit to the tie's ultimate explanation that it just came down to one of the game's greatest ever players performing to that kind of level, but there was still something a little disconcerting to it. It was the way Chelsea had to contort themselves, had to push themselves, to just compete.
Barcelona vs Chelsea player ratings

Show all 22
There is now a fair argument that Conte's time with this team may have run its course, but it's difficult to deny that he has wrung the maximum possible out of this team. The Italian often talks of how a coach is like a tailor with a suit, and he has now made so many alterations to keep it looking good that it's all just a bit worn out.
This is one of those more pressing issues. Chelsea's recent restraint is really starting to reveal itself.
While Barcelona spent January breaking their transfer record for Philippe Coutinho and still having enough to easily win the tie without him, the English champions signed three squad players. Only one of them played on Wednesday, and there was even some surprise at that, as Olivier Giroud isn't really supposed to represent much more than an alternative option.
It's a long time since Chelsea have made what would be considered a classic Abramovich big signing, but there would be no novelty or vanity to the Giroud transfer. It would instead come down to necessity.
That is the net effect of this recent Chelsea approach. The squad feels like it needs significant work, and some elite quality to elevate it. Eden Hazard was really the last of those classic Abramovich signings, and the only one left at the club, and in some of the side's lowest moments this season he has looked like the only one capable of such a level.
It's equally difficult not to wonder what Abramovich thinks of Manchester City, given they have done a much more rigorous job of replicating Barcelona and in a much shorter space of time. With a lot more money, it might also be added.
Chelsea's restraint shouldn't be completely derided, especially given all of the debate – and worry – about the effects of money on the game.
There may yet be a twist here sometime soon, since many of the most influential figures in the game are openly talking about how Barca are spending far too much of their budget on player wages in trying to stay ahead of Premier League broadcasting money. There could be a reckoning there.
Against that, some of Chelsea's restraint has been down to living within their means, and some of it has also been down to replicating Barcelona in deeper ways.
Abramovich would dearly like a squad filled with academy graduates getting regular football, and their youth teams are well able to compete with City's. The two are considered the peak of underage football in England. That was also supposed to complement a policy now applied by Real Madrid, of trying to buy up the best 21- to 24-year-old's to have the next best squad in the world.
That is admirable, and prudent, but won't always prove successful. There are no guarantees, and that is why there needs to be greater squad management elsewhere.
This is similarly where a new technical director appointment will come in – especially in the recruitment of the right talent – but also Abramovich's mindset.
Those who have worked with the club on high-level deals say this restraint isn't really down to the Russia, but the advice of some of those around him on the football side.
One source who knows Abramovich as well as anyone in the game says that could still all change at a moment's whim. "Roman being Roman, he could just wake up one morning in the summer and decide he wants to spend big again. Chelsea do have the funds. It all comes down to his mood, how he's feeling about football at any particular time."
This only adds to the wonder at what he's thinking right now. Chelsea meanwhile don't look all that great. They don't look close to emulating Barcelona. That alone, however, could well greatly influence Abramovich's thinking.
Register for free to continue reading
Registration is a free and easy way to support our truly independent journalism
By registering, you will also enjoy limited access to Premium articles, exclusive newsletters, commenting, and virtual events with our leading journalists
Already have an account? sign in
Join our new commenting forum
Join thought-provoking conversations, follow other Independent readers and see their replies