Chelsea 'bigger than Arsenal' despite £74.8m loss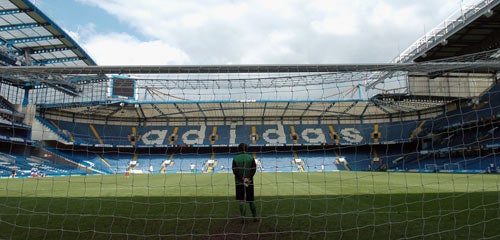 Chelsea losses over the past four years are a vast £384m after the club announced an annual loss of £74.8m yesterday, but they still claim to be bigger than Arsenal with a turnover that exceeds that of their London rivals. The warning from Stamford Bridge was that Roman Abramovich's appetite for trophies has not diminished despite sinking £578m of his own money into the club.
The annual financial results for the richest football club in the world revealed that Chelsea's turnover has risen 25 per cent to £190.5m, in excess of the £177m turnover posted by Arsenal in September. The club's chief executive Peter Kenyon said that the year's losses, down from £80.2m last year, were the result of more expensive player contracts on the payroll.
Crucially for Chelsea, however, the man making it all happen has showed no sign of bailing out. The club put Abramovich's investment at £578m and for the past financial year it was the contracts for Andrei Shevchenko, Michael Ballack and a new deal for Didier Drogba that were the major factors in driving up losses. Kenyon claimed that Chelsea were still on course for their aim of breaking even in 2010.
The chairman Bruce Buck said that Abramovich was in Chelsea for the long-term. "We see him a lot and his enthusiasm for football and for Chelsea for the last four and three-quarter years has not waned, it has only increased," Buck said. "When a fellow puts more than £500m into a football club of his own money he doesn't just walk away."
Kenyon admitted that Chelsea would have to reduce the percentage of turnover spent on wages. Chelsea's percentage is at 71 per cent, giving them a payroll year of around £135m. Little wonder that manager Avram Grant has set his players the target of winning the Champions League within the next two years.
Despite the losses, Kenyon rejected the claims of Arsenal chairman Peter Hill-Wood in September that it was "bullshit" and "fantasy" that Chelsea could compete with his club financially. Arsenal's turnover was £200.8m (£177m from football) while Chelsea's was £223.3m (£190.5m from football). "We don't think it is [fantasy]," Kenyon said. "Our numbers justify where we are."
There was a dramatic reduction in the net spending on transfers which stood at £11.7m, down from £85.4m (2005-06) and £126.7m (2004-05). In their accounts Chelsea spread the cost of a player across the length of his contract. The sale of Eidur Gudjohnsen, Robert Huth, Damien Duff and Asier Del Horno has balanced those investments, leaving Chelsea with a respectable deficit. Their next set of results will take into account the signings of Florent Malouda, Nicolas Anelka and Branislav Ivanovic as well as the big pay-offs awarded to Jose Mourinho and his backroom staff when they were sacked in September.
Kenyon said that the club had been pleased with Grant since he took over and admitted the atmosphere was very different since Mourinho's departure. "There's still a lot of attention on the club – but the attention is around football," he said. "It's less controversial and that's fact."
He added that the club were "pretty sure" they would not sign Ronaldinho in the summer. "We're always looking to keep the age profile right," Kenyon said. "It's fundamentally got to be somebody who will contribute to the team and have a long-term view."
Join our commenting forum
Join thought-provoking conversations, follow other Independent readers and see their replies