Huddersfield go top, Chelsea's lack of depth exposed and more: 10 things we learned from the Premier League today
It was an eventful opening day in the Premier League - and here's what we picked up from around the grounds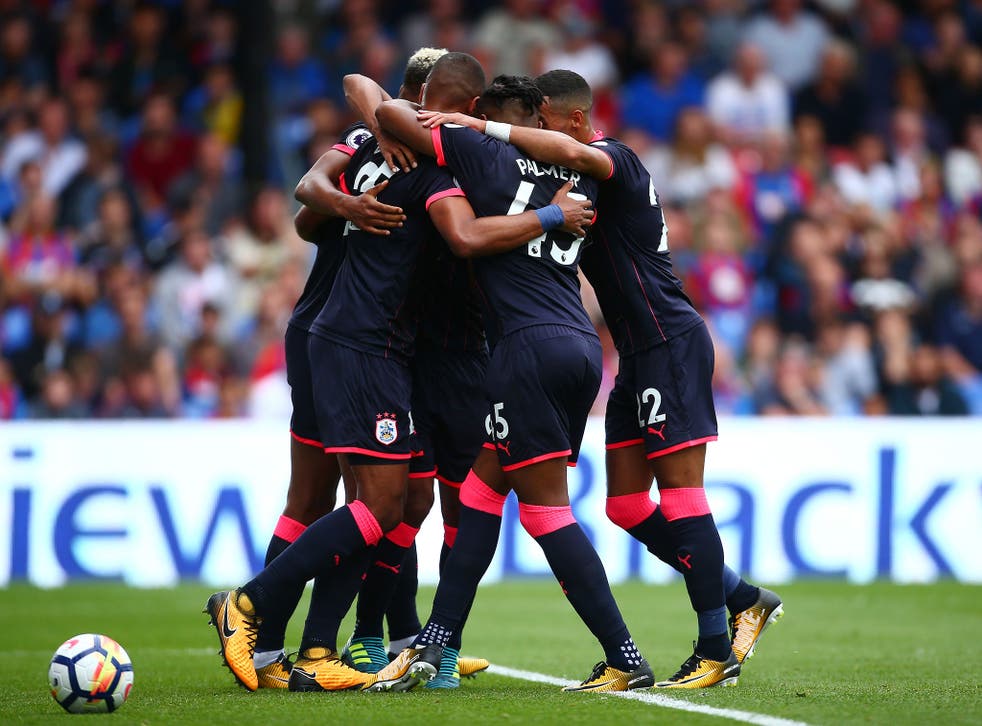 Football is back but not as we know it.
Burnley toppled the defending champions and only slipped from second place on goals scored after Chelsea's late strike.
Huddersfield, another team tipped for relegation, go top with a thumping win at Crystal Palace - who have much soulsearching to do.
And what of Everton and Wayne Rooney who are back on top?
There's so much to talk about - so here is what we learned from the 3pm kickoffs...
1. Chelsea's lack of depth is clear to see
While Michy Batshuayi starting a game shouldn't alarm anyone, he is a £30m international striker after all, the sight of Jeremie Boga in Chelsea's first XI was one that few would have expected.
It is great to see Chelsea's youngsters get a chance in the first team and, in truth, it is what Roman Abramovich would prefer. The Russian has sun ka load of money into the Blues' academy since he bought the club and he's seen little return on the field, only in the sales of the likes of Romelu Lukaku and Kevin De Bruyne (who, years later, made bigger profits for other clubs).
But Boga was not in the starting line-up with a view to integration into the first-team, the Frenchman was plugging a gap and, had Antonio Conte had his way, it never would have come to this.
Chelsea had abundant depth last season because they had no European football. But their squad has actually been thinned this off-season and they'll be battling on more fronts. Diego Costa is involved in legal dispute with the club but has not left, Eden Hazard is still injured and Pedro is out too. It should have meant an exciting promotion to the big time for Boga but instead he was a political pawn as Conte made his point that he needed more new signings.
It would have been impossible to predict that he'd last less than 15 minutes, the sacrificial lamb as Gary Cahill was dismissed, but we'll likely see very little of him again as a disastrous start to their title defence sees Chelsea go out and spend in the next three weeks.
5 things we learned as Chelsea fall to opening-day stunner
2. De Boer gets a bucket of cold water
For all the optimism of hiring a talented young manager of such repute, Crystal Palace were booed off the field just 45 minutes into their season and with reason, outplayed by newly-promoted Huddersfield and looking listless for so much of a demoralising game.
The system didn't work for Palace yet but, at the moment, it is the personnel that is more of an issue.
Taking five weeks to hire a new manager meant that the Eagles began the off-season behind their rivals in recruitment and they have made just one permanent signing. If they are to persist with the 3-4-3 then they need a right-sided wing-back because Joel Ward has demonstrated what De Boer feared in pre-season, that he is too slow for that role, as he was targeted by Huddersfield.
Wayne Hennessey was one of the worst goalkeepers in the Premier League last season but remains the starter, he too was pinpointed as a weakness and did little to disprove such a theory. Their goalkeeper chase must be hastened, a wing-back must be bought and they need extra options in attack too. Should Christian Benteke go down or Wilfried Zaha then their frontline is Championship standard. Ruben Loftus-Cheek did well filling in at an unfamiliar position but this cannot be a long-term option for Palace.
The positive for them is the second-half improvement and that they have time left in the transfer window to fix this.
3. Burnley are the stars of opening day
They were obviously aided by a red card that left Chelsea short-handed for so much of the game but Burnley took advantage in such an efficient manner and defended resolutely - as we have come to expect from Sean Dyche teams.
The Ginger Mourinho, as he was once known, is more like a Tony Pulis 2.0 than anything else and his compact sides are always tough to play against. Their issue can be that they don't carry enough attacking threat but the combination of set pieces, counter attack and a wonder goal from Stephen Ward was enough to open up an ultimately unassailable 3-0 half-time lead.
For Chelsea, it was awful memories of that Jose Mourinho season when the wheels truly fell off in spectacular fashion. Fortunately, Antonio Conte didn't pick a fight with the team doctor in a tough first day for the Italian.
4. Wayne Rooney scores crucial goal on Everton return
Wayne Rooney's contributions this season are going to be under the microscope. It is an inevitable result of having been one of the planet's best-known players for the last decade and, if we are honest, there is an almost universal level of intrigue as to how his career will finish.
Life at United somewhat fizzled out, even if he picked up an FA Cup and Europa League title in his final 12 months at Old Trafford.
But at Everton he has a chance to give a nice final veneer to his career and his legacy. Scoring the opener against Stoke today is symbolic but his actual performance was good. Some of his passing in the second half reminded us that few have the 31-year-old's vision and even fewer can execute that. While he continues to do so, he retains an enormous value.
Match report: Rooney scores on Everton return
5. Tony Pulis gets the most Tony Pulis win
West Bromwich Albion spent most of the second half at a sun-bathed Hawthorns just sending long balls towards Jay Rodriguez.
They were 1-0 up, sitting deep and trying to preserve a lead that they had acquired through a set-piece goal, headed home by a central defender.
Or, in other words, virtually the dictionary definition of a perfect game for Tony Pulis.
Match report: Baggies up and running with three points
6. Mauricio Pellegrino gets his clean sheet
One of the major knocks on Southampton's former boss Claude Puel is that his team was boring and he tinkered too much.
Pellegrino won't tinker hugely but, as you might expect from a coach who learned under Rafael Benitez at both Valencia and Liverpool, the Argentinean's teams tend to focus on defence first.
With Swansea in town, a team that only narrowly survived relegation, the expectation would have been of victory but the key for Saints was to establish their manager's principles and he got the clean sheet that he was so desperate for.
Manolo Gabbiadini came close to getting the goal they needed to nick all three points but while on the surface of it this could seem a disappointing result, it will be a valuable building block for a team likely to be based on a solid defence.
7. Tottenham win without even playing
Spurs spent Saturday watching, rather than playing, but received a huge boost as London rivals Chelsea blew up, losing 3-1 to Burnley.
Most significantly, though, the already-depleted Blues will now miss Cesc Fabregas and Gary Cahill at Wembley next week after being red-carded against the Clarets.
The Spaniard's dismissal, in particular, was unnecessary and puts Conte's stretched squad in trouble for the first top-six clash of the campaign.
8. Steve Mounié has debut to remember
Huddersfield's record signing, £12m striker Steve Mounié, didn't turn many heads when he moved to Yorkshire this summer.
But his opening-day impact can't be ignored, with two neat finishes that buried Crystal Palace at Selhurst Park.
Becoming a big-money striker at a side expected to struggle against relegation isn't always an easy task and the likes of Borja Bastón, Mauro Boselli and Ricky van Wolfswinkel have all arrived in the Premier League for north of £10m and found that out the hard way.
Yet Mounié's brace is the best possible start and will provide him and his teammates with great confidence. The former Montpellier man will make his name known this season.
9. Morata leads fightback but Chelsea come up short
Alvaro Morata scored on his Premier League debut and his goal lead something of a rally as Burnley tired at Stamford Bridge.
But the Blues couldn't quite level it at the death even though Marcos Alonso's cross looked certain to be diverted home by someone.
There is some feeling that Morata won't be able to step into Diego Costa's boots at Chelsea but he has all of the talent to be able to do so, the main thing he has lacked in his career is opportunity.
The Spanish international is a brilliant link-up player who will make his fellow attackers better, and if he had been fit to start today then things could have been a little different for the champions.
10. Huddersfield are top of the league
The Premier League.
Funny old thing, football.
Register for free to continue reading
Registration is a free and easy way to support our truly independent journalism
By registering, you will also enjoy limited access to Premium articles, exclusive newsletters, commenting, and virtual events with our leading journalists
Already have an account? sign in
Register for free to continue reading
Registration is a free and easy way to support our truly independent journalism
By registering, you will also enjoy limited access to Premium articles, exclusive newsletters, commenting, and virtual events with our leading journalists
Already have an account? sign in
Join our new commenting forum
Join thought-provoking conversations, follow other Independent readers and see their replies