EXCLUSIVE INTERVIEW
Callum Hudson-Odoi: 'I'm never nervous. I'm always ready, no matter what the game holds for me'
The most talked about teenager in the Premier League, the cover star of GAFFER Magazine: England's Finest, speaks to Tom Kershaw about his journey to generation academy talent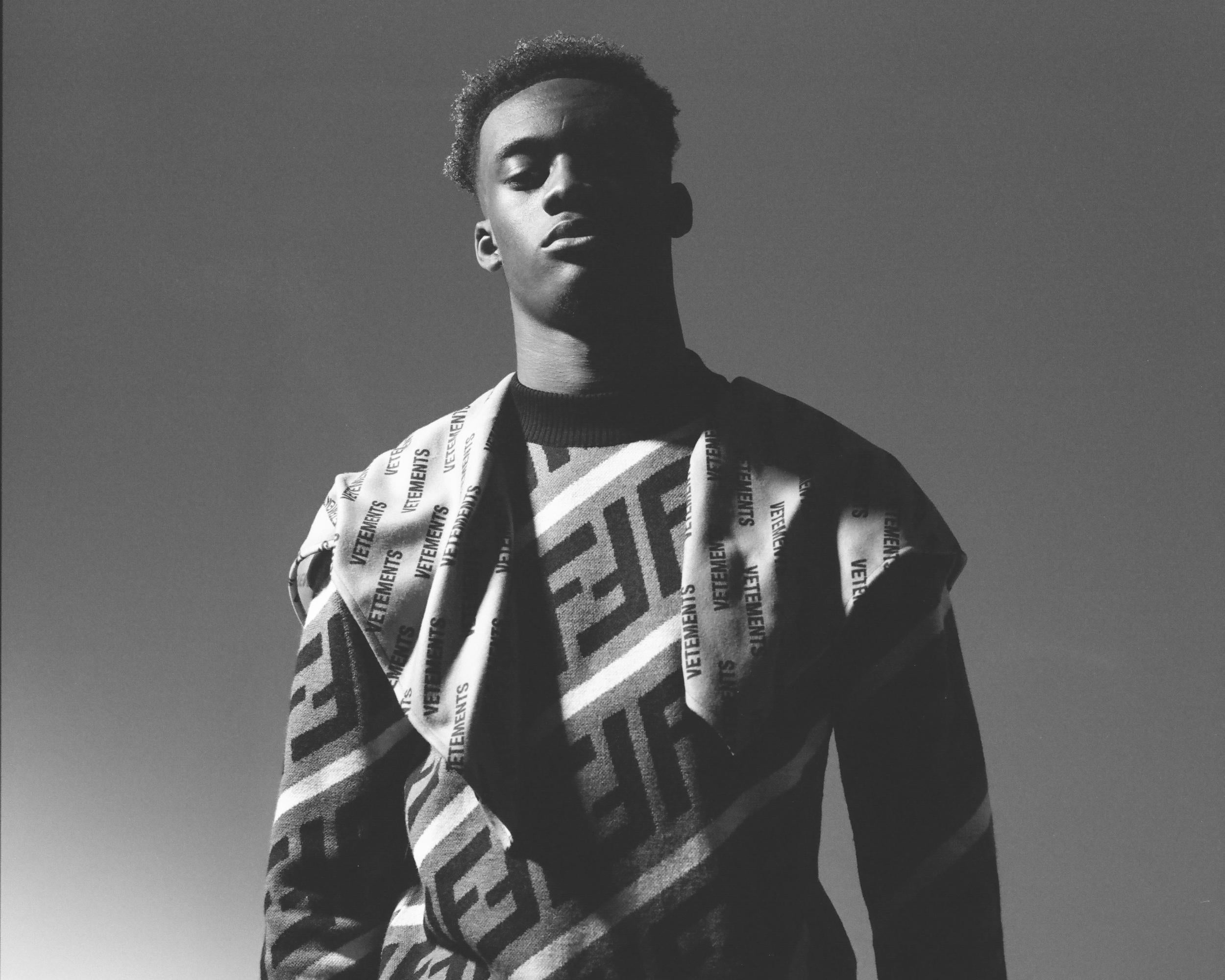 In the early hours of Thursday morning, after the celebrations had settled and supporters spilled from Stamford Bridge, Callum Hudson-Odoi steps from behind a taxi's tinted glass into the glistening shadow of the Ritz.
Chelsea tracksuit swapped for a denim jacket and ripped black jeans, there is an unmistakable aura to the 18-year-old as he slips into a cavernous Mayfair nightclub for the launch party of GAFFER Magazine, a first foray into London's glamour scene.
Inside, he flashes a smile in the direction of Crystal Palace's Aaron Wan-Bissaka before lounging on a grand velvet sofa alongside musicians AJ Tracey and Amelia Monet as waiters flit by invisibly with glasses of champagne. Occasionally, he gets up for introductions and idle-dancing. He carries himself with an air of calm, almost nonchalant, confidence. A presence that perhaps even he doesn't yet know he possesses.
Over the course of the January transfer window, Hudson-Odoi morphed from little-known talent to one of the world's most talked about teenagers. Chelsea, his childhood club, rejected four bids, escalating to £40m, from German champions Bayern Munich – a fee which would have made him the most expensive teenage footballer in British history. A transfer request was handed in and an unprecedented £85,000-per-week contract flatly refused.
And so now, if you follow football, you know Callum Hudson-Odoi. Within the glamorous confines of this private party, greeted by famous faces and fist-bumps, everyone knows him now too. From floodlight to camera flash, the last days of anonymity gone. But, amid the swirl of stares and speculation, Hudson-Odoi gives the impression that he is nothing but at an unequivocal ease.
GAFFER Magazine Launch Party
Show all 13
****
"I'm never nervous," Hudson-Odoi says resolutely. "I'm always excited to see what the game holds for me. I'm always ready, no matter what the situation is." Chelsea's prized starlet speaks quickly with barely a breath's hesitation, a self-assurance to match the exhilarating bursts of play which have enlivened crowds at Stamford Bridge this season.
Little over three months since his 18th birthday, it's only in the teenager's continued references back to his parents that you are reminded of his age. "Mum's cooking," he laughs, breaking into a smile. "I'm still living with my parents. I'll keep living with them until I think I'm old and mature enough to leave."
For a player of Hudson-Odoi's precocity, it is his family who have pushed him beyond the realm of raw talent. His father, Bismark, was a professional in Ghana with Accra Hearts of Oak. His brother, Bradley, was already playing for Fulham's reserves by the time he was born. All their highs and lows have been etched into the bedrock that's guided his rise.
"Every time my dad talks to me, I listen," he says earnestly. "He's been there, he knows what it takes, he's had to cut things out of his life to play at the highest level. He's always been there, for every game, no matter what, whether it's here or out of the country. He's got a certain whistle, so I always know he's there. His advice helps me every day."
"Before, he always used to shout. Run, work hard, do this, do that," he continues. "But, when I think about it now, what he said was true. You have to do those things from when you're young to become a top player. It influenced me to be who I am today.
"I've always had that mentality of working hard and proving to myself that I'm capable. I've always tried to be better than everyone else, work harder than everyone else. Even in the playground, I'd still run more than everyone else just to prove I was the best….Obviously some people thought 'Nah, he's not going to do this, he's not at that level'. Hopefully, I'm proving them wrong."
There has also been Bismark's wider sense of stewardship that has catapulted Hudson-Odoi into the promise of, as touted by teammate Willian, "potentially becoming one of the best players in the world."
It was raising him in the leafy southwest London borough of Wandsworth, where he "never had any trouble or problems…. Where everyone knows each other and there's a good community". Becoming a member of Chelsea's academy when he was just eight years old and being forced to juggle the "tough" and "difficult" exchanges of school and training. Crucially, it was also being pushed into trials at Whitgift, a prestigious sports specialist school in South London, where Hudson-Odoi earned a bursary on first impression.
At National Schools' Championships, and then in FA Youth Cups with Chelsea, Hudson-Odoi single-handedly tore at the seams of the likes of Jadon Sancho's Manchester City with a captivating combination of graceful footwork and arresting speed which saw him hailed as one of the world's most exciting young footballers.
Callum Hudson-Odoi - GAFFER Magazine
Show all 7
A graduation which came full circle at the U17 World Cup in India 16 months ago. Away from home for over a month, cooped up in a hotel in Kolkata, Hudson-Odoi featured in every one of England's games en route to the landmark title.
"That was a big step up for me," he says of the time without his dad by his side. "Being away from home for a month was really difficult. I'd never been away for that long before. It really helped to boost my confidence.
"Representing England in front of 60,000 people, every time I went on the pitch and looked around it felt like a dream.
"[After the final], I called my mum and dad straight away. I was like," he says, taking a rare pause for words. "I was just screaming," he laughs. "They were screaming, I was screaming. I couldn't believe it."
****
There is also a genuine steel behind Hudson-Odoi's eager grin. An urgency, at such a tender age, to propel himself into the gauntlet of the unknown rather than remain harnessed in development. In his last six appearances, he has scored three times and added as many assists. With every fleeting minute on the pitch, his sense of youthful poise emboldens with the notion that he is not only embracing expectation but thriving in its challenge.
Bayern Munich are still desperate to prise him from Chelsea. The club's sporting director, Hasan Salihamidzic, has even been accused of "falling in love" with the starlet. It's a fraught transfer saga that threatens to meander beyond the summer. But underpinning Hudson-Odoi, there is obviously a deep-rooted attachment to the club.
For ten years, he has spent the best part of his evenings at the club's training ground. Just 15 minutes from where he grew up the crown of Stamford Bridge is almost visible and symbolises a safety net, a second family even. The highs and hardships of his childhood, from eight years old to the brink of adulthood, all traceable and linked to his time there. One from which severed ties would always leave something behind.
"I've been there throughout my whole life. Putting on the shirt for the first time, being a homegrown player, at such a young age, making my debut was an amazing feeling," he says of becoming Chelsea's second youngest player in history little over a year ago.
"Just seeing my shirt in the dressing room, it made me feel like a part of the club. It was a dream come true. [Once I was on the pitch] I just wanted to get on the ball as much as possible and show what I'm capable of. I think now I've done that, I'm just delighted and pleased for myself."
Has he, beneath the blasé demeanour, ever been taken aback by the sheer speed of his rise? "[When I scored my first goal for the club, against Vidi in the Europa League] I just couldn't believe it to be fair. As soon as I saw the crowd screaming and jumping I didn't think it was a goal. I thought that I'd done something wrong and then when everyone started coming round me I realised… I'd actually done it… I'd actually scored my first goal for my club. It was a proud moment for me and my family."
Hudson-Odoi has inadvertently become a cult symbol of what Chelsea as a club want to become. Supporters yearn for a new generation academy talent, the type who can breathe life into a tiring and turbulent era. There is also the suspicion that his teenage zeal, and even impatience, has radiated to and rejuvenated the players around him.
"Everyone in the dressing room was very humble and genuine [when I came in]," he says. "There was nobody who was bigger than anybody else, no egos. They brought me into the system and made me feel welcome and to not be scared or nervous, just myself.
"I look up to everyone, but I especially look forward to training with [Eden] Hazard, Willian and Pedro especially because that's where I play.
"I just keep working hard to try to emulate what they do and, hopefully, I can be where there are one day."
And that is the point of reckoning at which we have now arrived, a decision to stay or go that will indelibly define his fledgeling career. One which, you get the feeling, even he is yet to decide. But with the world at his fingertips and a lingering gusto that assures nothing is out of reach, Hudson-Odoi stands unconcerned, almost apathetic, to the burdens upon him.
Nobody can be quite sure what the future holds, but there is the unshakeable sense that here is a talent not only ready to take success in his stride, but who gives guarantee that he will walk with it hand-in-hand.
****
GAFFER Magazine's inaugural issue, 'England's Finest', is a stylish appreciation of the country's finest talent in football and music, featuring 38 exclusive interviews including cover stars Callum Hudson-Odoi, Emile Smith Rowe and Siobhan Bell.
A unique media platform, projecting global football culture through authentic storytelling and stunning photography, GAFFER bridges the gap between football, music and fashion and is imbued with powerful stories that promote the achievements of today's generation.
Join our commenting forum
Join thought-provoking conversations, follow other Independent readers and see their replies