exclusive interview
Tino Anjorin: 'Chelsea's academy is a family, we're like brothers – I want to make a statement and show I belong'
Exclusive: In his first interview, the Blues midfielder tells Tom Kershaw about his rise to becoming one of England's best prospects
Thursday 12 March 2020 14:05 GMT
Comments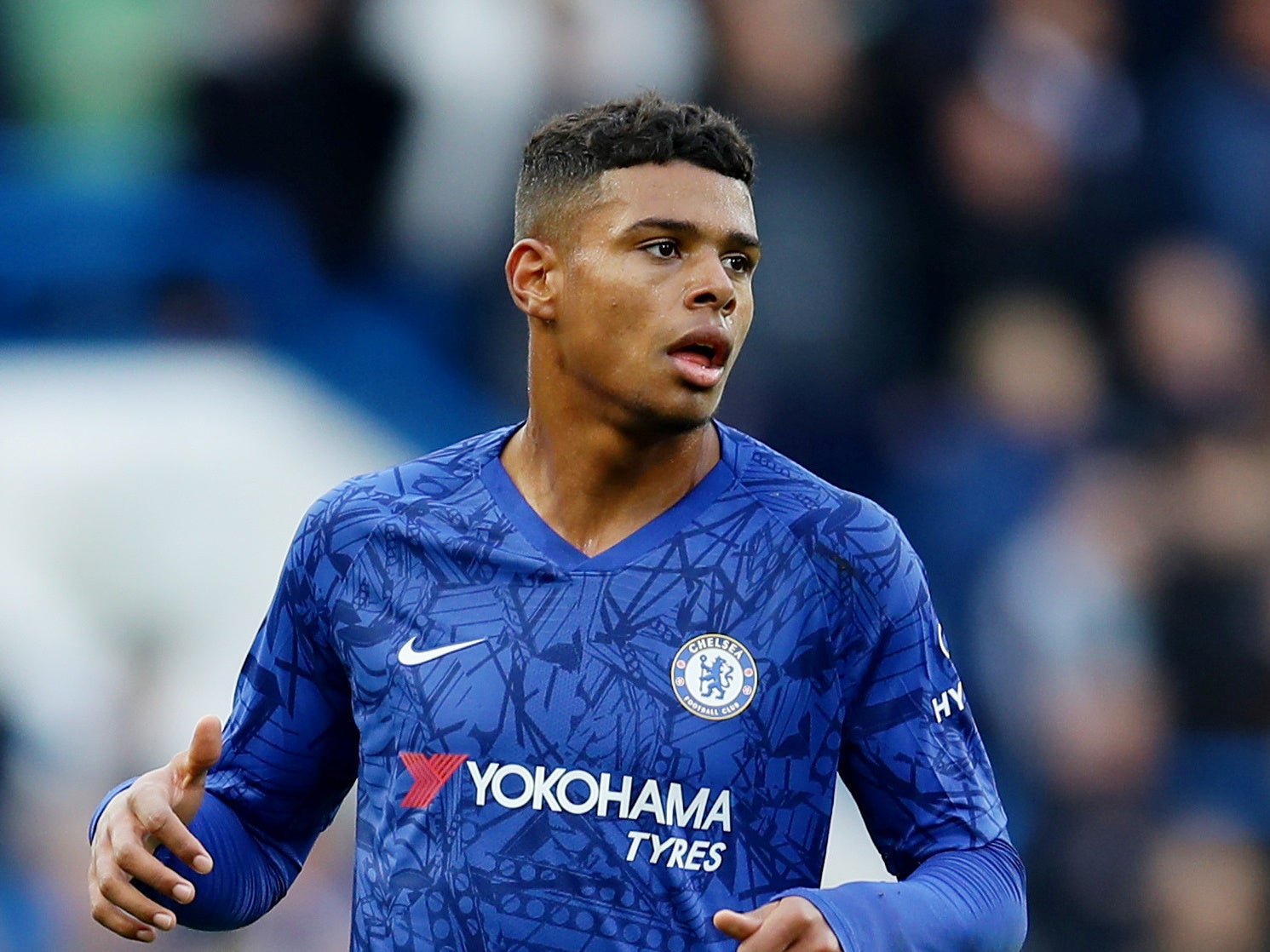 "Everyone tells me how impatient I am," Tino Anjorin laughs, recalling the pins and needles which shot through his legs as he watched Chelsea's FA Cup victory against Liverpool. "I was just desperate to get out there. The coaches keep telling me: 'Tino, relax, your time will come'."
As it happened, the wait would only last another four days. With a renewed Chelsea scything through Everton in exhilarating fashion at Stamford Bridge last weekend, Anjorin was called back to the bench. The 18-year-old had already made his first-team debut back on an icy November night against Grimsby, but this was his first appearance in the Premier League. A milestone at which childhood fantasy turns into a hardened reality. "This is actually it." The end of a chapter. "The start of my career."
In a season dominated by the feel-good narrative of Chelsea's youth, Anjorin is one of eight players to cross the gilded tightrope from the club's academy. A slick and powerful goalscoring midfielder, armed with a grace and guile that's inspired the under-23's unbeaten season, he is walking and breathing in the footsteps of those who finally broke the glass ceiling.
"[In the academy] we're not friends, we're like brothers. And when we go over to the first team, it's very welcoming, it's like a family," Anjorin tells The Independent. "Having players like Tammy [Abraham] and Mason [Mount], they know what it's like being a younger player in the academy. They look after you and give you what maybe they never had at my age. Callum [Hudson-Odoi] is only a year above me. It's relatable, so 100 per cent it makes you more confident knowing the chances are there."
It's a sense of confidence that's spread through the youth teams, unapologetic for their ambitions, while "familiar faces" and role models are always within touching distance, emboldening each other by their individual achievements. "Just look at Billy Gilmour out there the other day," Anjorin says. "I've played alongside him and seeing him go out like that gives me the confidence to know I can go out there [with the first team] and not be afraid to do what I do.
"I know if I keep working harder I can try and be at their level. I want to try and put myself in the same position that Reece [James] is in now. I want to be scoring, I want to be creating. In five years time, I want to be a leader in the team, helping the younger academy kids to come through, where they can look up to me too and thrive as well."
It's a sharp juxtaposition to just a few years ago when the academy represented something closer to a footballing Atlantis, replete with riches yet obscured permanently below the surface. But while the transfer ban might have given clarity to the club's cultural revolution, Anjorin's breakthrough had been earmarked by coaches since he was barely a teenager.
Born in Poole, a coastal town better known for its sand than Astroturf, he was just four years old when his raw ability began to stand out. Within the space of a few months, he was scouted by Southampton and Bournemouth, rotating his time between the two clubs. After his father's job was relocated to Kingston two years later, Anjorin was then handpicked by Chelsea while playing at a tournament in London.
"We got to the final and they enclosed the pitch with some sort of orange fencing so it felt like a little stadium," he remembers vividly. "I volleyed it into the top corner from the edge of the box. I'll never forget that. A Chelsea scout came up to my dad after the game and started asking about me. From there, I've never looked back."
Playing anywhere from centre-back to right-wing, Anjorin rose through the academy at breakneck speed, outgrowing his age-group at a pace his body struggled to keep up with. Still only 14, he had begun training with the club's relentlessly successful U16s side, featuring the likes of Reece James and Conor Gallagher.
"It was a massive jump at the time, a huge development gap," he says. "The intensity is a lot higher, you have to be sharper and it's a lot more demanding on your body. I used to get a lot of growing issues. I played with the U15s a lot too and they were very strong as well, people like Callum [Hudson-Odoi] and Jonathan Panzo. They'd win tournament and after tournament and I was overwhelmed because they're the players I looked up to."
Those leaps, while sometimes juddering, instilled a "winning mentality" in Anjorin. He became the youngest player in the club's historically successful U18s team, a baptism of fire under Jody Morris and Joe Edwards, who helped cultivate a granite layer of discipline and determination.
"They made you demand so much more of yourself," he explains. "You couldn't have days when you stroll around. If you didn't train hard, you didn't play. They prepared you for the mentality of first team football. It can be brutal [when you're young] but it helps massively. With Jody and Joe being there [in the first team now], it makes it still have that academy feeling. It doesn't feel like a first team and an academy, it feels like one club."
Anjorin became consumed by that spirit, staying behind every day after training, seeing a fitness specialist to work on his conditioning, even getting "grilled" for overworking himself. "I'd be out there for five hours after training if I could," he laughs, his smile momentarily betraying his age. "I'm always pushing to do more, to be better and try and expand my game. When I get there [to the first team], I want to feel ready and be the best I can be."
But with his 19th birthday long on the horizon, Anjorin is still embracing the freedom of the present while the club carefully juggles his future, splitting his time between playing matches for the youth teams and training with the senior squad. The U18s are on track for another astonishingly successful season, aiming to win a sixth FA Youth Cup in seven years, while just being around the first team and feeding off their mentality is helping to sharpen his rounder edges.
"The speed, the tempo, everyone's quicker, stronger, physically bigger," he says. "They're elite players. People like Willian, [Olivier] Giroud, Pedro – he's won literally everything. Learning from them, getting that experience and advice from them, having a manager like Frank Lampard who's done it all, it can only make you a better player."
Yet, amid all the excitement, he's under no illusions over the scale of the task in front of him. In the coming weeks, he's expected to sign a new long-term contract, but while Everton may have felt like a breaking of the dawn, he has barely stripped away at the shadows of what he wants to achieve. "In the future, I want to win everything," he says unequivocally. "I want people to say I'm a technical player, skilful, good shooting ability, powerful, dominant."
But for the time being, it's about combining that urgency to prove himself with patience. "I just need to keep working," he caveats. And when that next opportunity comes? "I want to try and make a statement to Frank, Jody and Joe, and show I belong there."
Join our commenting forum
Join thought-provoking conversations, follow other Independent readers and see their replies