Chelsea manager Jose Mourinho refuses to accept Eden Hazard apology after winger loses passport on unsanctioned trip
Hazard will return for the Blues this weekend when they take on West Brom but Mourinho has confirmed that he missed training on Monday after losing his passport in France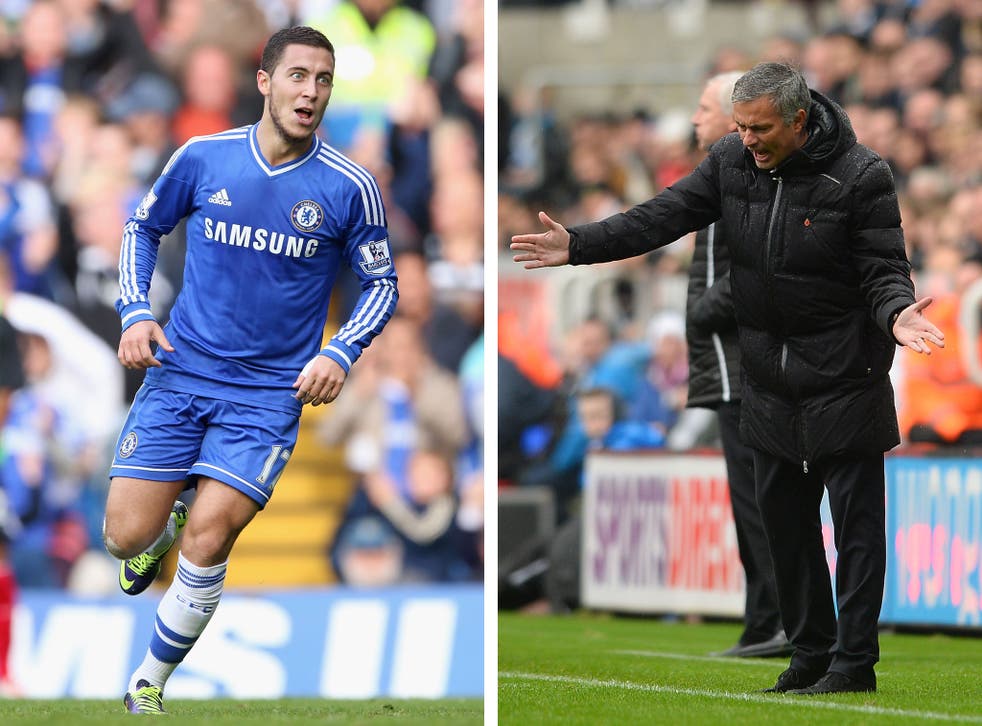 Chelsea manager Jose Mourinho has criticised Eden Hazard for going on an unsanctioned trip to France after he confirmed the midfielder was dropped for their Champions League victory over Schalke on Wednesday.
Hazard is set to return to the squad for Saturday's Premier League visit of West Brom, but Mourinho has labelled his actions "unacceptable" after he attended a reunion with his former team-mates at French side Lille.
The 22-year-old was due to return to the United Kingdom early Monday morning in time for the Blues' training session at their Cobham base, but he was turned away from passport control after losing his during the trip.
Mourinho was visibly unhappy with the situation regarding Hazard's absence but he insists that the club and player will now move on.
"He went to a foreign country when he shouldn't have," explained Mourinho.
"On top of that he lost his passport which didn't allow him to be back in training, which is obviously unacceptable.
"It is over. No more consequences, the consequence was not to play which is the worst thing that can happen to a player. Case over, he is a very good kid and there are no problems.
"It was not a big story. Every player knows me and knows my reaction, the group is always more important than any player."
The Portuguese admitted that his decision to leave the Belgian out of the side could have backfired, but two goals from Samuel Eto'o and a third from Demba Ba ensured that they took control in Group E, three points clear of the Bundesliga side.
"I think he [Hazard] reacted well because he apologised to me and to the club," Mourinho continued.
"Of course the apology was not accepted because it is something I couldn't accept but it is over so now it is something that doesn't exist anymore.
"He is selected and ready to play and I believe he has the appetite to play because he loves playing and I didn't allow him to play the last game.
"It was a bit of a risk to not play him, speaking in terms of pure football, because he is a player who could have helped us win an important match.
"You have to take some risks when you feel the consequences for the group are very important and I think it was an important decision."
Chelsea are looking to return to winning ways in the Premier League after last weekend's shock 2-0 defeat to Newcastle, which left them five points adrift of league leaders Arsenal. But with the Gunners facing a testing trip to Old Trafford on Saturday, any slip up will see the Blues close that gap considerably as long as they see off the Baggies at Stamford Bridge.
Register for free to continue reading
Registration is a free and easy way to support our truly independent journalism
By registering, you will also enjoy limited access to Premium articles, exclusive newsletters, commenting, and virtual events with our leading journalists
Already have an account? sign in
Register for free to continue reading
Registration is a free and easy way to support our truly independent journalism
By registering, you will also enjoy limited access to Premium articles, exclusive newsletters, commenting, and virtual events with our leading journalists
Already have an account? sign in
Join our new commenting forum
Join thought-provoking conversations, follow other Independent readers and see their replies