'This is harder than two years ago because Spurs keep winning,' says Chelsea's Nemanja Matic
Tottenham's emphatic win at home to Arsenal underlined the challenge Antonio Conte's players face in seeing off their London neighbours to take the title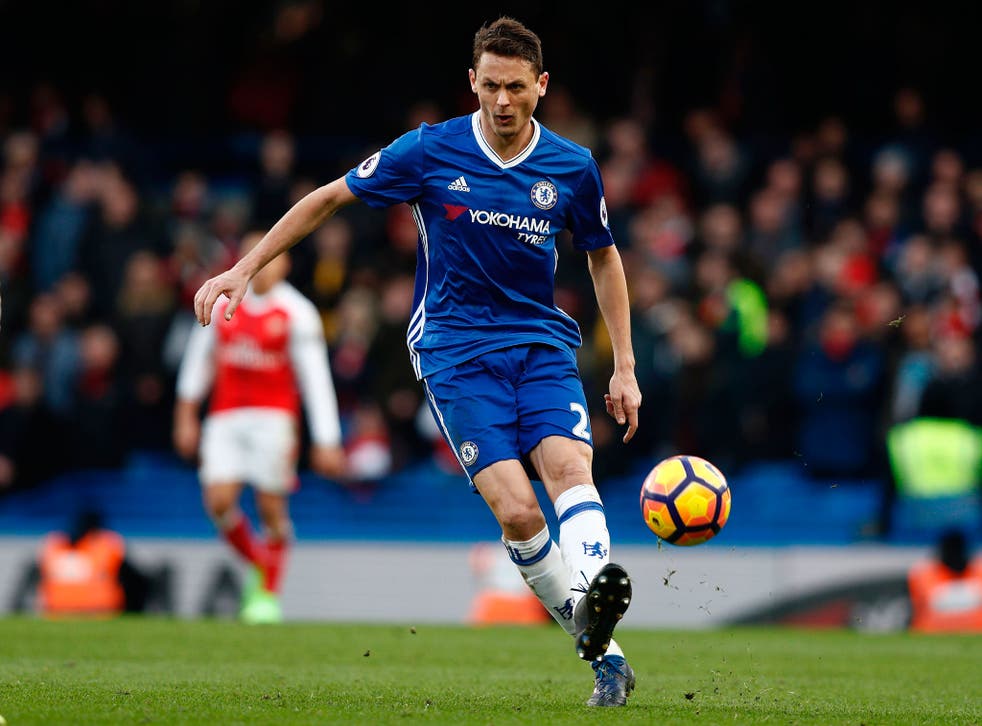 Chelsea's Nemanja Matic has admitted that the club are finding their title push far harder than in the championship winning season two years ago, because of Tottenham Hotspur's ability to continually match them, win-for win.
Chelsea appear to be looking to next season already, with technical doctor Michael Emenalo spotted embracing Everton striker Romelu Lukaku after the team's 3-0 win at Goodison. Lukaku wants a return to the club, where Emenalo first recruited him from Anderlecht in 2011.
But Spurs' emphatic win at home to Arsenal, which kept Chelsea's lead to four points with four games to play, underlined the challenge Antonio Conte's players face in seeing off their London neighbours to take the title.
Chelsea 4 Southampton 2 player ratings

Show all 22
"This year is more difficult [than 2015]," Matic said. "We finished 2015 eight points more than [Manchester] City if I remember well. I'm not sure that will be the case with Tottenham. I'm sure they won't give up until the end of the season. It's hard.
"We win. Tottenham win. We try to win again and they win again. It's close. We'll see if they can drop some points. They also have some difficult games at home and away. Everything is open until the end. Of course [we feel closer to the title now]. You can imagine if we lost, Spurs would be one point behind. That's pressure."
Spurs have won nine successive Premier League games since the defeat at Anfield on February 11. But Chelsea certainly have the easier run-in on paper, with games at home to Middlesbrough, who face a monumental challenge to survive the drop, West Bromwich and Watford, who have nothing to play for, and relegated Sunderland. Tottenham face Manchester United, who are pursuing a top-four finish, and Hull City, who are in a dog-fight with Swansea City to avoid the drop, as well as West Ham and Leicester.
Lukaku was not commanding against Chelsea but he has rejected a new deal at Goodison worth £140,000 a week and made it known he wants Champions League football, with his former club a possible buyer.
Chelsea are likely to need a replacement for Diego Costa, who seems attracted by a move to China at the end of the season and who was out of sorts on Sunday. Everton majority shareholder Farhad Moshiri thwarted a Chelsea move for Lukaku last summer and the Merseyside club have placed a £100m valuation on him this time.
Matic admitted that Chelsea were hoping Spurs would drop points to take the pressure off them. "We have to be honest – if they drop points it will make it easier but it doesn't matter what they do we want to do our best until the end of the season to be champions and we are in a good way," he said.
Conte's players had seen off the most difficult game of their run-on, by winning at Everton, he said. "It was a very important game for us - I think the most important of the season. Everton away is very hard. They are a really good team. It's not easy to come here, score three and win. We are so happy. We knew what we could expect. We now hope Tottenham drop points."
Register for free to continue reading
Registration is a free and easy way to support our truly independent journalism
By registering, you will also enjoy limited access to Premium articles, exclusive newsletters, commenting, and virtual events with our leading journalists
Already have an account? sign in
Register for free to continue reading
Registration is a free and easy way to support our truly independent journalism
By registering, you will also enjoy limited access to Premium articles, exclusive newsletters, commenting, and virtual events with our leading journalists
Already have an account? sign in
Join our new commenting forum
Join thought-provoking conversations, follow other Independent readers and see their replies