Chelsea news: Antonio Conte is 'The Godfather' and will demand respect from players
The Italian will not tolerate indiscipline from a squad which was accused of mutinous behaviour last season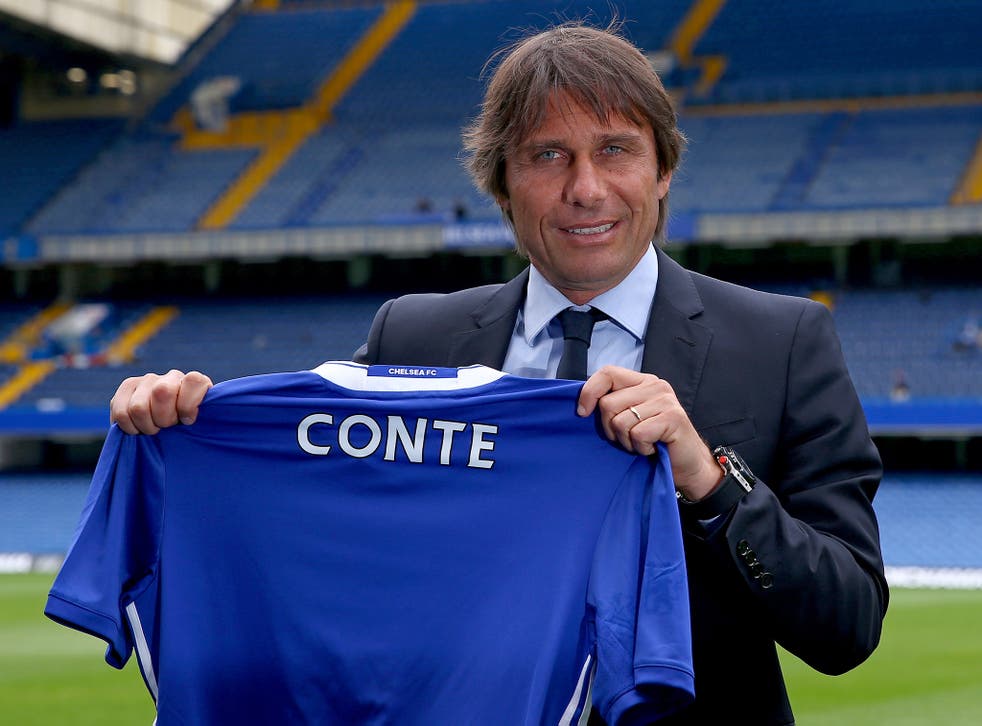 Antonio Conte earned the nickname 'The Godfather' during his time in charge of Juventus and Italy. Leonardo Bonnuci, one of his defenders, would call him it, though apparently not to his face.
"I read this," Chelsea's new manager said during his unveiling at Stamford Bridge on Thursday, the thought provoking a little laugh from a most deliberate, sincere man. "Bonucci, no? We won a lot and then we had a fantastic experience with the national team.
"He knows me very, very well and for me, the most important thing is education and respect," he added. "I always give education and respect – but I demand the same. For all. For all the people that work with me."
There is, however, only one true godfather at Stamford Bridge. Roman Abramovich was not present at Conte's unveiling, of course, but three of his consiglieres – Bruce Buck, Michael Emenalo and Christian Purslow – watched from the front row.
Like everyone else in the room, they seemed impressed. Chelsea is a club that requires its coach to manage up as well as down and, despite passing this first test, it remains to be seen whether Conte will go about the former with the diplomacy of Carlo Ancelotti or the truculence of Jose Mourinho.
With his players, at least, there will only be one way – Conte's.
"My approach with my players is always in the right way," he said. "Only for one reason, because I was a footballer.
"This is very important because when I speak, when I make a speech or an emotional speech, with a player alone or all together before a game, or before training, I know their mind, their thoughts," he added, before reiterating his demand for respect from a group of players who were accused of downing tools last season. "If I don't have this, you are asking for trouble, for problems."
"I love to be with my players, to speak with them, to help them to understand my philosophy, my methods and my thoughts. I love this. Hopefully when the players understand this we have a fantastic relationship. And also you can be a young player and an old player for me. There isn't a difference. I always want very straight relationships. I like this."
One of his first tasks is to add to his squad, with Michy Batshuayi and N'Golo Kante already joining from Marseille and Leicester City, the defending Premier League champions, respectively. Yet Conte, a training ground coach, is also eager to work with the talent he has inherited.
"I think that these players, with work, can improve a lot. We have players, fantastic players, who have great talent but in this moment the world doesn't think they are the same level as Messi, Suarez, Neymar, Cristiano Ronaldo or Pogba.
"I think that in our squad there are players who, with work, can improve a lot and reach this level. I'm sure about this. It's important in this situation that the players must understand there is the ability to work to prove and to show that, now I am a top player, but I want to become top, top, top, top and want to stay there."
Eden Hazard is, undoubtedly, capable of reaching such a level and will receive much attention from his new manager. Chelsea's annus horriblis – the 10th-place finish described as "incredible" by Conte – was particularly hard for the Belgian, who suffered a 273-day goal drought while holding two player of the year awards.
"It's important for us to recover Hazard in the best condition, technique, tactical, physical, overall and with the good mentality," Conte said. "But I spoke with him and I'm very happy. For me I'm pleased to train a fantastic player like him.
"In Chelsea, with Hazard, there are many players with great talent, [Diego] Costa, many players, I don't want to say the names but many, many players.
"It's important for me, I repeat, next season to create the right spirit in the team. With great organisation, a great physical condition, we can have a good season."
Register for free to continue reading
Registration is a free and easy way to support our truly independent journalism
By registering, you will also enjoy limited access to Premium articles, exclusive newsletters, commenting, and virtual events with our leading journalists
Already have an account? sign in
Register for free to continue reading
Registration is a free and easy way to support our truly independent journalism
By registering, you will also enjoy limited access to Premium articles, exclusive newsletters, commenting, and virtual events with our leading journalists
Already have an account? sign in
Join our new commenting forum
Join thought-provoking conversations, follow other Independent readers and see their replies