Jamie Carragher believes Maurizio Sarri must change Chelsea formation to get the best out of N'Golo Kante
The arrival of Jorginho has seen Kante pushed forward, which makes him look like an 'average' player, according to Carragher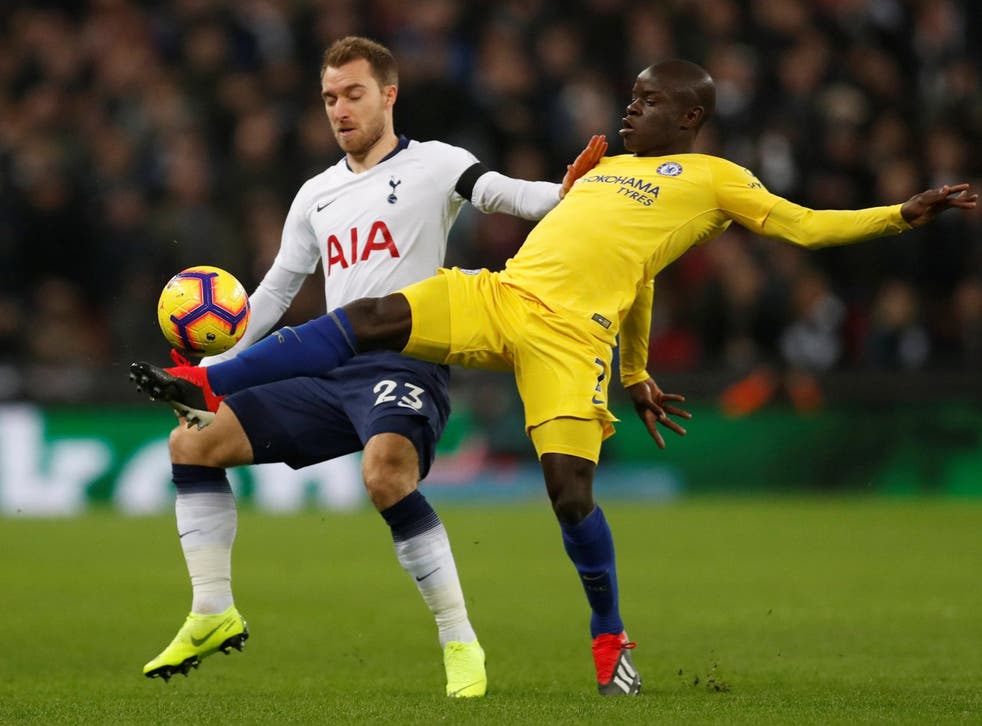 Jamie Carragher believes that Chelsea manager Maurizio Sarri needs to change his formation to bring the best out of N'Golo Kante, as his current 4-3-3 system makes him look like an "average" player.
Kante proved to be one of the players of the season last year as he excelled during a tricky campaign for Chelsea, but the arrival of Jorginho as Sarri's key man in midfield has seen the World Cup winner ousted from his previous position in front of the defensive line and shifted forwards to accommodate the Italy international.
While Chelsea enjoyed their unbeaten start under Sarri, Lante's sudden drop in form went very much under the radar, particularly as Jorginho drew plenty of praise for his performances. But Saturday's comprehensive 3-1 defeat by Tottenham Hotspur saw Jorginho heavily criticised, and now led to a call from Carragher for Sarri to re-balance his midfield by dropping Kante deeper and pushing either Ross Barkley or Willian forward.
"Well No 1: Jorginho is not moving from that position," Carragher said on Sky Sports Monday Night Football. "He's Sarri's man, he's built his team around him. Kante is not moving because he's signed a massive contract.
Chelsea vs Everton player ratings

Show all 22
"What I would say is Jorginho has been excellent this season. Teams are having to change their system and style to counter-act Jorginho. So that shows how important he is and how good he has been.
"So if he's getting man-marked, as he was, by Dele Alli, [Gylfi] Sigurdsson, Juan Mata, that means there should be space for other players. This is Chelsea. They have big players. The space was in the wide areas [against Spurs], so we want to see more from Eden Hazard, Willian, the full-backs.
"The one thing about Kante is he is a very average player in this [advanced] position he's playing now. I see a normal midfielder player. When he plays deeper, I see a world class midfield player.
"What do you do? For me, I don't think this balance ever looks right. I think it's quite simple – whether or not Sarri is stuck on this 4-3-3 all the time.
"Play them as a midfield two and play Barkley, or Willian in front in more of a 4-2-3-1."
Carragher's opinion comes after Jorginho was man-marked by the Spurs midfield in order to take him out of the game, with the Brazilian-born playmaker unable to shift the ball into the attack to the likes of Eden Hazard and Alvaro Morata in front of him.
Carragher added that such a change from Sarri would not be "revolutionary" and explained how he experienced a similar method during his playing days at Liverpool with Xabi Alonso and Mohamed Sissoko, with the two able to sit deep and ease the pressure on each other.
"You've got two players who can receive the ball," Carragher added. "If they want to man-mark Jorginho, Kante can receive the ball. We've seen enough of him in this league to do that.
"It gets Kante back into his best position and it might relieve pressure on Jorginho."
Join our new commenting forum
Join thought-provoking conversations, follow other Independent readers and see their replies