Chelsea: David Luiz may not recover from Sergio Aguero tackle in time for West Brom, admits Antonio Conte
The Brazilian defender was scythed down by Aguero in the final moments of Chelsea's impressive 3-1 win at Manchester City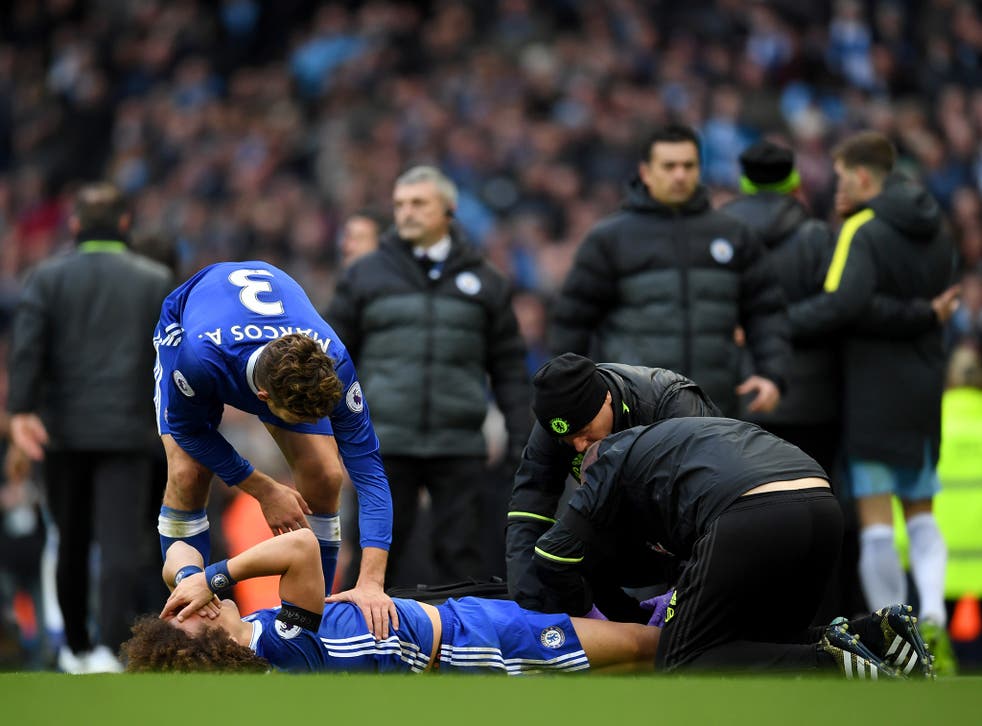 Chelsea manager Antonio Conte has described Manchester City striker Sergio Aguero's challenge on David Luiz a week ago as 'very dangerous' and admits that he does not know whether the Brazil defender will have recovered in time to face West Bromwich Albion at Stamford Bridge tomorrow.
The Italian admitted on Friday that he had not realised the potential seriousness of the impact of Aguero's studs on Luiz' knee until he saw replays of the incident, which occurred late in Chelsea's victory at the Etihad Stadium and sparked a confrontation between players of either side.
Aguero was sent off and suspended for four games and Fernandinho also saw red for grabbing Chelsea midfield player Cesc Fabregas by the throat.
"I have to check [today] on his recovery because this tackle was very bad," Conte said. "It will be very important for him and for me to decide whether he's able to play on Sunday. After I saw the replays, that's when I saw this was very dangerous for David Luiz. I watched the images and I was afraid. I was scared."
If Luiz is able to play it will assist Conte in maintaining an enviable record. So far the Italian has managed to keep his squad largely free of injuries, and as a result Chelsea have made fewer team changes than any other Premier League club.
"Traumatic problems are very difficult to avoid, but to avoid muscular problems is important," he said. "To have a method, a philosophy, in training sessions and to work with the players together with the medical staff and try and find the best solution."

That solution has put experience ahead ofr statistical analysis and sports science. "Statistics are important," Conte said. "To check, for example, during games or training sessions. But I think the most important thing for me is my eyes. Because it's important to understand, to see if some players are more tired than others. If someone is a bit lazy or not. Then you can push them. The eyes, in my work, in my job, are very important."
One possible team change will be made possible by the return of Nemanja Matic, who is fit again, to the Chelsea midfield. But Conte admitted that the performance of Cesc Fabregas as his stand-in had made the choice difficult.
"I hope to have this difficult situation, this difficult decision in every game," Conte said. "It means I have great competition in my squad, and that means the level in our squad is improving, is rising all the time.
"I think Cesc played a good game against City and exploited the opportunity to play from the first minute. He played very well. Now, for the next game, I have a choice of midfielders: Matic, Fabreags, Kante and Chalobah. I have to take the best decision for the team.
"For sure I want this. If there is good competition, a great competition, this is very important. If I haven't got problems to take the decision and end up just putting in the same lineup, it's not good."
Join our new commenting forum
Join thought-provoking conversations, follow other Independent readers and see their replies