Chelsea at risk of Premier League points deduction after Manchester City brawl
Chelsea have been forced to face disciplinary chiefs on five separate occasions across the past 19 months and could now be set to lose Premier League points as a result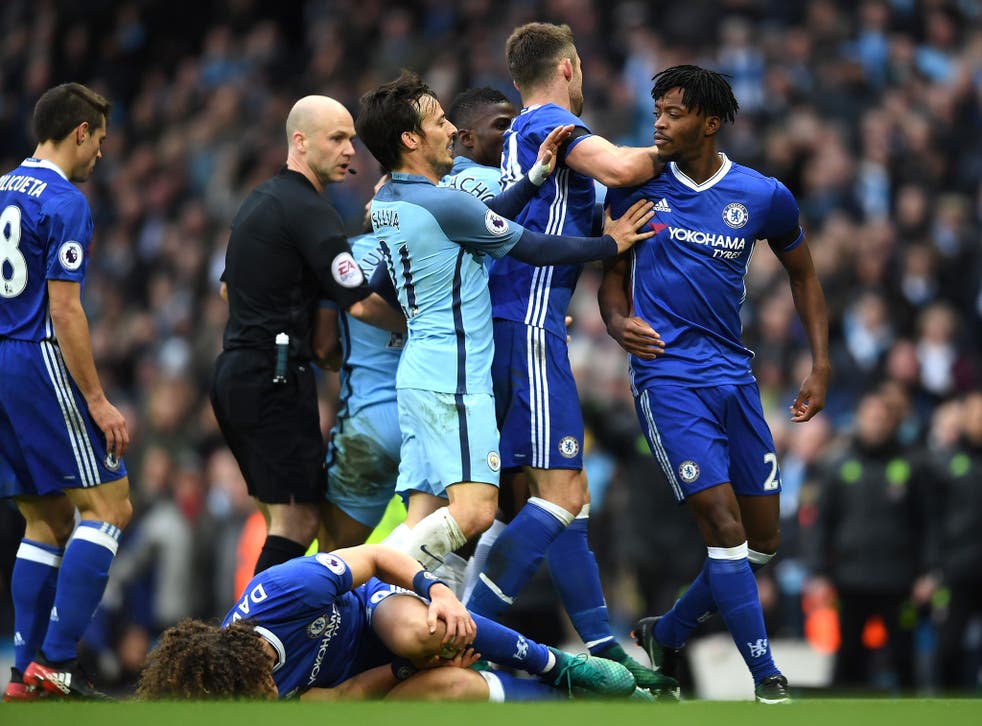 Chelsea face the prospect of a Premier League points deduction following the mass brawl that broke out in the dying stages of last weekend's clash against title rivals Manchester City.
The two clubs were both charged by the FA with failing to control their players after the teams confronted one another following Sergio Aguero's dangerous challenge on Blues defender David Luiz.
Both Aguero and Fernandinho were sent-off for their actions while the former was later slapped with a four-match ban as a result of his tackle.
Although City were seemingly at fault for the bust-up, it's Chelsea who now stand to suffer.
This is the fifth time in 19 months that Chelsea have been forced to face disciplinary chiefs for breaching FA Rule E20 concerning the behaviour of players.
And according to the Mirror, the side now face the very real prospect of a points deduction for repeated ill-discipline.
If officials decide to implement such a punishment, Chelsea will become the first club since Arsenal and Manchester United 26 years to have points deducted for poor player behaviour.
The club was warned about the future conduct of their players when they appealed against a fine imposed for their part in last season's ill-tempered Premier League clash with Tottenham.
In the wake of the game, which saw Spurs hand the Premier League title to Leicester, the Blues were fined £290,000 and their record for persistent breaches of Rule E20 was branded "abysmal".
The independent commission that dealt with the incident warned: "The Board is satisfied the greater fine on Chelsea fairly reflects its role in the incident and its lamentable recent record for failing properly to control its players.
"The time cannot be too far distant when a Commission concludes the only proper sanction is a points deduction."
At the start of the season, the FA, the Premier League and the EFL joined forces to announce measures to clamp down on "intolerable behaviour" after claiming that poor player conduct had reached "unacceptable levels."
Register for free to continue reading
Registration is a free and easy way to support our truly independent journalism
By registering, you will also enjoy limited access to Premium articles, exclusive newsletters, commenting, and virtual events with our leading journalists
Already have an account? sign in
Register for free to continue reading
Registration is a free and easy way to support our truly independent journalism
By registering, you will also enjoy limited access to Premium articles, exclusive newsletters, commenting, and virtual events with our leading journalists
Already have an account? sign in
Join our new commenting forum
Join thought-provoking conversations, follow other Independent readers and see their replies