Chelsea offer Frank Lampard new deal after contract re-think
Club to relent and hand England midfielder extension to stay for possible Jose Mourinho return
Sam Wallace
Wednesday 01 May 2013 12:20 Comments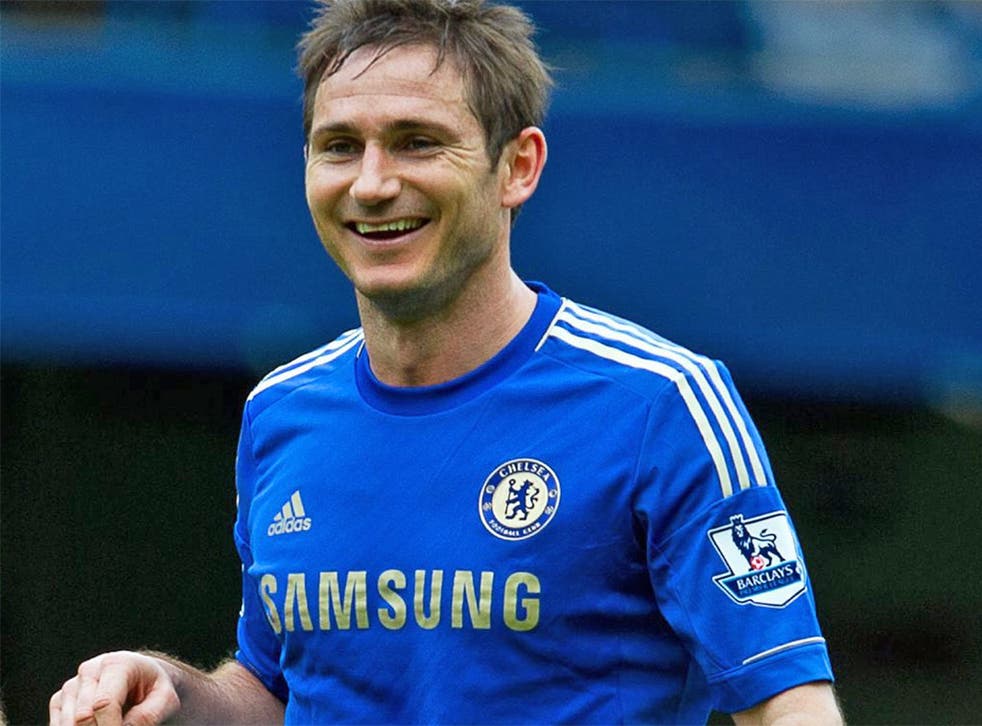 Frank Lampard's Chelsea career looks set to extend beyond next month and into another season as there is a willingness from the club to offer him a one-year extension, once the new manager is in place this summer.
The saga has run all season with unhappiness among supporters that Lampard, 34, has been allowed to drift out of contract despite his desire to stay. The Independent understands that the mood has changed lately at the club and that a one-year deal, on around his current pay scale, will be offered to him.
The announcement of a new contract would not be made until after the season is over, and most likely when a new manager arrives. The lead candidate is Jose Mourinho, who would naturally support any deal for Lampard. There is even a suggestion that Mourinho would announce Lampard's deal at his first press conference.
Eliminated by Borussia Dortmund in the Champions League semi-finals, Mourinho gave the clearest indication yet that he would leave Real Madrid this summer and return to Chelsea. "There are clubs in England that love me; especially one," he said
Earlier in an ITV interview that was cut short, Mourinho described Chelsea as "a special club". He added: "I want to be where people love me to be."
Lampard staying will virtually guarantee that he will surpass Bobby Tambling's club record of 202 goals. Lampard is on 201 with no more than six games left in the season.
There has been cautious interest from Sir Alex Ferguson in the player, 35 in June when he is due to become a free agent. Lampard was also close to a deal with Los Angeles Galaxy, whose Major League Soccer season began last month, but that has fallen through.
Key to any potential deal between LA Galaxy and Lampard was Tim Lieweke, formerly president and chief executive of AEG, the owners of the franchise. When he left the LA Galaxy in March the chances of Lampard moving there reduced significantly.
The observations of the England manager, Roy Hodgson, that he would prefer Lampard to be based in Europe, have been another consideration.
The club will not wish to present any new contract for Lampard as a change of heart on their part. In the event of the deal being done they are likely to say that it was a decision made once the situation was assessed at the end of the season.
The one-year deal for Ashley Cole, announced in January, was agreed at close to his current pay deal, worth around £200,000-a-week. Nevertheless, the days when the club was dominated by the English contingent are long gone. The players whom the Roman Abramovich hierarchy look to now are Petr Cech, David Luiz and Fernando Torres.
The interim first-team coach Rafa Benitez could potentially have all but one of his first-team squad available for selection for tomorrow's Europa League semi-final second leg against Basle at Stamford Bridge. Gary Cahill played the full game against Swansea City on Sunday, leaving only Oriol Romeu among the long-term injured.
Deal or no deal: Blues' old guard
Petr Cech, 30
Chelsea's number one goakeeper has three years left on his contract having joined the club in July 2004.
Ashley Cole, 32
The England left-back joined from Arsenal in 2006 and was given a year extension in January, keeping him at the club until 2014.
John Terry, 32
Terry made his Chelsea debut in 1998 and has been at the club ever since. But the captain has only a year left on his contract.
Paulo Ferreira, 34
The Portuguese full-back looks set to leave as a free agent in the summer.
Yossi Benayoun, 32
The Israeli's contract is up at the end of the season and there is no sign of a renewal.
Register for free to continue reading
Registration is a free and easy way to support our truly independent journalism
By registering, you will also enjoy limited access to Premium articles, exclusive newsletters, commenting, and virtual events with our leading journalists
Already have an account? sign in
Join our new commenting forum
Join thought-provoking conversations, follow other Independent readers and see their replies