Chelsea owner Roman Abramovich 'disgusted', Jose Mourinho 'ashamed' at Paris Metro abuse
Russian owner made a rare public declaration about the issue
Sam Wallace
Friday 20 February 2015 23:30 Comments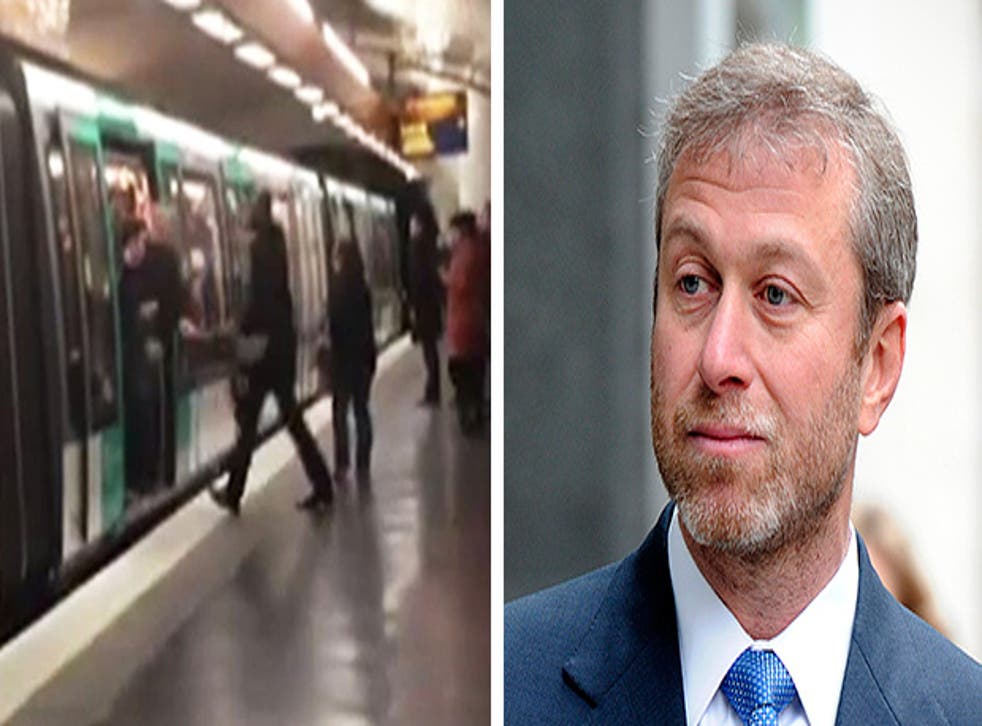 Roman Abramovich was described as "disgusted" yesterday at the racist behaviour of Chelsea fans on the Paris Metro, a rare occasion when the club have made a public declaration about their owner's feelings on an issue.
The sentiment from Abramovich, conveyed by the club's director of communications Steve Atkins, underlined the severity with which Chelsea view the actions of some of their fans towards a black man they prevented boarding a Metro train on Tuesday. At a press conference in which no punches were pulled by the club, manager Jose Mourinho said he was "ashamed" of those involved. Chelsea later suspended a further two fans from Stamford Bridge while the incident is being investigated, following the three supporters banned on Thursday.
The club began Mourinho's Friday press conference with a statement read on behalf of the club by Atkins in which Chelsea expressed their "disgust" at the fans who chanted "We're racists – and proud of it". The club said they were "appalled" by the mobile phone footage of the incident and wanted to "apologise unreservedly to Souleymane [the victim] for the behaviour of a small number of individuals and their unforgivable actions towards him."
Club-by-club: Number of arrests for racist or indecent chanting

Show all 20
The club have written to the man, known as Souleymane S, whose full identity has not been disclosed, to invite him to be a guest of the club's board at Stamford Bridge for the return leg against Paris Saint-Germain on 11 March. The club's chairman Bruce Buck went to meet his counterpart Lord Herman Ouseley of the anti-racism organisation Kick It Out yesterday.
A group of Chelsea fans had previously begun an online campaign to raise money to bring Souleymane S to Stamford Bridge to demonstrate that their club's support was not racist.
On Souleymane S, Mourinho said: "At this moment, he has maybe the wrong idea of what Chelsea Football Club is. I don't know if the gentleman loves football, but for sure he would love to feel that the miserable people that had this [inter]action with him are not Chelsea Football Club. This is not Chelsea. They are not Chelsea.
"Chelsea is the owner, the board, the manager, the players, is the people that works here, is the true Chelsea supporter. Yes, I would support the idea [of Souleymane coming to a match], even not knowing whether the gentleman loves football or not."
Mourinho said he did not believe Tuesday's incidents should discourage non-white supporters from attending Chelsea games. He said: "I don't believe they [non-white fans will] think about not coming. Everybody knows what Chelsea is.
"You don't need words to know what our club is. What our club defends. We feel ashamed, but maybe we shouldn't. I refuse to be connected with these people. I am connected with Chelsea and so many good things the club defends and represents."
He said that he had watched the video of the incident only once. "It is enough for me, it is sad enough for me. It is a humiliation for that gentleman. I imagine myself in that same situation. I want to go home after a day of work and a couple of guys kick me out of my public transport. And I cannot go home. It is difficult to believe that this can happen in modern times, but the reality is that it happens."
Mourinho, whose team face Burnley at home this afternoon, was asked later whether there was still a cloud over the club from John Terry's Football Association charge for racial abuse of Anton Ferdinand during a game at Loftus Road in October 2011. Terry was cleared by a court of racial abuse in 2012. A regulatory commission, acting on the FA charge, fined him £220,000 and banned him for four games. The club said they took disciplinary action, undisclosed, against him.
The incident, and subsequent court case, took place when Andre Villas-Boas and then Roberto Di Matteo were in charge. Mourinho said: "I don't know. The only thing I know, and I know 100 per cent for sure, is that John Terry is not one single second of his life a racist. That I can assure you.
"He had a bad episode, I don't know, I was not here, maybe yes. But I can assure you, and you ask every player who has shared the dressing room with John – we are talking about dozens and dozens of players – they would tell you that John is not a racist."
Mourinho said that his players had been "disgusted" by the Paris incident and warned that it would not be the last of its kind in football. "Unfortunately we will not be the last episode. Emphatically, it will not be the last, but we have to deal with it as if it is the last. We can't make it the last, but we have to deal with it as we can. And especially in relation to people who have some connection with our club if you can call it that. Everybody has to know that the club is ready to finish it. No more Stamford Bridge for them [those responsible]."
Register for free to continue reading
Registration is a free and easy way to support our truly independent journalism
By registering, you will also enjoy limited access to Premium articles, exclusive newsletters, commenting, and virtual events with our leading journalists
Already have an account? sign in
Join our new commenting forum
Join thought-provoking conversations, follow other Independent readers and see their replies