Chelsea racism video: Three supporters suspended from Stamford Bridge following shocking scenes on Paris Metro
Fans of the club refused to let a black man onto a train and chanted about being racist ahead of Chelsea's match against PSG on Tuesday night
Sam Wallace
Thursday 19 February 2015 19:46 Comments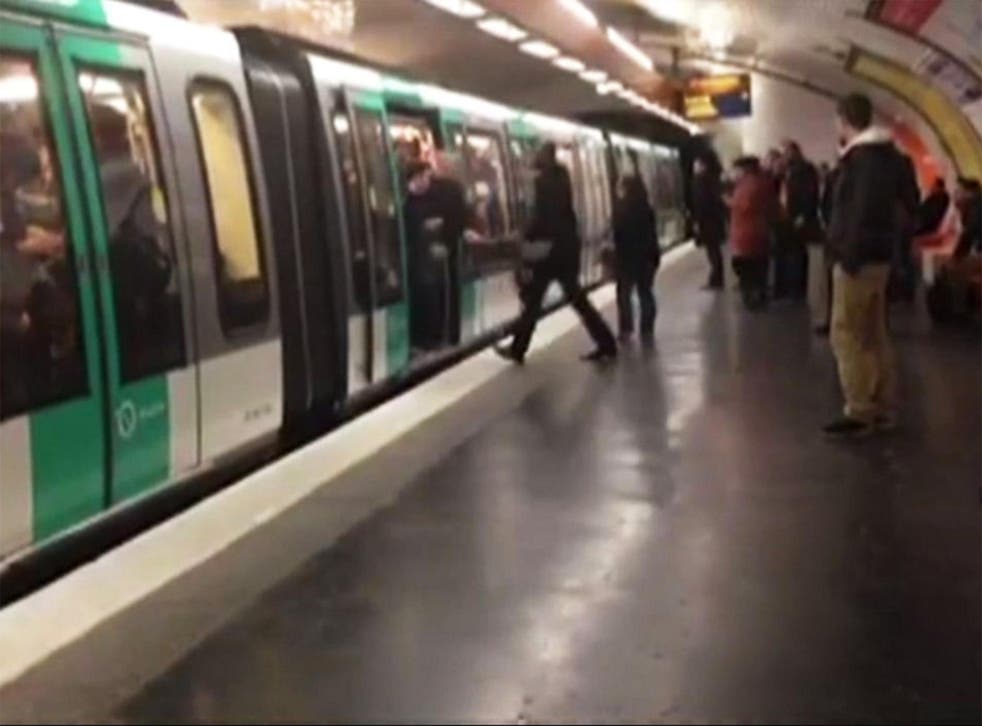 Chelsea have taken the first steps towards punishing those supporters of the club responsible for the racist behaviour on the Paris Métro on Tuesday evening by suspending three fans from attending home games while they are investigated.
The club announced at 6.30pm yesterday that the three had been suspended from watching games at Stamford Bridge while further investigations took place into events at the Richelieu-Drouot station ahead of the Champions League game against Paris Saint-Germain.
In a statement, the club said: "If it is deemed there is sufficient evidence of their involvement in the incident, the club will issue banning orders for life. We have received substantial information to date following our witness appeal and we are grateful to the many Chelsea supporters who have provided information so far."
The club are confident they have made progress in identifying the culprits from the mobile phone video of the incident, in which a black man was pushed off a stationary train carriage by Chelsea supporters who then chanted "We're racist – and that's the way we like it". However, the club are concerned that innocent bystanders in the carriage should not be implicated.
Chelsea will make an announcement tomorrow ahead of manager Jose Mourinho's press conference at Cobham about the extent of their investigations so far. Mourinho himself will also take questions on the incident and express the club's shock at having their name and reputation tarnished by the supporters involved.
The club have worked with the Metropolitan Police and French prosecutors to identify those responsible for events at the Métro station.
Club-by-club: Number of arrests for racist or indecent chanting

Show all 20
One of the Chelsea supporters identified as having been in the carriage was suspended by his employer yesterday while they investigated the extent to which he was involved in the incident. Josh Parsons, 21, from Surrey, was also identified as a Ukip supporter who had been pictured with the party's leader, Nigel Farage. Ukip said Parsons was not a member of the party.
In a statement, his employer, the Business and Commercial Financial Club, a finance company, said: "We are utterly opposed to racism in all of its forms and would never tolerate racist conduct among any employee. We are investigating the events in Paris and Mr Parsons will not return to work until we have conducted a full and thorough investigation."
The man who attempted to board the train but was twice thrust back out of the carriage by the Chelsea supporters was interviewed by Le Parisien. Giving his name only as Souleymane S, he said that he wanted the fans in question to be prosecuted. He had made a formal complaint to the French authorities, who are working with their British counterparts, and anyone convicted could face a prison term of up to three years and a fine of up to €45,000 (£33,000).
Club-by-club: Number of arrests for racist or indecent chanting

Show all 20
Souleymane S said: "These people have to be found, punished and locked up."
Yesterday, the Premier League's only black manager, Chris Ramsey, called upon the English game to redouble its efforts against racism. Ramsey, 52, the Queen's Park Rangers manager, said that the game's authorities had to "weed out" those responsible for the episode in Paris and work harder to make sure it never happened again. Asked whether he had faced racism as a player in the 1970s and 1980s, Ramsey simply replied that he had. He said: "It would be good to know what the authorities are going to do to weed these people out and what sanctions they will enforce to make this an avoidable situation in the future.
"Had it not been caught on camera [the problem would not have been recognised]. It is a reminder that it is still there. I'm sure there are people trying their best to make sure it stays out of the public eye – there are people with these views and we need to keep them away from the game," Ramsey added.
Register for free to continue reading
Registration is a free and easy way to support our truly independent journalism
By registering, you will also enjoy limited access to Premium articles, exclusive newsletters, commenting, and virtual events with our leading journalists
Already have an account? sign in
Join our new commenting forum
Join thought-provoking conversations, follow other Independent readers and see their replies