Chelsea ready to leave Bridge as 60,000-seat stadium plans are revealed
Club take first step on road to new ground with offer to buy site's freehold from fans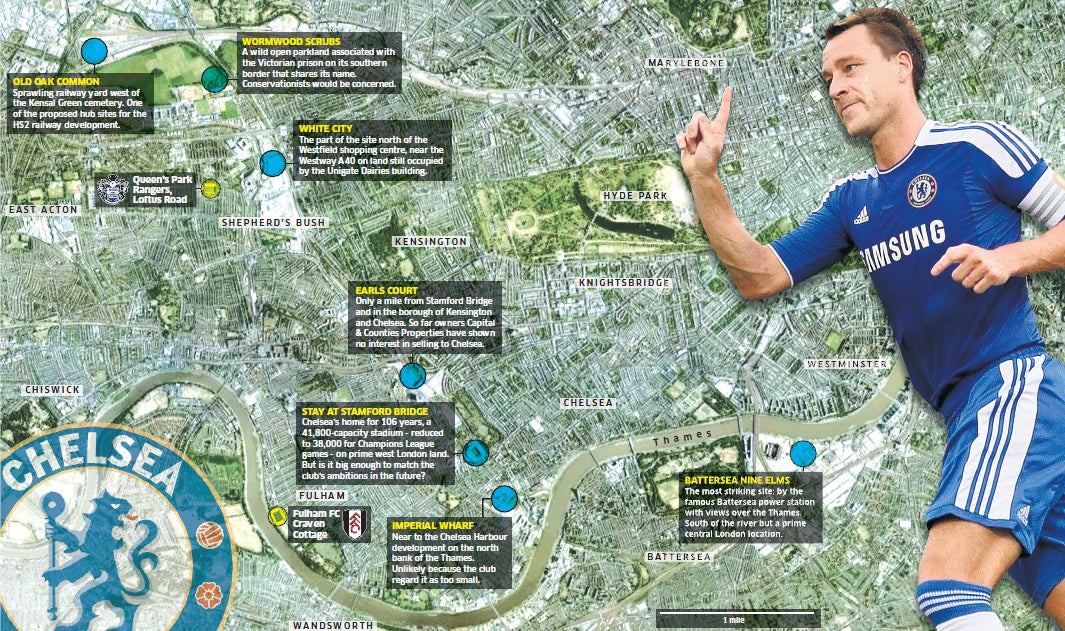 Chelsea announced last night that they are taking the first major steps to building a new London stadium to rival Arsenal's Emirates home, by buying back the freehold on their pitch and stadium from a supporters' group.
Chelsea's options: click here to download full graphic (1Mb)
The club have written to all Chelsea Pitch Owners shareholders to tell them that they wish to buy back the freehold for the Stamford Bridge pitch and four stands so that they can redevelop the ground if they suddenly decide that they are in a position to acquire a new site.
Without the agreement of the CPO shareholders, the club cannot sell Stamford Bridge and build a new stadium elsewhere, partly financed by the profits. Asked whether that was the case yesterday, chairman Bruce Buck said: "This is the only way we can move. That is the bottom line, yes."
The club want the option of building a stadium with a capacity of around 55,000-60,000 to compete with the likes of Manchester United and Arsenal. Although they have not yet decided whether they will leave Stamford Bridge, which has a capacity of 41,800 (reduced for Champions League nights) they are keen to have that option.
The site at the top of their list is the Battersea Nine Elms area next to the famous decommissioned power station, with views of the River Thames. However they have looked at sites all over west and north-west London including redeveloping Earls Court, as well as White City, Imperial Wharf, Wormwood Scrubs and Old Oak Common.
They have been reluctant to give any details of a possible move until now, when the issue with CPO has forced their hand. Since 2004, the club have looked at how they might expand Stamford Bridge, spending around £700,000 on two architectural firms who have both come to the conclusion that none of the four stands can be significantly increased in size.
The club have hit barriers in terms of health and safety rules and buying out the owners of private flats on top of two hotels on the site, as well as the fact that the 12 to 13-acre area is too small. They have even commissioned a report into re-aligning the pitch from north-south to east-west but each plan is either unworkable under safety legislation or prohibitively expensive.
A new stadium would be funded in part by the sale of the existing stadium and site, Chelsea's home for their entire 106-year history, into a residential and office complex along with investment from Roman Abramovich and bank loans. Under Uefa's financial fair play rules, investment on stadiums does not count towards overall expenditure.
First of all, the club have to persuade the estimated 12,000 shareholders in CPO to sell back the company Chelsea Stadium Limited that they bought from the club in 1997. The plan was devised then to keep the freehold in friendly hands so the stadium could never be sold out from under the club. It cost £10m, £8.5m of which was borrowed from the club by CPO, and was never meant to be a profit-making scheme.
There will be a meeting of CPO shareholders at Stamford Bridge on 27 October to vote on the issue and the club need 50 per cent of attendees or those who have arranged to vote by proxy to support their plan. The club propose paying £10m, to clear the debt and recompense the £1.5m invested by shareholders.
If the club gets the vote in its favour it will make a pledge not to move more than three miles from Stamford Bridge, located in the London borough of Hammersmith and Fulham, should it build a new stadium before 2020. It will also promise that 10 per cent of tickets at the new stadium will be priced for families and under-21s.
Those CPO shareholders who vote in favour of selling the freehold will have their names inscribed on a "roll of honour" at any new stadium. They would also have priority in buying season tickets at a potential new stadium. Chelsea's difficulty is that they do not know how many of the 12,000 shareholders will turn up to the meeting, although private estimates are around 300-400.
Buck said yesterday that the club had looked extensively at rebuilding the existing Stamford Bridge stadium since Abramovich bought the club in 2004. "We have a 12-13 acre site and if you want a 60,000-capacity stadium, you need an 18-20 acres site," the Chelsea chairman said. "We have had two architectural firms look at it over six years. I wouldn't say we have given up but we are doubtful we could do something for a reasonable cost that would give us a reasonable return."
Buck said that there were always "rumours" about Chelsea acquiring certain sites but given the uncertainty of the future, and the possibility that a new digital age might see a reduction in the number of people who attend games, there had been no definite decision yet that the club would leave Stamford Bridge.
"At the moment we have had no discussions ongoing with any developer," Buck said. "We still have not made the decision that yes, Chelsea want to move. More significantly we are looking at whether our stadium might be the right size. With people [potentially] watching matches on their wristwatches in the great digital unknown, do we know what the right size is for Chelsea or any other club?
"At the moment I am saying we are happy at Stamford Bridge. We have no concrete intentions to move but just like any business looking at the future we look at anything that comes along.
"I think we will have a group of fans who will say 'Is this [buying back the freehold] the precursor to Chelsea moving' and 'We don't want to move'. As a business we have to be prepared for a move if something right comes along for Chelsea. This [buying the freehold] is something we should have done five years ago but we were clearing up the financial housekeeping of Chelsea then, like the Eurobonds issue, that wasn't appropriate for the club."
The Chelsea chief executive Ron Gourlay said that Chelsea currently had the eighth biggest stadium in the Premier League and the 60th biggest in Europe, with 30,000 season ticket holders. The club are concerned that as rivals move to bigger stadiums over the next decade they could slip down that list.
Who are the CPO?
Should Chelsea make the decision to move to a new site they might have to move quickly, and to be able to redevelop their existing site they need to recover the freehold for the pitch and four stands.
In 1993, a decision was made to put the pitch and stands at Stamford Bridge into friendly hands to ensure they could never be at risk of developers who wanted to get rid of the club.
A group was formed under the name Chelsea Pitch Owners (CPO) and in 1993 they began raising funds to acquire the freehold. By 1997, they had raised only £1.5m – issuing 15,000 shares – so the club's holding company at the time, Chelsea Village PLC, leant them £8.5m to make the purchase. Having made the purchase of Chelsea Stadium Limited (CSL), CPO granted a 199-year lease back to the club for a peppercorn rent.
The shares were never intended to be an investment for people to make money, simply a way of safeguarding the club's future. Chelsea propose paying CPO £10m to refund those who invested and clear the debt. CPO will hold a general meeting on 27 October to vote.
Groundhog Day: stadium issues for top clubs
Arsenal
Moved into the Emirates in 2006 having spent £390m. Highbury held less than 40,000 and the move to a 60,000-seat arena has seen them double match-day revenue.
Spurs and West Ham
Spurs must develop White Hart Lane or move to the Olympic Stadium. The Lane holds 36,240 – the Northumberland development Project would increase that by 20,000.
Man City
City were handed what is now the Etihad Stadium in 2003. The stadium cost £110m. City switched from Maine Road which held 32,000 to a state-of-the-art 48,000 ground.
Liverpool and Everton
Everton have twice tried to move but both fell through. Liverpool are looking at a new £400m ground in Stanley Park.
Join our commenting forum
Join thought-provoking conversations, follow other Independent readers and see their replies