Gary Cahill writes his own headlines and hits back at critics after scoring Chelsea's vital late goal
The defender admits he went 'absolutely berserk' after redeeming himself at the bet365 Stadium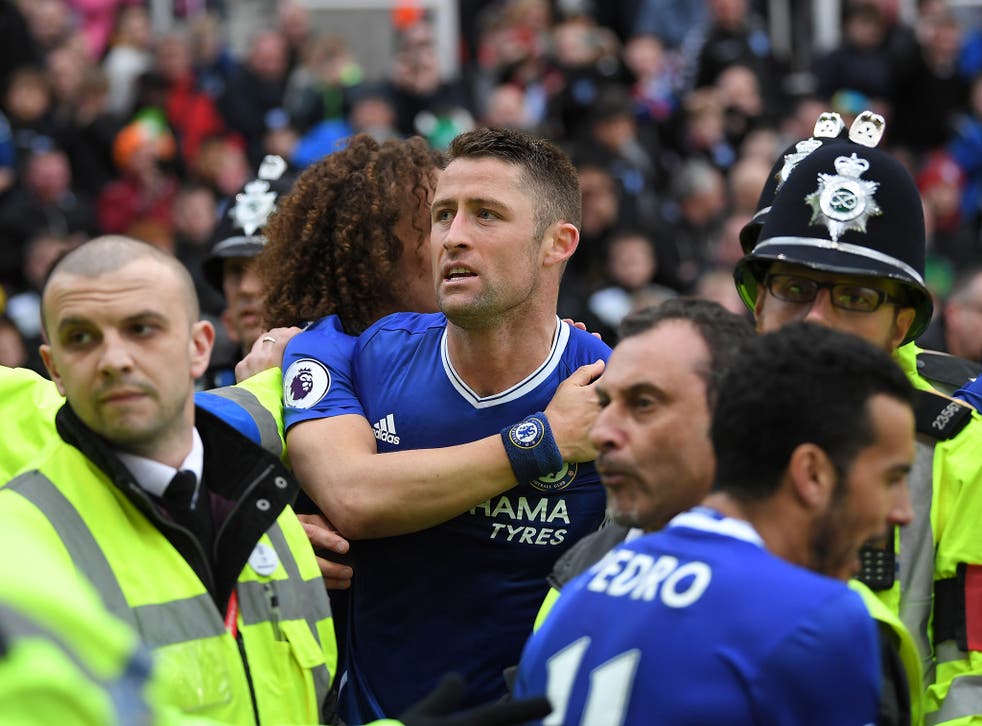 You could tell how much of a victory this was by the sheer scale of Chelsea's celebrations. When, three minutes from the end of what would have been a perfectly creditable draw at Stoke, Gary Cahill scored the winner, Antonio Conte leapt on to the top of the dugout, while his captain almost leapt into the crowd.
However temporarily it might have been, Chelsea were 13 points clear with 10 matches remaining. No team has ever come remotely close to losing the Premier League from that position.
"It is like a blur," said Cahill afterwards. "I just went absolutely berserk." There were various reasons why the England centre-half became swallowed up by emotion but not least was the fact that he had given away the penalty that allowed Stoke to level the game at 1-1 – a scoreline that appeared to be sticking right to the end.
Chelsea's 35 players out on loan

Show all 35
Instead, he scored the kind of precious, unexpected goal that John Terry used to grab, the kind that wins titles.
"Playing in my position, to have a penalty go against you, you can almost see the headlines: 'Cahill should have done this, Cahill's dropped this and done whatever'," he said.
"I have felt like this a couple of times this season. People are quick to criticise and when things are going well and we're winning games and picking up clean sheet after clean sheet, it is kind of looked upon as the norm. The moment you pick up an error, it is highlighted tenfold.
"You saw the celebrations. Everyone knows what that game meant to us to win. A neutral might have been thinking that this game has got a draw written all over it so we wanted to keep going. The importance of getting three points as opposed to one is huge. Come the end of the season, it could be absolutely massive for us."

Even had Chelsea not won, they would still be iron-hard favourites to win their sixth championship. This settled matters. Leads rarely change hands at this stage of a Premier League season.
The club leading with 10 games to go has won the title in 10 of the last 13 campaigns. Of the three sides that failed to hang on to their advantage; two, Arsenal in 2008 and Manchester United in 2012, led by only a single point. Chelsea were four points clear of Liverpool in 2014 and neither team won the title.
No team has ever been as far ahead as Chelsea and not rammed the advantage home. The talk in the aftermath of another win was not of whether they will win the title but of how they have done it.
Cahill's late winner would have been familiar to Mark Hughes. It was the kind of goal Manchester United would score while winning championships.
"I have played in teams that have won the Premier League and you just keep going to the end and never give up," said the Stoke manager, who thought that what mattered was not the formations Conte played but the men who played in them.
"You have a lot of players who have been there before and won the league title in recent times. They have those memories and understand what it takes. There are 10 games to go – they won't get beaten now.
"It is not about formations and systems, it is more about how the players execute what they are asked to do. You can see they are well drilled.
"There are certain movements and patterns that they repeat and it clearly comes from the training ground. You know it's going to happen but it is very difficult to negate it because it is done at pace with a quality of player which is difficult to match.
"They are a good side with good players working hard and making things happen and that's why they are top."
Join our new commenting forum
Join thought-provoking conversations, follow other Independent readers and see their replies