Chelsea striker Samuel Eto'o says winning the Premier League is 'not our mission'
However, the striker says the players believe remaining at the summit until the end of the season is possible
Jim van Wijk
Monday 24 February 2014 16:33 Comments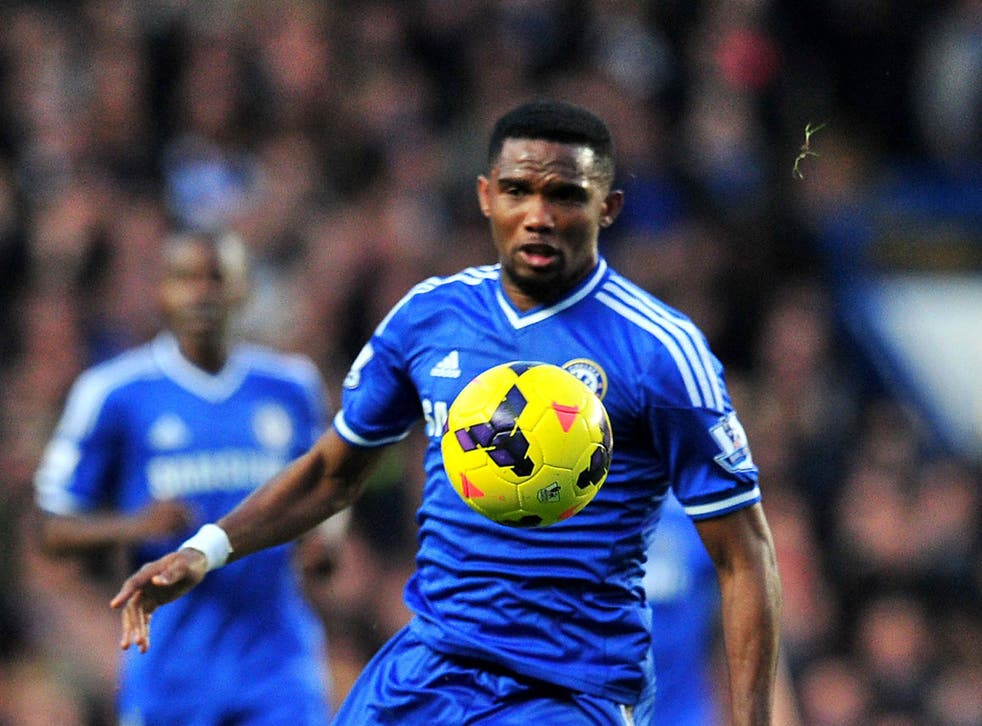 Chelsea are determined to make themselves serial contenders for the Barclays Premier League title again under Jose Mourinho, according to striker Samuel Eto'o.
The Blues head out to Turkey for Wednesday's Champions League showdown against Galatasaray still a point clear at the top of the table after a dramatic late win over Everton at Stamford Bridge.
Mourinho has continued to stress the need for long-term consistency to regain the Premier League supremacy which his side enjoyed under his last tenure.
Eto'o insists everyone's focus is the same. Speaking on the club's official website, http://www.chelseafc.com, he said: "We have never thought that we can't win the title, but Jose Mourinho came to Chelsea to do big things for the long run which he is trying to do.
"We players believe that it is possible, but at the same time it is not our mission.
"Right now we are not thinking about other teams or the end of the season, we are just focused on our next game and that is Galatasaray."
Eto'o joined Chelsea from Russian club Anzhi Makhachkala to join up with his old Inter Milan coach once again, and the 32-year-old used social media site Instagram to deny he was set to leave Stamford Bridge in the summer.
Whatever happens over the final weeks of the campaign, Mourinho will again look to strengthen the Chelsea squad over the summer
However, speaking to French TV channel Canal Plus, the Blues boss ruled out any possibility of a swap deal with Paris St Germain involving Edison Cavani and Belgian starlet Eden Hazard.
"Eden is our boy. He is the player we want to have for 10 years, and we want to build the team around Eden," Mourinho said. "His style of football is what we want."
Mourinho also played down suggestions Chelsea may look to bring Sweden striker Zlatan Ibrahimovic, describing it as "Mission Impossible".
The Portuguese coach had been linked with taking charge at PSG after he left Real Madrid.
Mourinho, though, is settled into London life again.
"I am very, very, very happy, I am at a club that represents for me more than a club," said the 51-year-old.
"I have a special relationship with Chelsea and it is a project that I love.
"I could work in France in the future, why not?
"I did not say no, or yes (to PSG), there was not a true, direct offer.
"We met, I had the honour of visiting the Emir at his house in Qatar three or four years ago, before he bought the club.
"We have a respectful relationship, but after Real Madrid, I said to everyone what I wanted to do which was to return to England.
"I want to stay, I have four years on my contract and after that we will see."
Chelsea will come face to face with former striker Didier Drogba at the Turk Telekom Arena in the first leg of their last-16 Champions League tie.
Dutch midfielder Wesley Sneijder was part of Mourinho's Inter Milan side which won the 2010 European Cup, and revealed he had taken a "crafty" phone call from his former manager ahead of the last 16 showdown.
Speaking in the Turkish media, Sneijder said: "Just two minutes after the draw, the phone rang and it was none other than Jose Mourinho.
"He asked some crafty questions about team tactics, players, trying to obtain information, but he could not fool me - I have played football for many years and know what is being asked and what to say.
"We will see how the team plays and if we can beat them."
PA
Register for free to continue reading
Registration is a free and easy way to support our truly independent journalism
By registering, you will also enjoy limited access to Premium articles, exclusive newsletters, commenting, and virtual events with our leading journalists
Already have an account? sign in
Join our new commenting forum
Join thought-provoking conversations, follow other Independent readers and see their replies