Dele Alli at the double in emphatic comeback as Tottenham deal Chelsea's top-four hopes major blow
Chelsea 1 Tottenham 3: Spurs won at Stamford Bridge in the league for the first time since 1990 with a convincing display having gone behind to an Alvaro Morata header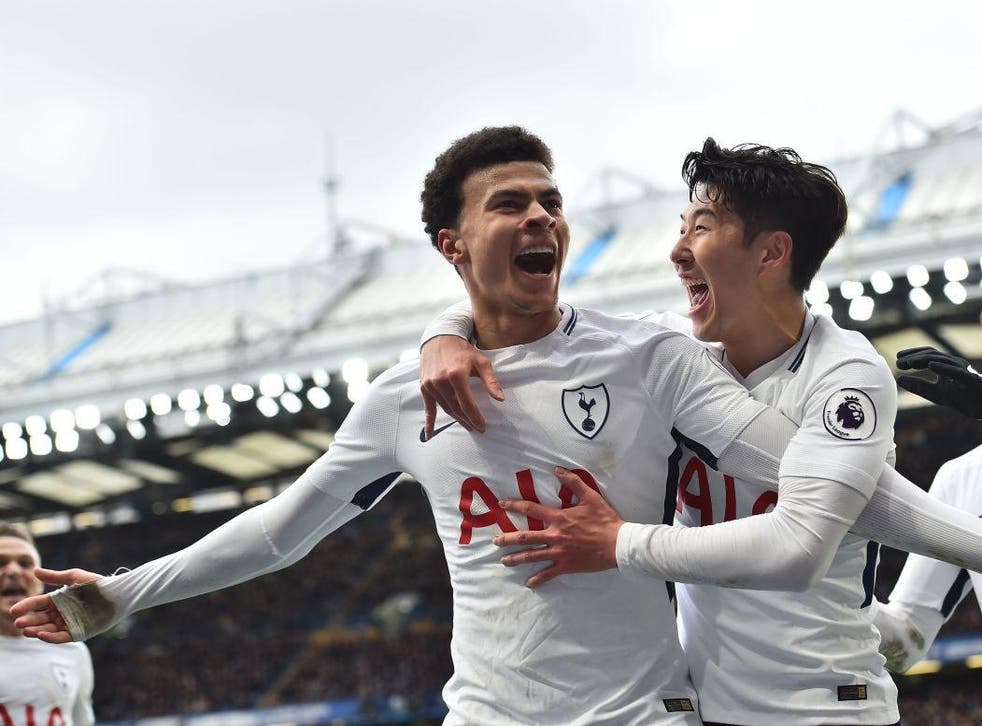 It was the sound of so many years of frustration at this stadium for Tottenham Hotspur, but from the sight of so many Chelsea errors. That was what so distinctive about the Dele Alli goal that clinched his side's first win at Stamford Bridge in over 28 years, and so emblematic. As he ran towards the rapturous away end, the supporters offering the type of deafening roar so rarely heard here, a trail of Chelsea bodies were left on the ground – their team now trailing Spurs by eight points with seven games remaining.
This was also the story of the game: an increasingly rampant Tottenham coming from behind and exploiting every mistake that Chelsea made. The match saw a lot of them, but the brutal reality for Antonio Conte is that it will take a much greater – and probably unrealistic – series of mistakes for his side to make the Champions League.
Like his Chelsea reign, the race for the top four is surely all but over. So is all talk of Spurs never having won here since 1990, of all the historic events that took place around then, of the fact Nelson Mandela was still in prison then.
That is just another barrier Mauricio Pochettino's side have broken, another ceiling smashed, even if the persistent talk is that there are bigger challenges still to be met – like winning a trophy. The fact is that steps like this are a necessary prelude to that.
It also shouldn't be overlooked just how meaningful this win was in the context of the rivalry's history. Spurs are now all but certain to make the Champions League for the third successive season. A task that was until very recently so tortuous for this club has now become routine, something to be expected.
It said much that substitute Harry Kane was not required. Alli had been one of many players stepping up. Such assurance could also be seen in the winning of this match, especially in how they reacted to going behind from a relatively calamitous goal.
This was just as distinctive about the game, and all the more impressive from Spurs. As weak as Chelsea ended up looking by the end, and as ineffective as Alvaro Morata was sauntering about, that was anything but the case at the start.
Conte's side seemed to have Spurs exactly where they wanted them – both in terms of tactics and the stadium itself – as they so studiously countered Pochettino's attack and exploited space on the right.
The first big errors of the games were Tottenham's, and the biggest came from Hugo Lloris. Victor Moses's cross may have been high, and the way the ball rose might have afforded the goalkeeper some leeway, but that in itself did raise questions as to why he went for it in the first place. With the goal open, it made Morata's task much easier but still not without some difficulty. The striker – often criticised for a perceived timidness – showed bravery to go up with Davinson Sanchez and fire the ball in.
All seemed set up for Chelsea. They had given themselves even greater licence to continue with their gameplan, and also circumstances that favoured it. Spurs would surely leave themselves open as they tried to get back into the match, and it looked like it was going to take something special to do that.
It was instead all set up for a great Tottenham day, as something special was precisely what Eriksen offered.
He also offered one of the most distinctive trajectories of a strike the English top flight has seen, as his long-range effort appeared to be soaring over the bar, only to wickedly dip about five yards from goal to go in off the crossbar. That brought questions of Willy Caballero in the Chelsea goal, but the brilliance of the strike should not be overlooked.
It wasn't just a piece of individual inspiration out of nothing, either. The build-up to the goal also reflected the building of this win, and how Pochettino has built a side that now looks so superior to that of a much wealthier club. Most pointedly, there was the way Ben Davies – partly at fault for the Chelsea goal himself – and Alli pressed and harried to win the ball back high up the pitch, assisting Eriksen for his high-soaring shot.
This was the coordination, unity and hunger missing from Chelsea. The second Spurs goal also saw Conte's structure totally collapse against it. One big punt up the pitch exposed a huge gap in front of Caballero's goal, although Alli still displayed one divine touch to bring it down, and then send Chelsea down.
Moments later came the goal that summed up so much, and brought so much joy from the travelling supporters. Alli and Spurs just displayed supreme presence of mind and quality against utter disarray.
Chelsea were done, never looking like getting back into it against such assurance, such solidity. Conte may now be done, as he just doesn't look like he can recover the kind of edge that defined his side last season, even if there are bigger discussions to be had about the reasons for that.
There is still the potential consolation of the FA Cup – a prize Spurs are also going for. There has been so much talk about how Pochettino needs to win that but this game emphasised how, really, they have bigger concerns; bigger aims.
"There's only one team in London," the Spurs fans changed. There is almost certainly going to be only one London team in the Champions League next season. That is Tottenham, after a win that was a long time coming.
The cheers reflected that. The result reflected their evident superiority.
Join our new commenting forum
Join thought-provoking conversations, follow other Independent readers and see their replies