Chelsea v West Ham: Jose Mourinho claims Chelsea will be in a better position to compete for silverware next year
Mourinho may be guilty in playing mind games once again but he believes that this season is more about developing the squad rather than earning silverware
Jack de Menezes
Tuesday 28 January 2014 16:58 Comments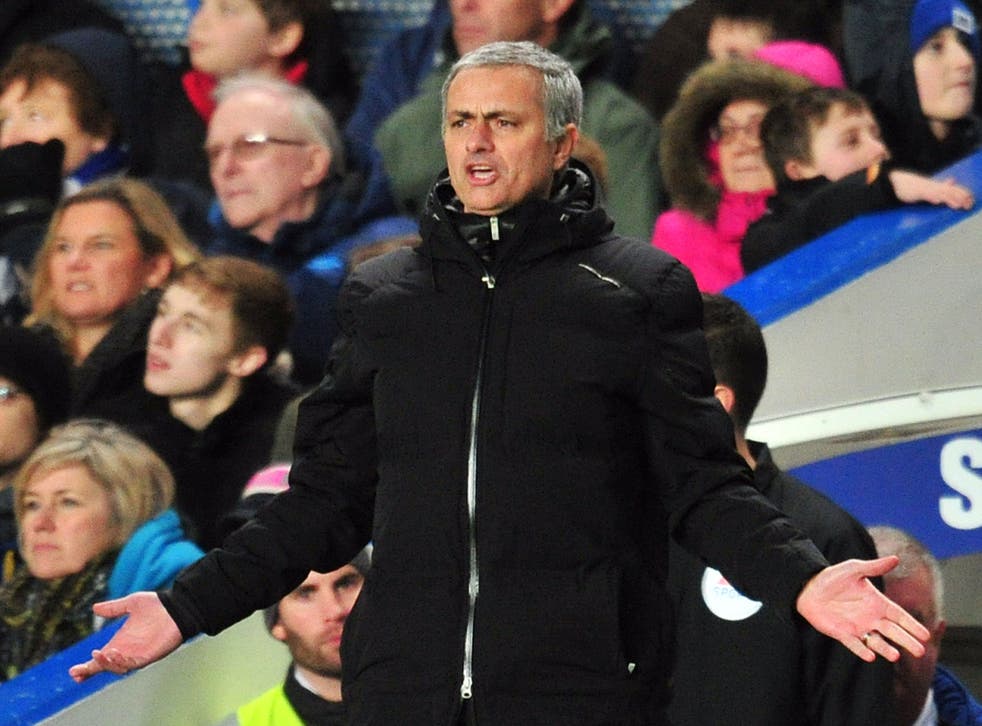 Chelsea manager Jose Mourinho has attempted to lift the pressure off his squad by claiming the Blues won't be ready to make a serious bid for the Premier League title until next season, despite sitting third and just two points off leaders Arsenal.
Mourinho's side have notched seven straight victories and could leapfrog the Portuguese's champion elect Manchester City when the pair meet next Monday. However, perhaps in an attempt to relax his players ahead of such a big tie, Mourinho believes that this season is more about developing the team rather than securing silverware.
"Our main objective for this season is to build a team, the best way to build a team is to be competing for things," said Mourinho in a pre-match press conference ahead of Wednesday's match with West Ham.
"Everything is coming to us. I can imagine - more than imagine, believe, really - that next season we are going to have a really strong team, starting from day one with everybody.
"This season we are in the competitions, I'm not saying to win the competitions, I'm saying to win the next match.
"Next match is West Ham. We are there to try to win it."
Mourinho has had a busier January than most, negotiating the arrivals of Nemanja Matic and Mohamed Salah as well as the departures of Kevin De Bruyne and two-time Chelsea player of the year Juan Mata.
The 51-year-old feels that the departure of Mata, who had a great rapport with the Chelsea fans, will have no bearing on the match at Stamford Bridge, or the trip to the Etihad on Monday which will see Chelsea try and become the first team to win there in the Premier League this season.
"If in this moment we see our team is the same or even worse than it was in September, that's a big problem," Mourinho said.
"If we see that players like (Eden) Hazard, Oscar, Willian and (Cesar) Azpilicueta, these young people, they are not better now than they were six months ago, that's a big problem.
"These are things we need that's compulsory. The evolution of the players, the evolution of the team is compulsory.
"After that the results normally are a consequence of the work, are a consequence of the evolution.
"Always the next match we want to win. The results are arriving as a consequence of the team playing very good football."
Mourinho also reinforced his desire not to delve into the transfer window anymore unless an "incredible" opportunity arose.
"(Not) unless an incredible, surprising deal happens with one of our players and because of that we have to react and make something (happen) to complete the squad.
"We are doing things progressively."
This included ruling out the possibility of goalkeeper Thibault Courtois staying with Atletico Madrid as part of a deal for sought-after striker Diego Costa, which he brushed away with a simple "no", and also praised current forward Samuel Eto'o for his recent form in the absence of Fernando Torres.
"He's playing well and has a big understanding with our attacking players," Mourinho said on Eto'o.
"Even if he doesn't score 25 goals, his contribution to the team is very, very high. And we need that. We are happy (with him)."
Premier League transfer wants and needs: The big buys for this week

Show all 20
Register for free to continue reading
Registration is a free and easy way to support our truly independent journalism
By registering, you will also enjoy limited access to Premium articles, exclusive newsletters, commenting, and virtual events with our leading journalists
Already have an account? sign in
Join our new commenting forum
Join thought-provoking conversations, follow other Independent readers and see their replies