What will Arsenal do without Alexis Sanchez and Mesut Ozil? Perhaps it won't be so bad after all
In their stead Iwobi, Lacazette and Welbeck formed a front three that was full of hard work, defending from the front and selfless running which was key to a positive result
Jack Pitt-Brooke
Stamford Bridge
Sunday 17 September 2017 16:21 Comments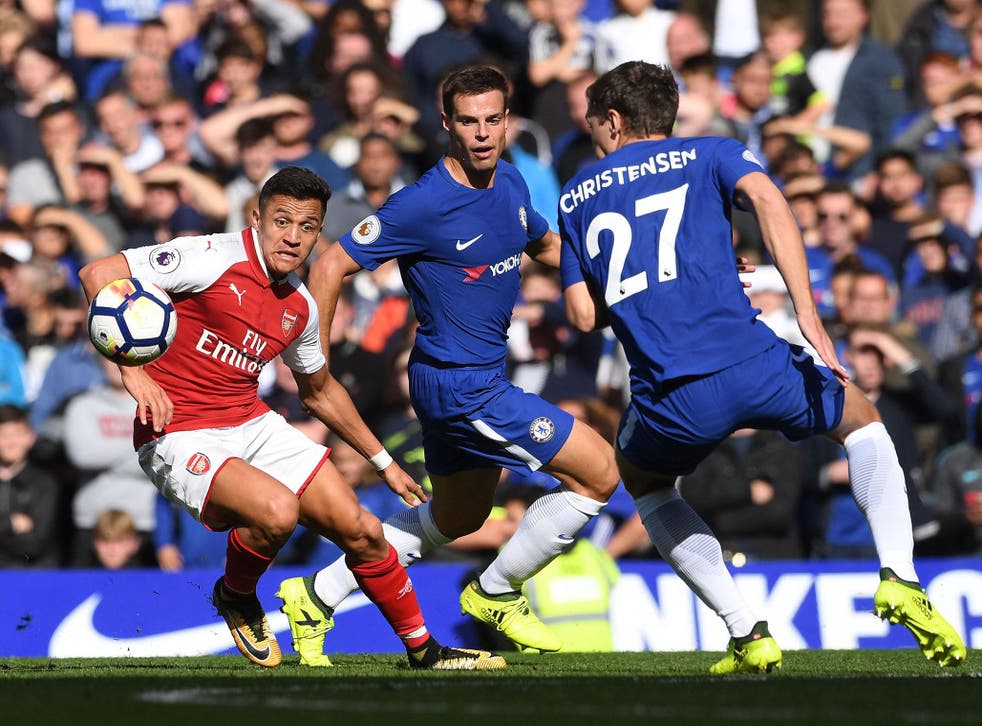 What will Arsenal look like next season when Alexis Sanchez leaves and Mesut Ozil almost certainly follows? This was an early sight of that new era, with Ozil out and Sanchez only on for the last 24 minutes. The rest of the Arsenal team, the non-elite players, put in a performance that was robust, focused, organised but short on quality in the final third. But after five consecutive defeats here at Stamford Bridge, this could have gone far worse.
The Arsenal team-sheet looked underwhelming before the game, and few would have expected that their best team to get a result in a game like this would have included Alex Iwobi. He was not even especially impressive in Thursday's 3-1 win over FC Koln.
And yet Iwobi, Alexandre Lacazette and Danny Welbeck formed a front three that was full of hard work, defending from the front and selfless running. Per Mertesacker said before the game that Arsenal were attuned to Chelsea's "habits" when they were playing out from the back, and here Iwobi, Lacazette and Welbeck ran and chased to stop them from getting into a rhythm.
Chelsea vs Arsenal player ratings

Show all 22
Ozil is a brilliant footballer but his defensive contribution in games like this is not exactly Stakhanovite. Sanchez is a naturally harder worker and chaser and yet he does give the impression that his running is for himself, not for the team. Nor is he an assiduous follower of orders. Had they started, instead of Iwobi, Chelsea would have found it easier to get out. Without the ball, Arsenal did not miss them.
Welbeck again showed what an effective and useful player he is, but without quite being able to kill off opponents. He has almost everything needed to be the complete modern centre-forward: speed, skill, strength, vision and imagination. Arsenal and England are always better off with him on the pitch, and he provides a mobility and edge up front that Olivier Giroud cannot.
So it was a clever run from Welbeck to get on the end of Hector Bellerin's cross, in one of Arsenal's best first half chances. But his header was off target, a reminder that for all of his skills, he does not score enough goals. Playing Welbeck is a trade-off, ultimately, as today's performance showed.
Back in midfield it was easier for Aaron Ramsey and Granit Xhaka because they had a front three who were working hard for the team. Ramsey is one of the best box to box midfielders in the country but often finds his route forward blocked by Ozil or Sanchez in his space but here he was back close to his best. He embarrassed Cesc Fabregas so badly that Antonio Conte had to bring in Tiemoue Bakayoko on at half-time to help Fabregas out.
One of Ramsey's forward runs brought an open-goal chance that Lacazette should have done better with. In the second half he nearly got on the end of a clever chipped pass from Welbeck. Arsenal do not have anyone else who can make those runs. It helped, too, that Xhaka played well, providing more stability in the middle of the pitch. He is another player who looks better in a coherent, cohesive side where he does not get so exposed.
Overall Arsenal were the better team and created the better chances. The parts were not great but Arsenal were more than the sum of them, which is not usually the case. For a team that so often lacks organisation and application, even when their two top players play, it was progress of sorts. For a team that often looks like it is going nowhere, it suggested the future might not be so bad.
Register for free to continue reading
Registration is a free and easy way to support our truly independent journalism
By registering, you will also enjoy limited access to Premium articles, exclusive newsletters, commenting, and virtual events with our leading journalists
Already have an account? sign in
Join our new commenting forum
Join thought-provoking conversations, follow other Independent readers and see their replies