Chelsea vs Bournemouth: Jack Wilshere snubs Arsenal as he names Blues firm title favourites
Wilshere admitted the Blues deserved to be top after their 12th successive win on Boxing Day
Ian Winrow
Tuesday 27 December 2016 23:35 Comments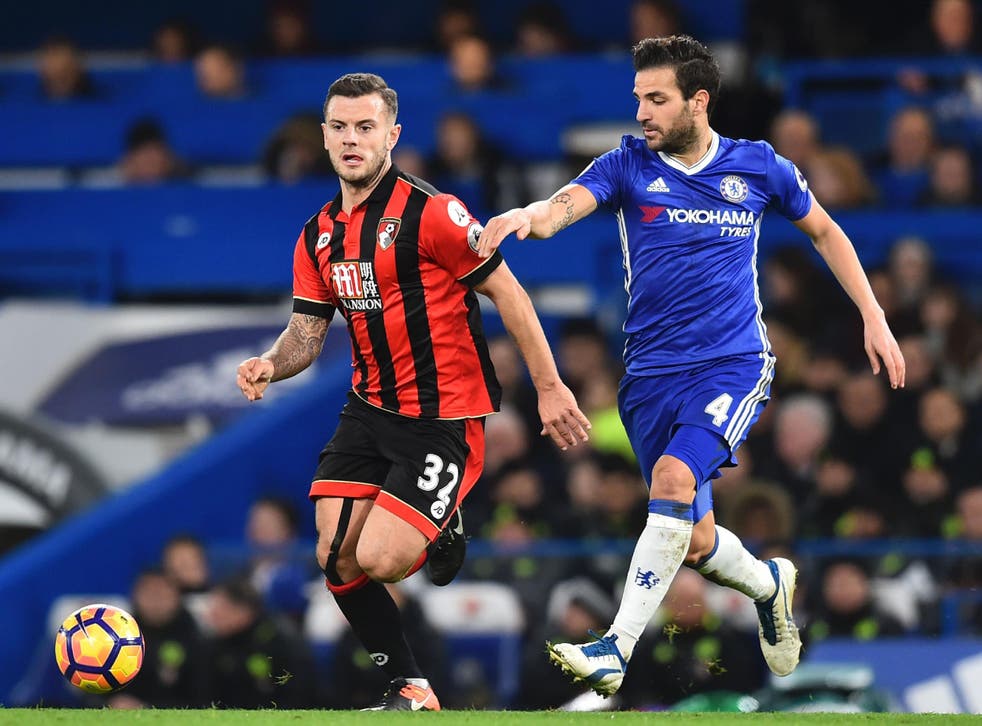 Jack Wilshere has overlooked his Arsenal connections to declare Chelsea the outstanding team in this season's Premier League title race, claiming Antonio Conte's side currently have the look of champions.
The England midfielder is currently on a season-long loan at Bournemouth who became the latest side to be overwhelmed by Conte's team when they suffered a 3-0 defeat at Stamford Bridge on Monday.
That was Chelsea's 12th successive league win and Wilshere admitted the west London club deserve to top the table ahead of the turn of the year. "They look like champions at the minute, for me at the moment they're the best team in the league," he said. "There's still a long way to go of course, you can't say they're definitely going to win the league but at the minute they look like the strongest.
"They've found this new formation that works for them. I've always thought it's a tough place to come anyway. I've been here a few times with Arsenal and we've only won once but they're more ruthless, they know what the job in hand is, they go out there and week in week out they change their game planning depending on who they are playing. I think that's the sign of a top team."
He added: "There's a long way to go and they look strongest at the moment, and they are starting to open up a gap which it's difficult to claw back as the months go by."
The performance of Eden Hazard in a central striker role was one of the reasons Chelsea extended their winning run. The Belgian scored, taking his tally to nine league goals having been forced to wait until late April for his first league goal last season and Hazard believes Conte's side is a very different team to the one that underperformed last season.
"We are full of confidence," said Hazard. "We try to do something that we didn't do in the past. We score some goals. I don't know if it's the best Chelsea I've played in but it's a good team.
"We feel good. We are full of confidence. We take game after game and try to win every game. We don't look at records but if we can make history in this club we will. Let's keep it going and we will try to win every game if we can."
Hazard was asked to fill Diego Costa's role ahead of Michy Batshuayi who is still waiting for his first league start but expects to revert to a wide role against Stoke on Saturday. "I was thinking Michy was playing at forward," he added. "But in the last moment he put me up front so I tried to do my best. I try to find a freedom. I play there last year one time and this year couple of minutes, I know the position. But Diego is a striker. When he is on the pitch next game I will be back on the side of the pitch."
Register for free to continue reading
Registration is a free and easy way to support our truly independent journalism
By registering, you will also enjoy limited access to Premium articles, exclusive newsletters, commenting, and virtual events with our leading journalists
Already have an account? sign in
Join our new commenting forum
Join thought-provoking conversations, follow other Independent readers and see their replies